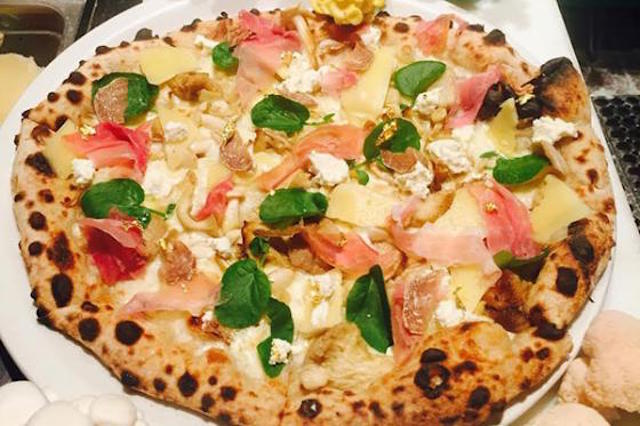 Renowned pizza creator Tony Gemignani from Tony's Pizza Napoletana in San Francisco has created a very special pizza for the upcoming Super Bowl 50, and it might just be the most expensive pizza in the entire San Francisco Bay Area. Pizza is one of the most affordable foods known to mankind, but the Super Gold pizza, as Tony is calling it, is not your average pizza.
As the name implies, the Super Gold pizza is made with real gold, which is why it costs $100 dollars per pie. According to Tony's Pizza Napoletana it is a "wood-fired pizza topped with gold flakes, white truffles, and 24-month San Daniele Prosciutto, in addition to a sprinkling of mâche, Far West Fungi's Clamshell, Lion's Mane, and Yellow Oyster mushrooms, Fromage Blanc and Carmody cheese from Bellwether Farms, and Grande Whole Milk mozzarella, finished with Maldon salt, on multi-grain dough". So in addition to it having actual gold, it features a number of other luxury ingredients as well.
Tony will only be producing just 50 pizzas in total, and they will be taking orders until February 7th. Apparently if you want to try this $100 dollar pizza, you have to eat it at the restaurant. All of the proceeds from the sale of the Super Gold pizzas will be donated to the Kick Hunger Challenge. So at the end of the day you get to eat a pizza with gold and your $100 dollars goes to a good cause, it's a win-win.
Photo from Tony's Pizza Napoletana