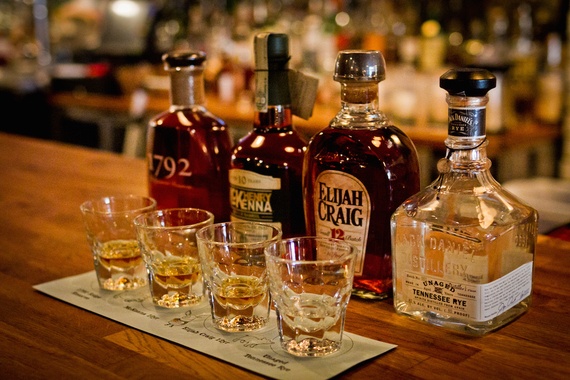 Many new friendships or exciting business ventures begin over a glass of Bourbon. Each Bourbon drinker has their own set of preferences when it comes to choosing a favorite. Some like it smooth and others prefer a less smooth recoil with solid overtones. The assortment of new labels on the horizon offer a plethora of choices with hearty oak and char backbones to hints of floral, citrus, spicy or a light fruity nose. Chocolate and orange nuance can also be found if that is your preference. Some of the more unique blends can leave you guessing, but each is rated as being of top quality by some of the most discerning tasters in the business.
Specialty blends have been headlining in all genres of alcohol distilling and marketing. This is in part, because of consumer demand for new experiences and also because master blenders have had some pretty amazing inspirations for the trending new bourbons that are quickly becoming new favorites. There are some exciting new products coming on the scene with new labels that offer promise for delivering something new for any interested takers. There are also standard recipes that don't depart from traditional bourbon flavors which offer the tried and true methods that discriminating bourbon drinkers prefer in their beverages. From established producers of fine bourbon whiskeys to newer businesses just getting their start, we're happy to announce the five best new bourbon labels for 2017.
1. Knob Creek Single Barrel, 120 proof Bourbon Whiskey
Knob Creek Single Barrel 120 Proof is a fine bourbon whiskey was barreled October 31, 2006. It has had ten years to age and mellow. The end result is a sweet and heavy taste of oak with a char front upon first sip. It features caramel, bitter orange and vanilla overtones with clove and lemon undertones. The nose offers nearly indistinguishable floral notes that you just catch before they're gone with an apple hint and a chocolate sensation that strikes after resting a few moments. The finish is smooth and long with a strong backbone.
2. Trails End Bourbon Whiskey
Trails End Bourbon is truly one of a kind. It features a sweet and fragrant nose with discernible notes of orange. The immediate taste is sweet and smooth along with subtle hints of spicy rye. If delivers on the smooth and long finish with a light hint of smoked wood. The origins are from Kentucky aged for eight years in Oregon Oak with 45 percent abv. Trail's End secures eight year old juice from Kentucky and ages the Bourbon Whiskey with Oregon Oak staves. This particular bottle is from Batch No 002 and is 45% abv. You'll find that Trail's End Bourbon is amazingly smooth for a young barrel age.
3. Smooth Ambler Contradiction Bourbon Whiskey
This is perhaps among the most unique of the new label bourbon whiskeys coming up. Smooth Ambler Contradiction is properly named because it offers a bit of a surprise that takes effort to discern. Although a bit on the complicated side, it's an amazing bourbon worthy of its place in the top five best for 2017. Wheated bourbon with the additions of a heavy rye mash bill and spicer bourbon blend offer a complex mixture of staggered age bourbons.
Just over one fourth of the bottle has been aged for just two years and the remaining three quarters of the blend was aged for nine years. Smooth Ambler Contradiction is bottled by James and comes in at 50% abv. It heralds a spicy rye body with notes of aged wood. The nose offers hints of vanilla with a wheat domination and a surprising lack of spice. The finish is heavy and the notes of sweet taste are overtaken by the spice in force. This gem comes in at third place in our top five list of the best bourbon labels of 2017. We highly recommend it for anyone who enjoys a smooth bourbon that offers a few very pleasant surprises.
4. Noah's Mill Bourbon Whiskey
Noah's Mill bourbon is distilled by Willet distillers. If you're looking for strong yet smooth, this bourbon will not disappoint you. The proof is 114.3 at the time of bottling. Noah's Mill is produced in small batches and achieves a well balanced smoothness for a high abv juice. It features a woody and smokey nose with notes of spiciness that rise and fall The predominant taste is rye, yet it doesn't promote a roughness. This bourbon offers a long finish that is rich and ends with notes of caramel and sweetness. We give it a fourth place as one of the top new labels you'll see in 2017. Designed for anyone who enjoys a solid backbone that punches hard while retaining a smooth and even finish.
5. Blade and Bow Bourbon Whiskey
Blade and Bow bourbon whiskey is one of the newer products from Diagio distilleries. The uniqueness of the distilling process includes a solera system for stretching old juice into the blend of this amazing bourbon. The solera process is one that has been used in traditional creation of Sherry when newer and older vintages are blended just prior to bottling. Blade and Bow has a bright and young nose with notes of fruitiness intermingled with the aged oak overtone. Blade and Bow bourbon features a clean and light taste with an amazing brightness that is well balanced with oak and spice flavors. One of the quickest finishes in a bourbon, the essence of fruit with spice and oak are direct and offer a short punch. Not a great deal of complexity with this blend, but overall, it's very pleasant.
Final Thoughts
These five fine Bourbon whiskey selections are each unique in their own right. Variances in techniques, ingredients, aging times and blends give bourbons their one of a kind nose and flavor. We chose a range that would offer you with choices for trying something new, but still give you and idea of what you can expect. Whether you prefer a more staunch approach with complex features or a straightforward and quick finish with few surprises, they're all represented in this grouping. There is a little bit of everything for your consideration, but one thing that each has in common is the quality which is nothing short of excellent for each choice.