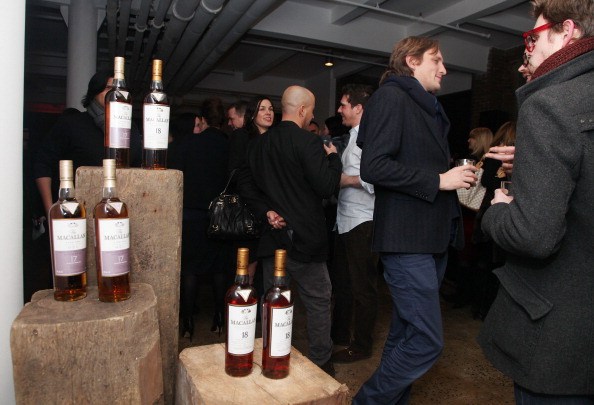 Macallan is one of the top scotch whiskey distilleries in the world. The company was founded way back in 1824 out of Moray, Scotland. It is currently owned by the Edrington Group and is continuing to create and release some of the richest single malt drinks ever. One of their finest is the Macallan 25, which is highly expensive but extremely nice, receives loads of praise globally and shows off how much goes into making single malt scotch whiskey.
The Macallan 25 ranges between around $900 and $950 for a 750 ml bottle, which immediately reveals how highly valued it actually is. The Sherry Oak comes nicely presented laying on some straw, snugly secure in a wooden box sealed with two latches. On the inside is a piece of parchment describing the process of how it had been created and aged. The drink received a perfect 100 score from the Beverage testing Institute during 1999 and a gold at the International Spirits Challenge.
The single malt scotch whiskey comes out as a crisp rich mahogany color and smells of sweet citrus with a mixture of cinnamon, sherry and classic wood smoke blended together. The taste is deep and complex with a main flavor of dried fruits complimented by more wood smoke. The finish of the Macallan 25 hits owners with more dried fruits, wood smoke and some extra spice.
Macallan offers a wide variety of alcoholic products, but their Sherry Oak 25 year is easily one of, if not, their best single malt scotch whiskey. It's extremely expensive, but in return you're receiving one of the finest products out there that offers the richest and most complex blend of flavors compared to other scotch whiskeys in the market. The Macallan 25 is a treat for those who get to indulge in it, and it is definitely the perfect scotch whiskey to have for those special occasions.
Photo by Astrid Stawiarz/Getty Images