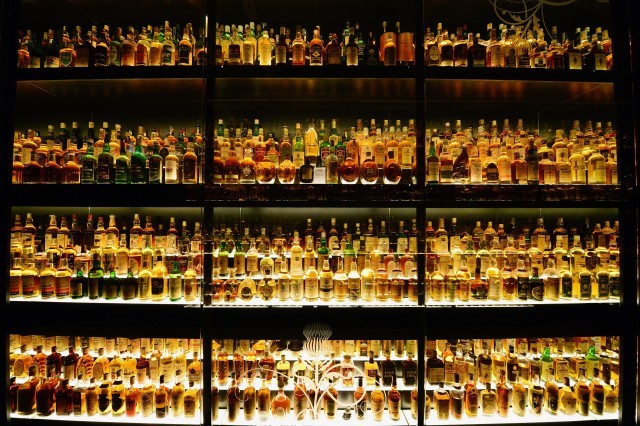 Aside from being the "manliest" alcoholic beverage that one can enjoy, scotch whiskey is often regarded as some of the best whiskey in the entire world. This malt or grain whiskey is made in a specific way by law, and only true "scotch" comes from Scotland. Sure other companies have tried to emulate this popular drink, but if they aren't from Scotland then it is not technically scotch. While their is a vast range of different types of scotch, most bottles are considerable more expensive than other liquors, and some of the best scotch is among the most expensive liquors in the world. Outside of Johnnie Walker there are many other scotch brands that offer amazing whiskeys. But what about the cream of the crop? We are going to take a quick look at the most expensive bottles of scotch in the entire world.
10. The Glenfiddich 1937 – $20,000
First up on our list is a super rare bottle of scotch from Glenfiddich. With a name as Scottish as ever, you know you've got your hands on some quality scotch. This particular bottle comes from 1937 and Glenfiddich only produced one bottle in existence which is why it sold for so much in an auction.
9. The Glenfiddich 5o Year Old – $22,000
We have another Glenfiddich bottle on our list. This single malt scotch has a proof of 46.1% and was first bottled back in 1955. The company used two different casts to make this scotch and only 500 have been made. Each year the company releases around 50 to be made available for sale.
8. The Mortlach 70 Year Old – $28,000
Often regarded as one of the worlds oldest single malt scotch, this bottle of Mortlach is fairly old indeed. The scotch has a variety of different flavors including fig and tobacco, making it a very interesting beverage to drink. This scotch was first bottled in 1938 and has an alcohol content of 46.1%.
7. The 1926 Macallan – $54,000
Like most of the scotchs that will be on our list, they were first bottled years ago and have never been opened. This particular bottle of Macallan is considerably expensive due to how old it is. It sold in an auction for $54,000 back in 2007.
6. The Dalmore Single Malt Scotch – $58,000
This bottle of scotch is fairly unique and is made from four other single malts from different years. Casks from 1868, 1876, 1926, and 1939 were used for this bottle. Around a dozen bottles were produced and they first came out in 1943. One such bottle was sold in the U.K. at an auction for $58,000.
5. The Glenfiddich Janet Sheed Roberts Reserve 1955 – $94,000
This bottle of Glenfiddich has a very special history that dates back to 1955. The company had a special barrel of whiskey that was aging since 1955 and were waiting to use it. The company then released the bottle to honor the passing of Janet Sheed Roberts in 2012, the granddaughter of William Grant who was the founder of the company. Only 15 bottles exist and one was sold in an auction for $94,000 dollars.
4. The Dalmore 64 Trinitas – $160,100
This special release from Dalmore is definitely one of the more expensive bottles of scotch that money can buy. The company combined whiskeys from casks dating from 1868, 1878, 1926, and 1939 to make this special blend. Dalmore also decided to only produce just three bottles. It was also the first scotch to sell for over six figures.
3. The Dalmore 62 Single Hiland Malt Scotch – $250,000
We see another bottle of scotch from Dalmore make out list, and this is another extremely rare and expensive scotch. Only a few bottles of this scotch are known to exist making it obviously costly. When it first came out in 2002 a bottle fetched for around $54,000 dollars, but a businessman purchased one at an auction back in 2011 for $250,000.
2. The Macallan 64 Year Old Scotch in Lalique – $460,000
The next bottle of scotch on our lists checks off all the marks that would make it extremely expensive. When it was finally released, the scotch was 64 years old. Only a few bottles have been released, and one bottle that was more special than the rest. The bottle in question was sold for $460,000 dollars at an auction and the scotch was housed in a one-of-a-kind Lalique crystal decanter.
1. The Macallan "M" Scotch – $628,205
Finally the most expensive bottle of scotch that was ever sold in was the Macallan "M" Scotch. The whiskey itself is comprised from various select casks of scotch that range from around 25 to 75 years old. Additionally this particular bottle of scotch features a hand-blown decanter that apparently took 17 men over 50 hours to complete. It was sold last year in a Hong Kong based auction for $628,205
Photo by Jeff J Mitchell/Getty Images