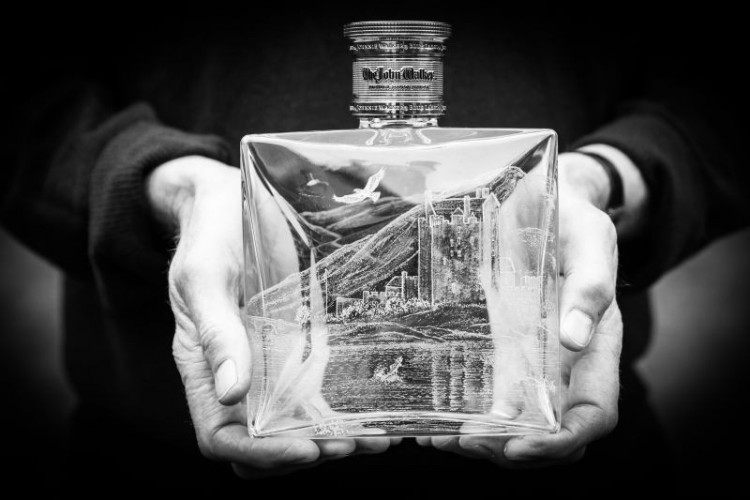 For whisky obsessives, there is no such thing as too much effort. The best single malts are a product of great patience and time. They are rare and special, precisely because they can't just be 'made.' Truly great whiskies are, essentially, grown out of the years themselves. This is why connoisseurs are happy to spend hundreds of dollars on extra mature malts and exclusive bottles from the most respected distilleries in the world.
Johnnie Walker is one of these producers. In fact, it is the most widely distributed producer of Scotch whisky on earth. Its bottles are sold in close to every country, with 226.2 million of them being snapped up in a single year. These are remarkable figures and they represent the quality and reliability of the brand. Considering the first Johnnie Walker whisky created in a grocery store, in Kilmarnock, in 1820, it has come an awful long way.
This is why, when Johnnie Walker announces a limited edition release, whisky fans sit and listen. In early December, it revealed plans to create a very exclusive run of hand engraved bottles. The whisky of choice to fill them is none other than The John Walker blend. It is considered to be one of the finest available. It uses only whiskies that would have been around during the time when John Walker was building up his company.
Getting to Grips with 'The Founder's Blend'
Unsurprisingly, this makes The John Walker whisky very rare indeed. It comes with a matching price tag too, at close to $2,500. It contains just nine components, sourced from nine distilleries, several of which are no longer in operation. They have hand blended, using traditional methods, and married together in a hundred-year-old cask. The John Walker is only available in a strictly limited quantity, so its lavish price tag does make sense.
You can't just buy whisky like this from a local store or even a high street specialist. It is a rare item and only the most serious of connoisseurs are likely to be tempted by its charms. They are in for an incredible experience, however, because the blend has an enormous body and a supremely elegant structure. The expansive, opulent flavours intensify and develop into an echo of smokiness which provides that characteristic Johnnie Walker finish.
The John Walker Philip Lawson Johnston Limited Edition
The limited edition release which The John Walker will be enhancing is the 'John Walker Philip Lawson Johnston Limited Edition.' If that's a bit of a mouthful, there's an easier way to break it down. Johnnie Walker, the brand, has teamed up with Philip Lawson Johnston, an expert engraver of decorative glass. Both companies are official suppliers for the Queen, so the exclusive union has more than a whiff of the crown about it. To be appointed as a vendor for the royal family is a big achievement and only the most respected brands get the opportunity.
The extremely limited run of Johnnie Walker whiskies will be housed in a number of handcrafted glass bottles. They will feature two iconic designs and celebrate Scottish roots and Scottish heritage. They are the scene of the Classic MacNab Challenge from epic Scottish novel 'John MacNab' and a more traditional distillery depiction. Every bottle will be handmade by Philip Lawson Johnston.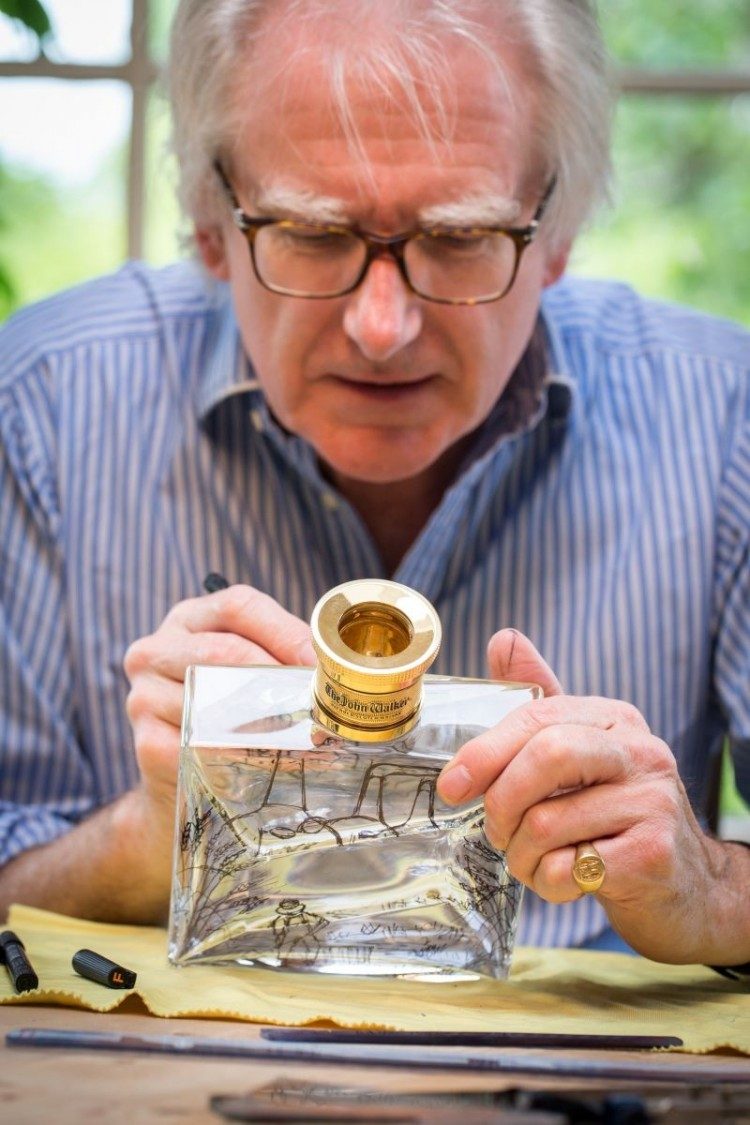 The Rarest and Most Splendid of Whiskies
The distillery carving is particularly special to Johnnie Walker, given its humble beginnings in a small Ayrshire grocery store. The actual distillery that the company uses has been producing whisky for 185 years and it has a reputation for being one of the best in the world. According to a spokesperson for Johnnie Walker, the choice of design is ideal, because it allows the best of The John Walker blend and Johnston's exquisite hand engraving to come together.
Just as it takes time for whisky to build up its array of complex notes and flavours, working with glass also requires great patience. It cannot be rushed or hurried. The hand of the engraver moves much like an artist would with a paintbrush. Only instead of building a piece of art, it is more like uncovering it; releasing it from its glass prison. The process is a complicated one and there are few engravers who can match the talents of Philip Lawson Johnston. You know you have to be good when the Queen is a big fan.
Why Super Expensive Whiskies Are Essential Treasures
While most people won't ever get their hands on a whisky this rare, it doesn't stop them from being able to appreciate its value. There is more than just great flavours in The John Walker, for example. It is a representation and an encapsulation of hundreds of years of whisky making heritage. The whisky industry has shaped and defined Scotland. Its rolling hills, peat marshes, and barley fields are now synonymous with the finest single malts.
The John Walker Philip Lawson Johnston Limited Edition is a coming together of two great British traditions. Not only that, but it's a reminder that, even in our age of mass produced goods, things can still be taken back to basics. There are still people out there who aren't in a rush. They blend, carve, and refine. They use time as a tool. True whisky fans know that a single malt is a drink that's designed to go down slow, whether it's a rare $2,000 blend or a $70 bottle from your favourite store.
The Limited Edition bottles are on sale now, for anybody with a lot of cash to splash. Or, you can check out some of the less exclusive whiskies on the Johnny Walker website. There is a wide range of different blends and malts on offer, at varying prices. It is worth spending a little more for age because the balance of flavours will be extremely intricate. Maturity also enhances the body and aroma of a whisky, so it will smell more alluring, feel silkier in the mouth, and be great for drinking neat or on the rocks.