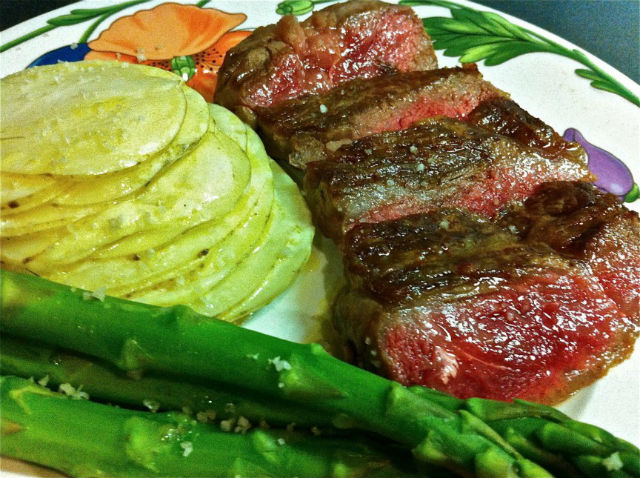 Millions of dollars will buy a lot, but most people probably don't dream of buying steaks with their millions. In fact, most people probably envision a luxury sports car, five-star vacation or even a new house; a good steak doesn't seem to be high on the list. However, any foodie will tell you that the best steaks in the world are worth the large sales price. The world's most expensive steaks come from some special cows; read on to find out what kind of steak is the most expensive money can buy.
A5 Kobe Strip Steak, $350
The good news is that this decadent piece of meat can be found at the Old Homestead Steakhouse in New York City. This 12 oz steak is so good that the restaurant sells approximately 25 every night. With meat so tender it almost melts right in your mouth, it is no wonder the restaurant sells so many cuts of this expensive cow. It comes from cows that are not free-range, but are actually not allowed to graze. Each cow is massaged regularly to help its meat taste even better. This helps the cows to develop fat on top of muscle so that it is the most tender in the world.
Fullblood Wagyu Tenderloin, $295
Provided by Australia's award winning Wagyu producer, this 14.1 oz steak is served at the Prime Restaurant in Sydney. This piece of meat comes from a cow that is grain fed for exactly 600 days – no more and no less. Filled with fat that's both tender and succulent, this piece of meat is arguably the best piece of Wagyu in the world.
8 Ounce Kobe Filet, $258
For one of the most expensive pieces of steak you'll ever buy, you'll need to travel to Tokyo. This 8 oz. charbroiled kobe filet is served only at the Aragawa restaurant in Japan. The steak itself is so flavorful and enticing that the master chef as this world-class restaurant only seasons it very minimally with a bit of mustard and pepper. Its natural juices and flavor are so powerful it needs nothing more.
Photo Source: Wikimedia