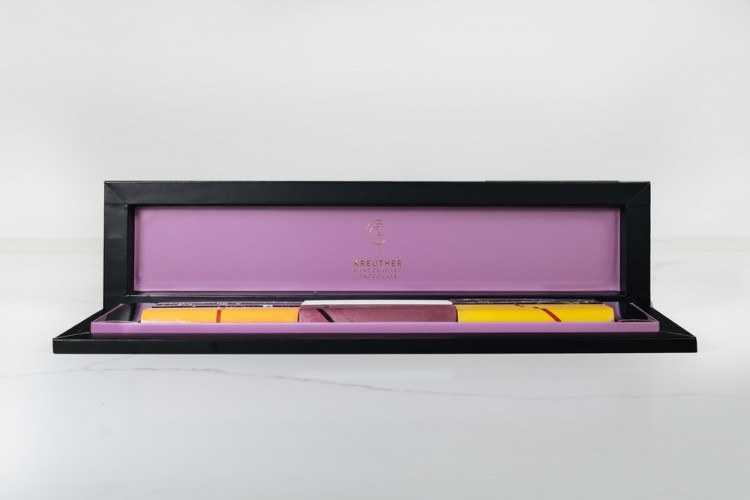 For a sublime gift, there's nothing quite like handcrafted chocolate. Even more tantalizing is the seductive merging of spirits with chocolate. This holiday season, master chefs Marc Aumont and Gabriel Kreuther have created a spectacular and decidedly decadent array of sweets with a mystical spin. The artful Patrón Alquimia Collection is a masterpiece of savory, spicy, sweet and smooth; with tequila as the main ingredient in a theme derived from the magical transformative processes of ancient alchemy.
The chocolatiers have selected Gran Patrón and Patrón Limited Edition Tequila to couple with the finest chocolates, fruits, nuts and spices. There are six tequilas and six delicious confections included in their introductory offering: Alquimia…The Elixir of Immortality. They have chosen the title purposefully, as "alquimia" is the Spanish word for alchemy; believed by many to be the seeking of perfection and regeneration for the human soul. The culinary alchemists of Kreuther Handcrafted Chocolates understand the devotion of chocolate and tequila conoiseurs pursuing the exquisite.
The Six Tequilas
This tequila is crystal clear, and triple distilled in oak. It has the taste and aroma of fresh fruit and citrus.
This is a luxurious, dark amber tequila which has been finished in Bordeaux wine barrels. It has the aroma of Bordeaux wine. It's taste include notes of vanilla, raisins and oak wood.
This deep mahogany tequila is aged for more than three years. It has the taste of sweet agave, vanilla and mushroom, with the aroma of mushroom and fresh fruit.
Patrón Extra Anejo 5 Anos
A limited edition of tequila aged for five years, this golden hued spirit has the aroma of caramel, citrus, light butter and honey. It tastes of raisins, clove, vanilla and toasted oak.
Patrón Extra Anejo 7 Anos
Aged for seven years, this rare limited edition is deep amber with golden hues. It tastes of dry fruits, vanilla, and caramel. The aroma is woody, intense with hints of caramel and vanilla.
Patrón en Lalique: Serie 1
This is a first ever collaboration pairing French crystal and Mexican tequila. It is an amber colored tequila with a taste of honey, vanilla, sweet caramel, dried fruits and nuts. Its aroma has notes of oak and agave.
The Six Chocolates
The intriguing theme of the collection, The Elixer of Immortality prompted immediate curiosity and a bit of alchemy research in regards to the chocolate names. The results are found (in italics) under the descriptions provided by the master chocolatiers.
Albedo
 Platinum
This confection is made from white chocolate, a dark brown Breton crunch and raisins which are socked in the Gran Patrón Platinum.
(Albedo refers to reflected sunlight, whiteness, and the reflecting power of a surface in alchemy.)
Citrinitas
 Amber
This confection is made with a ganache of forest honey from Quebec, a Florentine crumble flavored with citrus and almond, Patrón en Lalique, and completely enrobed in luscious dark smooth chocolate.
(Citrinitas refers to the solar dawn, yellowness, and awakening in alchemist's terminology.)
Cuprium
Copper
This is a shimmering milk chocolate of copper hue which is filled with pumpkin spice, ginger, and ganache created with the Patrón Extra Anejo 7 Anos limited edition tequila.
(Cuprium is the ancient Mediterranean name for copper.)
Nigralbus
 Black and White
Just a hint of pasilla chile, Gran Patrón Piedra and milk chocolate to blend with the tobacco-infused smoothness of the tequila.
(Nigralbus is a combining of the Esperanto word for black and the Latin "albus" for white.)
Nigraurum
 Black and Gold
Patrón Extra Anejo 5 Anos tequila is transformed into salted caramel and marbled with milk chocolate.
(Nigraurum is a combining of the Esperanto word for black and the Latin "aurum" for gold.)
Rubedo
 Crimson
Gran Patrón Burdeos is combined with chestnut to create a ganache which includes chestnut confit in bite-sized treats which are encased in milk chocolate which has the hue of crimson.
(Rubedo refers to redness, the alchemist's achieving of perfection or individuation; the completion of the philosophical great work.)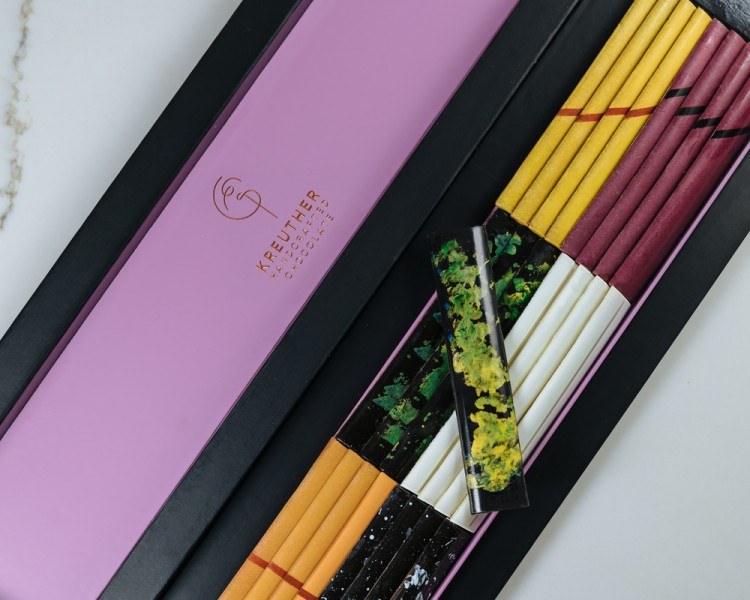 A box of these rare chocolates includes 24 pieces, and is priced at $1,000. Proceeds from the sales of the Alquimia collection in the amount of 20% will be donated to City Harvest, which seeks to help feed hungry New Yorkers by rescuing food from wholesalers, manufacturers, farms, hotels, restaurants, fast food chains, bakeries, coffee bars, grocers, caterers, production companies and corporate establishments throughout the city.
Executive Chef Gabriel Kreuther established his Bryant Park restaurant in Midtown Manhattan, he developed a dining experience inspired by the delightful culinary flavors he created in Michelin star kitchens throughout Switzerland, France and Germany. Chef Kreuther is a member of long-standing in the Bocuse d'Or Culinary Council, and a mentor for current winners in the Silver category of the World Competition. In 2008, he was named one of the Best New Chefs by Food & Wine. In 2009, he was awarded by the James Beard Foundation as "Best Chef: New York City". He opened his restaurant in 2015.
Distinguished by Robb Report as one of the 2016, "Nine best new restaurants in the world", his restaurant has received accolades from the best critical awards. The restaurant has received 3 Stars from the New York Times. It holds One Michelin Star. It was awarded the 5 Diamond Award by AAA, and the New York's Village Voice Best New Restaurant of the Year. The Daily Meal also named Gabriel Kreuther as a top 10 United States restaurant in their annual list of Top 101 restaurants.
So, when pastry chef genius Marc Aumont and Kreuther decided to open their Kreuther Handcrafted Chocolates next door to the existing establishment, it was the lovely Grace Building location for their perfect sweets. Aumont had already been offering selections of them to diners for dessert at Gabriel Kreuther Restaurant, so offering them in a sweet shop was a natural transition.
The two have worked together for more than ten years, with praise following their footsteps, though the restaurant is recently opened. But, they knew that the chocolate shop would be the perfect place to share their confections, allowing both patrons and those who pass by to see the expert chocolatiers creating their sweets. Guests may choose their selections from display cases, curating their personalized favorites for a box. The shop also features pastries, teas and coffees and chocolate drinks, which can be made to take or can be savored at one of 15 seats available for guests. Their store menu also includes a delightful menu of chocolates and macarons.
Chocolates are available in Single Flavors, Double Flavors, Pralines, and Specialty BonBons:
Single Flavors:
Trinitario single origin
Tahitian vanilla
Ceylon cinnamon
Criollo single origin
Honey saffron
Salted butter caramel
Double Flavors:
Apricot and bergamot
Aleppo, mango and passionfruit
Cherry, vanilla and lime
Coconut and herb
Raspberry and licorice
Pralines:
Almond hazelnut vanilla
Black sesame trinitario
Peanut salted caramel
Pistachio rosemary
Specialty Bon Bons:
Bananas foster
Concord grape yogurt
Dulce de coco and pineapple
Passion fruit caramel and Tahitian vanilla
Peanut butter, pretzel, cassis
Pear balsamic marmalade and pain d'épices
Their Cheesecake Macarons come in coffee hazelnut, original cheesecake, mixed berry, pumpkin spice, yuzu and matcha and chocolate and hazelnut spread made in house. Guests who drop by have a taste treat in store, with loads of decision making, as well.
Kreuther Handcrafted Chocolate is open Mondays through Saturdays from 11am to 10pm. It's located at 43 W. 42nd Street, New York, NY 10036. For detailed information about ordering the $1,000 box of 24 Alquimia collection of chocolates, it is necessary to directly contact the store at (212) 201-198