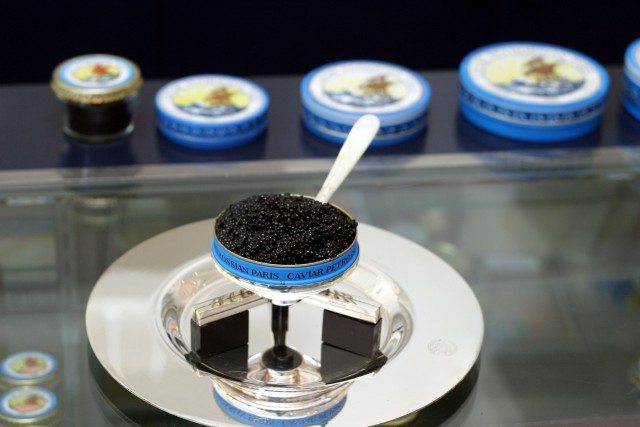 Caviar is a prized delicacy of cured and salted fish-eggs from various fish, typically sturgeon. It comes in a variety of different flavors and colors, and some are pasteurized while other are not. You can eat it straight or put it on a multitude of different things. Caviar certainly isn't the most accessible food that's out there and is an acquired taste, but it is still very expensive. So what are some of the best types of caviar in the world? Let's like at five of the best caviars in the entire world.
5. Russian Classic Osetra Caviar ($2,000)
Russian caviar is some of the most desirable and best tasting caviar in the world, and this particular caviar is a favorite for many. A 14 oz container will run you $2,000 dollars but many people feel that it is worth it for these prized fish eggs.
4. Marky's Kaluga Caviar, Malossol ($3,000)
This brand of caviar is well known and is also very expensive: we're talking about nearly $3,000 dollars for a 16oz containers worth. The caviar is large and dark gray in color and is known for its mild and buttery flavor.
3. Imperial Imported Sevruga Caviar ($8,300)
The Imperial brand is found a few times on our list as their caviar is among some of the best. This particular caviar is from the sevruga and it is dark black in color. A container of this caviar will run you about $8,300 dollars.
2. Iranian Sevruga 000 Caviar ($8,600)
Another favorite type of caviar is this Iranian caviar from the sevruga sturgeon. A container of this caviar will run you about $8,600 dollars and it is often considered to be one of the best and most flavorful. At least, it better be for that price. It is also difficult to get ahold of.
1. Imperial Golden Osetra Caviar ($10,400)
Costing about $10,400 dollars for a container, this caviar is extremely expensive and desirable. The caviar comes from select Osetra sturgeon and it has a full-flavored nutty taste to it. Osetra caviar is often considered to be the best and most desirable caviar in the world. The caviar is medium sized and is a mixture of black and gold in color.
Photo by Giulio Marcocchi/Getty Images