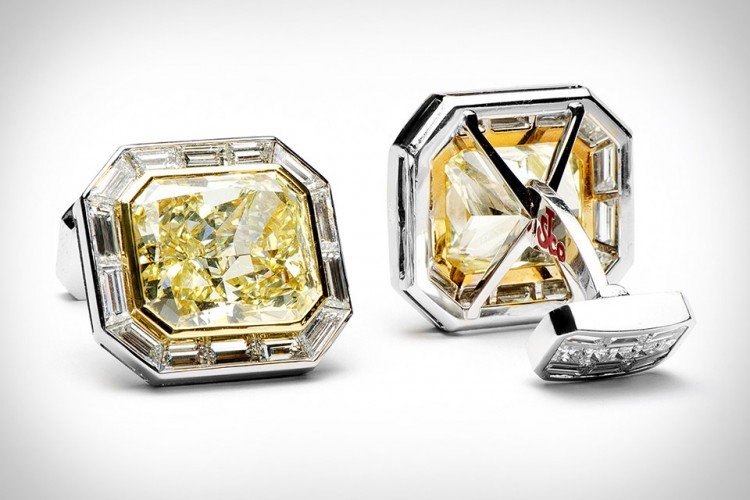 Some men regard cufflinks as useless or even absurd. They are generally small and hardly seen. So why spend good money on them? Because for others cufflinks are the ultimate men's fashion accessory. They show sophistication, style, and at a higher price range, success and status.
Cufflinks first became important in the 14th century when loose, ruffled sleeves emerged as the new fashion – and were still in vogue four centuries later. By the Victorian era, ruffled sleeves were gone, but cufflinks remained as a fashion statement. Men from all economic classes used them to project an air of success and formality, in business as well as social circles. Inevitably, custom cufflinks and extraordinary designs came into wide use as men sought to project their own style, tastes, and wealth.
For the well-dressed, successful man, cufflinks are a status symbol, just as all the other trappings of success. Although the non-cufflink crowd may never notice, other men that are both fashion conscious and status oriented will not fail to note who has the most expensive and extravagant cufflinks.
The Most Prized Cufflinks
There is a lot of high-end bling out there, most notably Jacob & Co.'s $4.2 million cufflinks featuring matching 10 carat diamonds. But those are mass produced for sale to anyone with the funds. The highest price ever paid at auction for cufflinks is a distinction held by a pair of custom cufflinks that were associated with one of the 20th century's greatest romances.
King Edward's Cartier Cufflinks: $440,000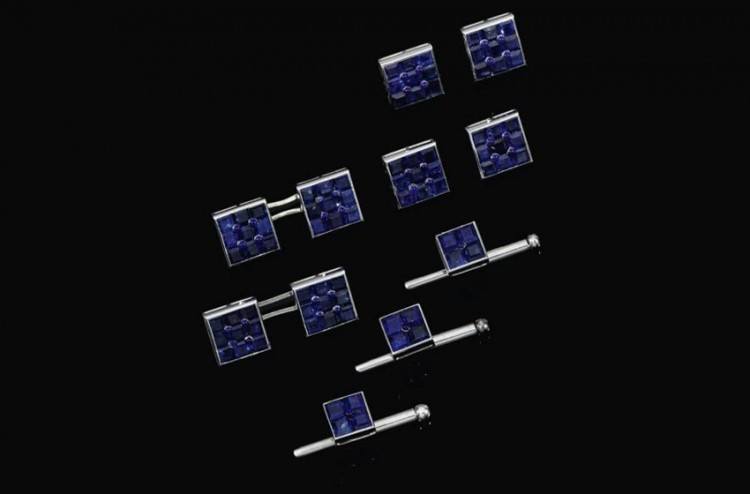 In the decades since King Edward VIII of England abdicated the throne in 1936 for the sake of his American lover Wallis Simpson, it became a love story for the ages. But the truth is a little more complex.
Edward and Wallis
Bessie Wallis Warfield was born in June of 1896 to an affluent family in Pennsylvania. An accomplished world traveler at a young age, she was married twice before she ever met Prince Edward, once to American naval officer Earl Spencer from 1916 to 1927, and a second time to wealthy businessman Ernest Simpson from 1928 to 1936.
During the Depression Ernest had fallen on lean times. In 1931 his wife Wallis met Crown Prince Edward in England through Thelma Thaw, Lady Furness. At the time, Lady Furness was Edward's mistress. But the still-married Wallis eventually took her place, and over the next two years Edward had become infatuated with the American woman – "slavishly dependent" is how one biographer described his feelings. She became his life's passion, and he spoke of marrying her.
England's Scandal
The scandal was terrible within the British aristocracy of the time. As the next king, Edward would become nominal head of the Church of England, which forbade marriage to a divorced person with a still-living spouse. To the aristocracy, marriage with a married American "commoner" was unacceptable, let alone the possibility that she might become the next Queen. Parliament opposed the marriage on the grounds that she was in every respect unsuited to the British throne.
It was said that he was tickled by her dominant personality and disrespect for the institution of British royalty. Public opinion was that she was nothing more than a gold-digger who was after Edward's money and social prestige. Even the Metropolitan Police claimed to have evidence that she was cheating on the Prince as well as her husband. Some modern biographers claim there is evidence she had lesbian trysts, as well. But Edward refused to hear any of it.
The Cufflinks
It was in 1935 that Wallis gave him the custom cufflinks. Glittering with blue sapphires and small white accent diamonds set in platinum, they were crafted by renowned jeweler Cartier. They were a plain rectangle design with over-sized posts to keep them in place, but part of their charm was that Wallis had them engraved with the letters "E" and "W", as well as the phrase "Hold Tight", which Edward often used in his love letters to reassure his mistress. Insiders maintained that the pair of cufflinks was his most prized possession.
Abdication and the Future
In January of 1936 King George V died, and the country's worst fears were realized when Edward took the throne with Wallis at his side. She was easily the most despised woman in England. Eleven months later, following her divorce from Ernest Simpson, Edward gave in to the pressure, and abdicated the throne in favor of his younger brother, George VI. The couple was married six months later.
More scandal followed when the newlyweds traveled to Germany in 1937. They were received and entertained by Adolf Hitler at his private estate of Berchtesgaden. Hitler later spoke highly of Wallis, saying she would have made a fine queen. This friendship with the most destructive dictator in history did nothing to improve her reputation.
Over the ensuing decades they traveled widely, mostly through Europe and America, living a life of leisure, comfort, and lasting celebrity, variously seen as either disgraced or vindicated. The marriage was apparently happy and enduring. Edward passed away in 1972, and Wallis lived in seclusion and failing health until her own death in 1986.
The Wallis Simpson Jewelry
The very next year her substantial collection of jewelry, valued at $45 million (despite a number of pieces already being sold off), was put up for auction by Sotheby's of London. The winning bidder of the famous custom cufflinks was Syrian-Saudi billionaire Wafic Said, who had a number of business and personal connections in Britain. An international financier, he'd made his considerable fortune in the construction industry, eventually becoming a philanthropist and connoisseur of rare treasures. His growing collection still features the most famous cufflinks in history.
They still remain by far the most expensive pair ever sold at auction. Even cufflinks worn by John Lennon, John F. Kennedy, and Abraham Lincoln didn't go for much more than $13,000. Second place would have to go the cufflinks in the collection of the surviving relations of the Romanovs, the last imperial family of Russia, which went for a hefty $132 million – but still a distant second.
The value of the Wallis Simpson cufflinks has a lot to do with the remarkable story behind them. There is also the accepted quality in coming from the one of the world's premier jewelers, and the provenance of being worn by a King of England. But their unique design is also part of the price. Rarity is an important factor in any valuation, and custom cufflinks are far more likely to increase in value.