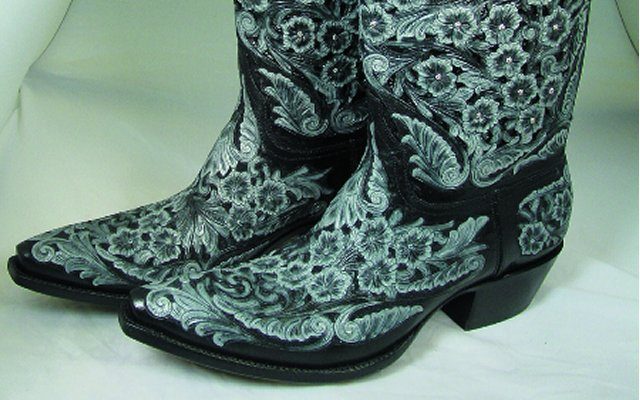 There are a variety of things that go into making a high-quality leather boot: the leather, how it was tanned, the stitching, the design, and embroidered images for example. When one takes these all into account, there are actually a lot of pieces that make up the leather boot. Outside of mass produced leather boots, specialty and custom designed leather boots are made by hand by skilled craftsman and leather carvers. These one-of-a-kind boots can sell for unbelievable prices and can easily cost thousands of dollars. In 2006 a pair of boots broke the world record for the most expensive cowboy boots costs $75,000 dollars. However since then a pair of cowboy boots has broken that record.
The Phantom Boots (pictured above) were created by hand by master leather carver and designer Howard H. Knight of Rocking K Custom Leater. Knight has been producing custom made and unique leather goods for some time know. Knight spent over 800 hours designing, detailing, carving, and working on these unique custom leather boots. Some would say that they are a work of art. Knight also decided to collaborate and work with a silver smith for these boots as there is silver and 18kt white gold found throughout the floral design of the boots themselves. The leather found on the boot itself is made from an exotic type of saltwater crocodile which was imported directly from the Hermes factory in Paris while the interior leather of the boot is made from exotic black kangaroo leather. The flora design on the boots are three dimensional and rise up off of the boot. Knight works out of his studio in Stevensville, Montana where he creates all of his custom leather boots.
The Phantom Boots were sold for $106,000 dollars to a buyer who has not released his name. If you want a pair of these boots then unfortunately you are out of luck as there are only one pair in the entire world. However you can contact Howard and work with him to design your very own pair of custom made cowboy boots. Howard takes in design input however he exclaims that most of his creations just "come to him" and flow out of him as he works on the leather. Knight's work has been featured in a variety of magazines and books as well. Knight also works on other leather goods, not just boots. Knight also makes a variety of other leather goods, and has also made a $18,000 custom briefcase recently, for example. Knight's leather good are works of art and he describes his goal for his work as "creating heirloom pieces to be passed down for generations to come".
 Photo from rockingkcustomleather.com