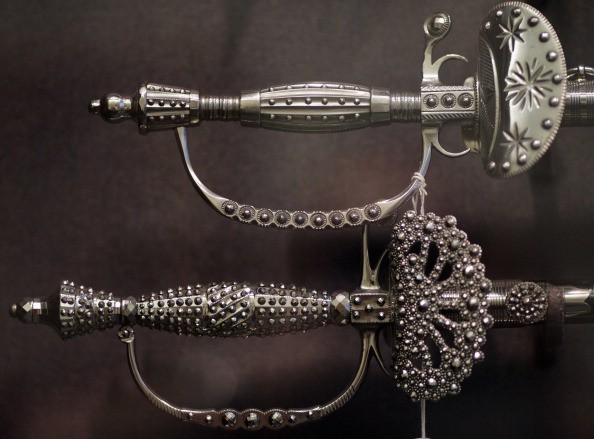 Swords are a weapon that have been around for thousands of years, dating back all throughout history. In addition to it being deadly, a sword can be a beautiful weapon that has a lot of very detailed craftsmanship go into the blade, the hilt, and even the sheath. The nicest swords throughout history have been very unique and created with the nicest materials available to form a suitable weapon that looks good as well. Here are the most expensive swords in the world.
5. 13th Century Kamakura Longsword – $340,000
Back in 1992, an auction was held after Dr. Walter Ames Compton passed away featuring his collection of 1,100 swords. The entire auction collected a total of $8 million but some of the most expensive sword and katanas were sold at it. For $340,000, a man named Mr. Inami walked away with a 13th century Kamakura Longsword (also known as tachi) along with many other items.
4. 13th Century Kamakura Blade – $418,000 
This is another sword that came from the collection of Dr. Walter Ames Compton. In this were some of the earliest katanas created and were a must have for serious sword collectors around the world. A private European collector dropped $418,000 on a single 13th century Kamakura katana that he wanted in his personal collection.
3. Ulysses S. Grant's Civil War Presentation Sword – $1.6 million
Back in 1864 Ulysses S. Grant was given this great looking sword by the people of Kentucky at the time when he was given the position of General in Chief of the Armies of the United States. The sword has a really nice design that even features 26 diamonds that are formed to spell out his initials; U.S.G. The sword sold for $1.6 million back in 2007 when it was a part of Heritage Auctions.
2. 18th Century Baoteng Saber – $5.3 million
This sword is the most expensive from the ancient Chinese Imperial bladed arms and was created in the 18th century. What sets this sword apart from the rest is its very intricate hilt and sheath designs that feature tons of tiny little carvings. The sword was auctioned off in Hong Kong back in 2006 and everyone was surprised to see the item be sold for such a high price, but it seems well worth it, especially for a major sword collector.
1. Napoleon Bonaparte's Sword – $6.5 million
The most expensive sword that has ever been sold was back in France in 2007 when someone big $6.5 million to become the owner of Napoleon Bonaparte's 200 year old gold encrusted sword. The weapon is a thing of beauty and aside from looking great was used by one of the biggest historical figures ever in battle. The sword has a stunning all golden sheath and hilt and was believed to have been used before he became the emperor.
Photo by Dan Kitwood/Getty Images