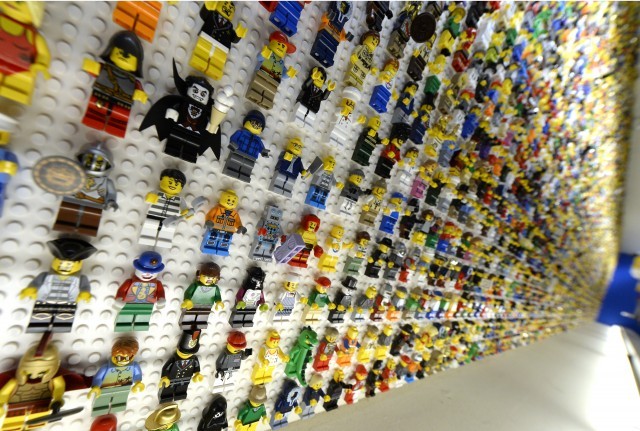 Legos are extremely popular toys for children, and even adults who enjoy collecting them. Personally, when I was growing up my favorite toys to play with were Legos. They are fun, and keep children busy as they build the construction based toy sets. The sets are sold from The Lego Group which is a privately held company based out of Billund, Denmark. The originally got their start back in 1932 producing wooden play toys however it was not until 1947 that the company began producing their famous plastic bricks. Since then, they have become extremely popular all over the world and saw around $4.7 billion dollars in revenue last year. There are thousands of different lego sets out there, and if you have ever purchased one then you know that they are not cheap. For example, a small 300 piece helicopter kit costs around $45 dollars, and some kits can easily cost more than $100 dollars. So what was the most expensive set of all time?
Lego has partnered with many other companies to produce Lego sets based off of popular characters and movies. Easily their most famous and most popular partnership is with the Star Wars universe. Lego has produced a variety of different Star Wars battleships, sets, and figurines over the years and it is from the Lego Star Wars line do we find their most expensive set.
Easily the most iconic spaceship in all of science fiction is the Millenium Falcon from the original Star Wars trilogy. Lego has produce a few versions of Han Solo's battleship, yet the Ultimate Collector's Edition Millenium Falcon was their largest and most expensive. The set measured out to be nearly three feet in length and was comprised of a whopping 5,000 pieces. A set this large could easily take an entire day to build. The set was released in 2007 and it originally retailed for $499 dollars. However given the fact that this set was a limited edition, Lego no longer produces it anymore. So this set is highly sought after from collectors and if you are looking to purchase this Lego set then be prepared to drop anywhere between $3,000 to $4,500 dollars.
Photo by Kevork Djansezian/Getty Images