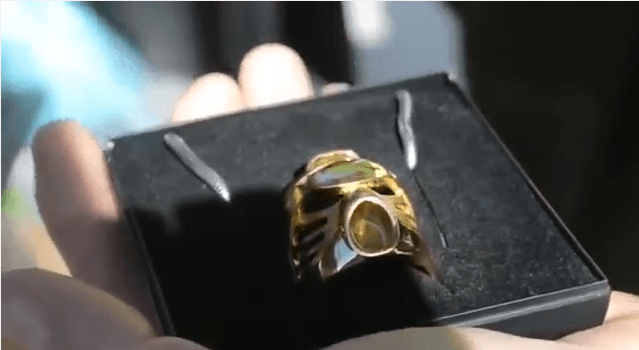 The most expensive Lego piece ever sold wasn't bought at an auction. The transaction didn't take place in a super luxurious or rare collectible shop either. In fact, the most expensive Lego piece ever sold was purchased in a deal that resembled a teenager buying a magazine from his buddy in a back alley.  OK, may that's not the best analogy, but still it was unique and an entertaining story.
According to reports, Andre Hurley, 20, met Caleb Raff at a gas station in Battle Mountain, Nevada, a small town halfway between Santa Rosa, California and Roosevelt, Utah. Hurley arrived with a black bank bag that contained $15,000 cash. Raff, a Lego store owner, arrived with a one-of-a-kind Lego piece made of gold that weighed exactly three troy ounces. The Platinum Avohkii Mask of Light from Lego's discontinued Bionicle line was exchanged for the $15,000 in cash, and history was made by the new owner, Andre Hurley.
The transaction took 8 months to build and lasted only minutes. According to reports, Raff purchased the rare mask, which is one of five, for $3,000 several years ago. Hurley said,
"I'm ecstatic. It's perfect," he said. "I view it as an investment, but I also view it as my childhood dream come true."
The mask's current value is $7,000, so we're not ecstatic about that return on investment, but then again you can't put a price on the amount of joy Hurley will receive from owning the Lego piece and telling this story to anyone who will listen. Who knows, maybe someday he'll flip this piece to a Worthly reader for a cool $50,000? In cash of course.
Image via YouTube