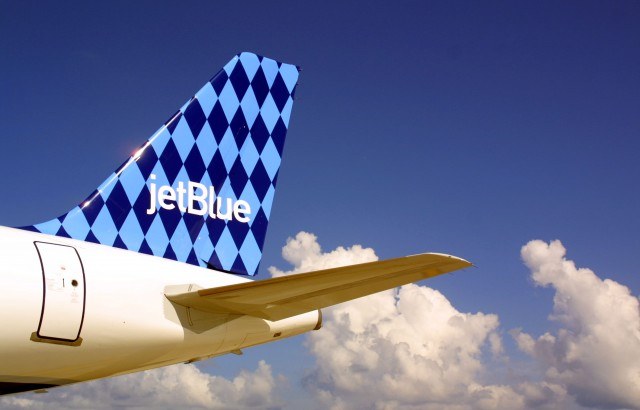 Modern air travel and commercial airlines have come a long way since the first became popularized. No one really enjoys traveling long distances, especially when you are cramped up in a plane that is flying at 30,000 feet. Luckily the airline industry as a whole has been making moves to offer guests a more luxurious package and experience. We have seen airlines totally re-designing the interior of the airplanes, offering small "pods" that are private, spacious, comfortable, and very premium. Technology has also helped make air travel easier, as practically all modern commercial airplanes are outfitted with entertainment system. As it turns out, it looks like Amazon is getting into the airline industry as they have recently announced a partnership with JetBlue.
Now it may seem strange as to how and why a shipping and online retail company can assist JetBlue, but Amazon is pretty diverse. After the company had pretty much established itself as the preeminent force in the online retail market, they have since branched out into other services and industries. You may remember when they launched the Amazon Fire phone or the Kindle. The phone didn't really pan out, however the Kindle has become the most popular eReader that is available today. At the heart of both their electronic devices and their online retail service is Amazon Prime. I remember when it first came out, and I instantly signed up. Initially, after you paid for your Amazon Prime subscription you would receive free two-day shipping on select items. If you use the service, then you know that "select" really means "pretty much everything" as it seems as though the vast majority of products on Amazon can qualify for Prime shipping. Before my Amazon Prime subscription I rarely purchased items from them. Now I pretty much buy all of my consumer goods since they have the best prices and great service. Since its original inception, Amazon Prime now offers a variety of other services. In addition to the fast and free shipping, Amazon Prime now offers access to a cloud service, a music streaming service, an eBook lending program, and even a digital movie/television/video streaming service. You get all of that for just $99 dollars per year, and now Amazon Prime is making its way into the skies.
The partnership with JetBlue and Amazon will now allow Amazon Prime members to be able to access their accounts onboard the planes, where they can then stream videos and movies through the service over the flight. Amazon Prime videos will be streamed over JetBlues free Wi-Fi service and it will be available at any seat, from coach to first class. Now Amazon Prime members and JetBlue customers will gain access to hundreds of thousands of television shows and movies up in the air. The service will be accessed through the JetBlue Fly-Hi Hub where it is compatible with laptops, iPhones, Android devices, and other mobile devices. It's not often that you get Wi-Fi up in the air, so the luxury of being able to stream endless hours of videos will be extremely beneficial. It could also bring in a lot of money as well.
This new partnership between the two companies makes it very attractive to use each others service. If you are a traveler with Amazon Prime, you may be more inclined to fly with JetBlue now because you can use the service in the air. If you're a frequent JetBlue member without Amazon Prime, you now have a pretty strong incentive to purchase the service. Flying is often a chore and a hassle, but this new partnership between JetBlue and Amazon will help travelers have a more relaxed flight. Usually flyers would have access to only a few in-flight movies that were more often than not horrible, now consumers of both companies will never get bored. The service will launch sometime this year on every JetBlue Airbus A321 and A320, and it will then head over to their Embraer E190 jets sometime next year. It will be interesting to see how the partnership pans out, and if any other companies (*cough* Netflix *cough*) would get into the mix to compete. Only time will tell how this new service will work out, but it seems like a pretty attractive offering for anyone that frequently travels in the air.
Photo by Joe Raedle/Getty Images