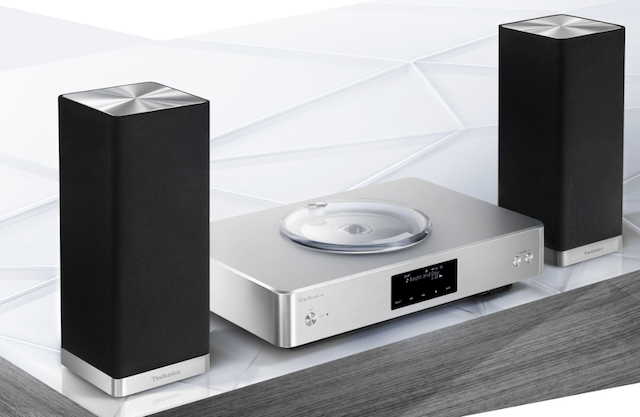 We have moved away from the world of expensive home audio systems and into the world of "convenience". Most people simply do not listen to vinyl records or CDs anymore through an elaborate home setup, and given the seemingly endless amount of music that's found on Spotify or similar services, it makes sense why many are now just listening to music through their smartphones or laptops. However there are still companies out there, like Technics, that create high-end audio home systems. The company is gearing up to launch their all-new Ottava Hi-Fi all-in-one-system and it looks like one of the more interesting and promising listening systems on the market today.
The Ottava is a mini Hi-Fi system that packs a lot of punch into a very small package. The entire setup could easily fit into a small backpack, yet it still delivers big sound. The units design is also visually appealing and will fit into anyones home as it has a minimalistic footprint.
This device is quite obviously about sound though. Technics has packed into the Ottava a plethora of their latest Hi-Fi technologies and designs. The speakers within the towers have been carefully arranged in a way to not drown out the high, mid, or low frequencies. The device offers Class D amplification at 100 watts. The speakers have a dual amplifier and dual wiring setup, allowing two different channels going to each speaker at any given time.
Technics's Ottava is also very current. At first, its CD player might scare you, but there is a mobile application for the device as well. Through the app you can add in music sources and then stream them to the Ottava in addition to altering the devices EQ. The Ottava also has a USB input, an Ethernet port, a headphone output, WiFi, Bluetooth, and is compatible with AirPlay as well.
The Ottava is set to launch sometime this winter, and it seems to be one of the more compelling all-in-one Hi-Fi systems. It delivers a great listening experience that is also very modern in a small package. There's no world on how much it will cost, but to find out more head on over to their website (technics.com)
Photo from Technics