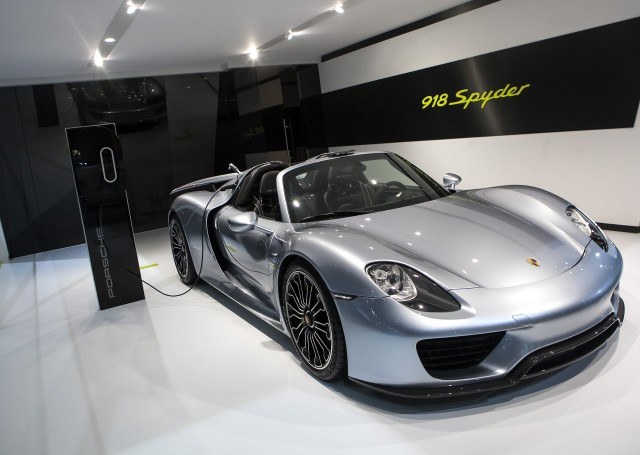 If you were to take a car and outfit it with all of the most advanced technology available for automobiles right now, packed in a large V8 engine, and two electric motors, you would get the Porsche 918 Spyder. The Porsche brand has always been synonymous with speed and performance and amazing track-bread racecars, and its seems as through the German company has built their best superc.. no hypercar, ever
Designed by Michael Mauer the Porsche 918 Spyder is a mid-engine, hybrid hypercar. We see the term hypercar being used more and more now, and they are essentially the top-of-the-line supercars that offer performance and features that make regular supercars look like children's toys. The Porsche 918 Spyder is definitely one of those cars. The reason this car is considered a hypercar is its is arguably the highest performing, street-legal production vehicle ever.
Okay, that's a really bold claim, but hear me out first. The 918 Spyder is powered by a 4.6 liter V8 engine and two electric motors, one for each axel. The combined power from those three engines produces an incredible 887 horsepower and an absurd 944 lb-ft of torque. When the car was first introduced Porsche claimed that it could accelerate from 0-60 mph in just 2.6 seconds. When Car and Driver got their hands on the car to do independent testing, they found that claim to be false…because they got that number down to 2.2 seconds. For a street legal car, that is absolutely absurd, and that number makes it the fastest car ever in terms of acceleration, it also can go up to 211 miles per hour as well. So while there are cars with faster top-speeds, you realistically are never going to drive that fast, and when you take into account this cars 4-wheel drive, its one of the best around a track.
The 918 Spyder, like all Porsches, are always developed with the race track in mind, and can handle corners and turns like no tomorrow. The 918 Spyder has recorded the third fastest lap time (6:57) on the Nürburgring in Germany, only getting beat by two cars you cannot even drive on the street as they are illegal, making it the fastest street-legal, production car on their track.
Outside of the unbeatable performance, the 918 Spyder is outfitted with some of the most advanced features you can get in a car. Its got an advanced computer system, launch control, multiple driving modes, regenerative brakes that charge the batteries, a carbon fiber chassis, and much more. Being a hybrid, its has low CO2 emissions and depending on the driving mode you're in you can get between 67 – 78 miles per gallon (using all engines). The car start at around $850,000 dollars, and so far over 800 cars have been ordered. Porsche is still filling orders, as a lot goes into producing these machines.
So when you get down to it, the Porsche 918 Spyder is one of the most incredible vehicles ever made. The car is the culmination of every advancement in the history of the automobile industry, and it lays down the ground work for the future of all high-performing vehicles. Check out this video from the guys at Top Gear taking a look at the car to see more:
Photo by Eric Thayer/Getty Images