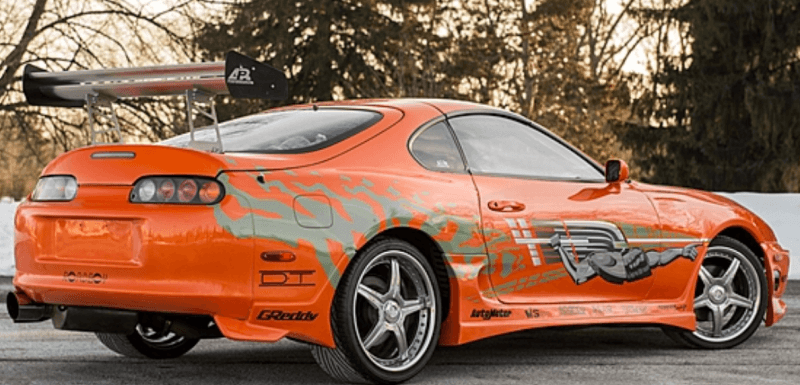 Nearly two years ago the movie world was hit hard with the death of Fast & Furious star, Paul Walker. Walker was best known for his movie role of Brian O'Conner, a lead character in six of the seven Fast & Furious movies that began back in 2001. The beloved actor was a huge car fanatic who passed away during a charity event that involved driving a top contributor down a closed off street at top speeds in a Porsche Carrera GT. Now, after receiving a beautiful sendoff in the most recent, Furious 7, Walker's famous  orange Toyota Supra from the original movie is going up for auction.
The car, which is a 1993 Toyota Supra, is being sold by Mecum Auctions. The car was built by Eddie Paul at The Shark Shop, which is in El Segundo, California for the film. The car was made famous by Walker and is best known for the final race between O'Conner and Vin Diesel's Dom Toretto.
The famous orange Supra is a 5 speed that is totally tricked out and would be a dream car for any enthusiast to own. The Supra has become a very rare model and anyone interested in buying one will find themselves paying way over the price of a new Supra when it was being sold in dealerships.
Mecum is expecting Walker's Supra to sell for anywhere between $150,000- $200,000. The car is officially hitting the auction block in Indianapolis starting on May 12th and ending on the 17th. The car is in great condition and is a timeless relic for both car and movie lovers. Many people will probably be interested in taking a shot at owning the car, especially with online bids being allowed. The Fast & Furious franchise has glorified so many cars throughout the years but nothing is more famous than Paul's Supra.
Photo via Mecum Auctions