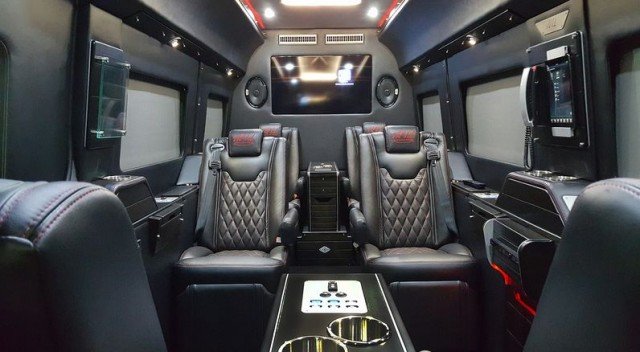 If you're a die hard Alabama football fan, you're not only a fan of one of the best football programs in the world, but now you get a chance to ride in a $200,000 van that your coach, Nick Saban, designed.   This is the Signature Mercedes-Benz Sprinter complete with three televisions, hardwood floors, high-grain leather upholstery and seats that give University of Alabama football fans backrubs.
Saban collaborated on the design of this limited-edition van to woo tailgaters who stake claim at the Tuscaloosa's school campus during weekends.   It was introduced this week at the automaker's Birmingham dealership, which Saban co-owns.
Saban, who is revered at 'Bama,  has a contract worth $7 million per year and a statue outside the stadium. Not since the 1983 death of coach Paul "Bear" Bryant,  has the school seen such adulation for a head coach.
 The 15 Sabanmobiles were devised by McSweeney Designs, a division of McSweeney Holdings in Trussville, Alabama, which also builds armored luxury vehicles for buyers in Africa and the Middle East. The coach's signature is stitched in red on the vehicle's headrests, and it has a high-end audio system and massage chairs, according to his daughter, Kristen Saban-Setas, who is in charge of marketing it.
The special Sprinter "is truly an exquisitely custom-tailored vehicle," she said in an e-mail. "The ultimate tailgating experience."