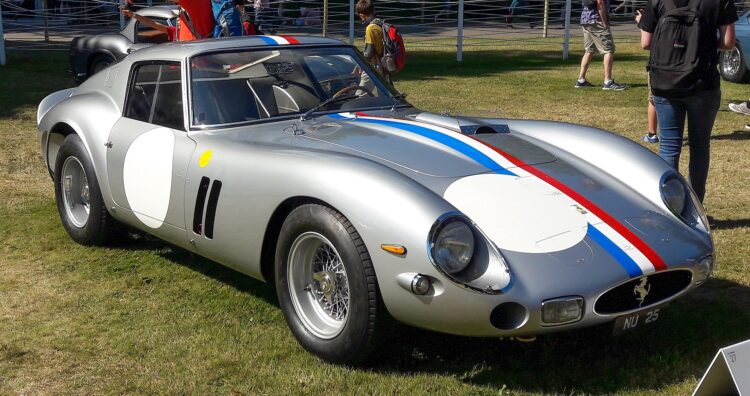 The allure of vintage cars has captivated automobile enthusiasts and collectors for decades. Steeped in history and showcasing intricate design and engineering, these vehicles continue to serve as symbols of craftsmanship and luxury. Some classic cars have gained legendary status, commanding sky-high prices at auction and becoming a significant investment for collectors.
Among the vast array of vintage automobiles, certain models and brands stand out as the most expensive and sought-after. Ferrari, in particular, dominates the list of priciest classic cars with models such as the 290 MM and the 375 Plus Spyder. These timeless masterpieces captivate collectors with their exquisite design, performance, and historical significance.
Other high-priced vintage cars that have made their mark in the world of collectible vehicles include the 1956 Jaguar D-Type and the 1933 Alfa Romeo 8C 2300 Monza Spider Corsa. These exceptional cars, much like their Ferrari counterparts, have seen their values skyrocket over time, making them a fascinating and valuable piece of automotive history.
Top 5 Most Expensive Vintage Cars
Many classic cars hold significant value over time, but a select few stand out as some of the most expensive vehicles ever sold. In this section, we explore the top five most expensive vintage cars, detailing their unique features and jaw-dropping price tags.
1. 1962 Ferrari 250 GTO
Leading the list with a staggering $70 million price tag, the 1962 Ferrari 250 GTO is not only a shining example of automotive engineering but also holds road-legal specs. This highly sought-after car was designed for racing and is considered the crown jewel of classic vehicles.
2. 1954 Mercedes W 196
Selling for $24 million, the 1954 Mercedes W 196 boasts an impressive racing pedigree and features a unique design. Known for its performance and engineering, this machine demonstrates the pinnacle of 1950s automotive innovation.
3. 1962 Ferrari 330 TRI/LM
With a sale price of $6.5 million, the 1962 Ferrari 330 TRI/LM showcases the brand's expertise in creating powerful race cars. Its sleek design, captivating appearance, and triumphs on the track make this car a collector's dream.
4. 1931 Type 41 Bugatti Royale
The 1931 Type 41 Bugatti Royale fetches an impressive $8.7 million and stands out for its opulent and extravagant design. As one of the most luxurious cars ever made, the Bugatti Royale is a true testament to the brand's penchant for combining style with performance.
5. 1932 Alfa Romeo Tipo B
Rounding out the top five at $5.6 million, the 1932 Alfa Romeo Tipo B is a stunning example of Italian automotive craftsmanship. With a storied racing history and a distinctive design, this classic car remains an exquisite representation of Alfa Romeo's rich heritage.
Historical Significance
The historical significance of vintage cars lies not only in their design and mechanical engineering, but in the lives they have touched and the incredible stories often associated with them.
Rare Models
Some classic cars are sought after due to their limited production or unique features that made them stand out during their time. The values of these automobiles can reach astounding heights at auction, given the perfect blend of rarity, condition, and historical context. For instance, the Ferrari 250 GTO by Scaglietti chassis no. 3413 GT went for $48.4 million in 2018, setting a new record for the most expensive car ever sold at auction.
Another example is the Alfa Romeo 8C 2900B Lungo Spider, which is recognized for its exceptional performance and striking design. Only around 32 of these stunning vehicles were ever made, contributing to the model's impressive sale value of $19.8 million.
Prominent Owners
When a classic car has been owned or driven by a recognizable individual, its historical value may increase significantly. A prime example is the 1956 Ferrari 290 MM, which was built specifically for one of the most celebrated racing drivers of all time, Juan Manuel Fangio. The story of this iconic racer participating in the 1956 Mille Miglia and other events with that Ferrari has boosted the value of the car to an impressive $28,050,000.
Besides racing drivers, other famous individuals have also contributed to the historical significance of certain vintage cars. A 1962 Ferrari 250 GT SWB California Spider, once owned by actor James Coburn, sold for $10.9 million in 2008, highlighting the considerable boost in value associated with a celebrity owner.
Through their unique features, rarity, and connections to prominent personalities, vintage and classic cars have gained an incredible historical significance. These amazing machines are a representation of the technological advancements, dramatic stories, and enthralling culture of the past.
Auction Records
Over the years, auction houses have witnessed record-breaking sales of vintage cars. These cars have fetched incredible prices due to their rarity, historical significance, and the prevailing market conditions at the time of the auction.
One such record was set by a 1962 Ferrari 250 GTO, which became the most expensive car ever sold at auction. It fetched a staggering $48,405,000 at a 2018 RM Sotheby's auction during Monterey Car Week in California. This surpassed the previous record for a 1963 250 GTO Berlinetta.
Another notable sale is the 1904 Rolls-Royce 10 hp Two-Seater, currently listed on the Guinness World Records as the most expensive veteran car to be sold. It was sold for $7,254,290 (equivalent to $9,480,000 in 2021) at a Bonhams auction held in London on December 3, 2007.
Other high-profile auctions, such as those conducted by Gooding & Company, have seen multimillion-dollar sales. For instance, a Duesenberg SSJ with chassis no. 2594 was sold for an impressive $22 million in 2018.
Here are a few notable examples of expensive vintage cars sold at auction:
1962 Ferrari 250 GTO – $48,405,000
1963 Ferrari 250 GTO Berlinetta – (previous record holder)
1904 Rolls-Royce 10 hp Two-Seater – $7,254,290
Duesenberg SSJ (chassis no. 2594) – $22,000,000
These auction records demonstrate the immense value and appreciation for vintage cars among collectors and enthusiasts. The world of classic cars remains an exciting and lucrative market for those with an eye for rarity and historical significance.
Factors Influencing Value
There are several factors that influence the value of vintage cars. These factors include the condition of the car, its provenance, and its originality. Let us explore each of these factors in the following subsections.
Condition
The condition of a vintage car plays a critical role in determining its value. Cars that are well-preserved and in excellent condition will always fetch higher prices than those in poor or deteriorated condition. This takes into account not only the appearance of the car but also its functionality, including the performance of the engine, the state of the interior, and the structural integrity of the body and chassis.
Provenance
The history and ownership of a vintage car, or its provenance, can also have a significant impact on its value. Cars with notable previous owners, famous racing history, or unique stories attached to them often command higher prices. On the other hand, cars with a less interesting history or a lack of documentation to support their authenticity might be less valuable. Provenance adds a layer of significance to a vintage car and is a factor worth considering for potential buyers and collectors.
Originality
An important aspect of a vintage car's value is its originality, which refers to the extent that its components, finishes, and overall build remain true to the manufacturer's specifications when the car was first produced. Cars that retain their original parts and features are generally considered more valuable than those that have been modified or altered over time. This is because original cars provide a more accurate representation of the era in which they were built, giving collectors a purer experience of automotive history.