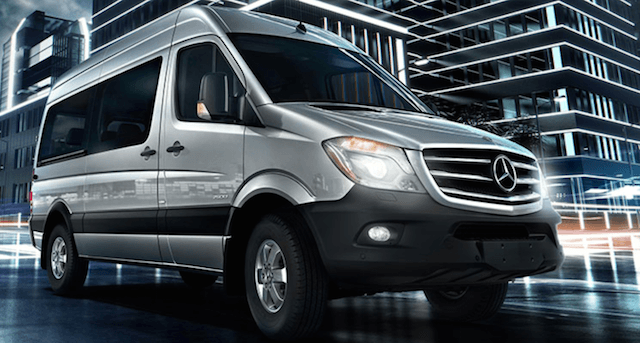 Mercedes-Benz produces a variety of luxury sedans, coupes, SUV's, and even some supercars for consumers around the world. They are known for their strong brand recognition and their high-quality vehicles. While they are known for their luxury automobiles, they are not as well know for their vans and trucks. I bet if you ask people, they would be surprised that the Mercedes produces industrial vehicles. Among them is the Mercedes Sprinter, and its been holding its own for awhile now.
Located on a satellite website as it is not listed on Mercedes' main website as if they are ashamed of the vehicle, is the Mercedes Sprinter. I suppose Mercedes feels that the Sprinter is their weird cousin. Whether or not that is true, the Sprinter remains to be a pretty good van that is able to tackle many tasks. The Mercedes Sprinter is a jack of all trades, and can do a lot given its various configurations that are available. At $35,995 dollars we have the cargo configuration that has two seats and maximizes storage capacity; very utilitarian. At $38,270 dollars we see the crew van which is essentially is the cargo version with a back row, allowing it to seat 5. Next there is the large passenger version at $39,995 that can seat 12. There is also the cab chassis version at $35,310 dollars that can tow anything up to 7,500 pounds, and finally their is the minibus configuration that can seat 18. Within those five categories, there are a variety of different models that have larger roofs and wheel bases and a variety of options. The vans come either standard with a 2-stage Turbo Diesel Engine and a seven speed transmission, or an upgradable V6 BlueTEC Diesel Engine and a five speed gearbox.
Given the diverse nature and variations of this van, they can be put to use for a variety of different tasks from bussing elderly people from a retirement home, to towing a trailer, or even moving a crew of painters to a job site. Some people even convert the cargo versions into premium mobile homes; the options are really endless with these vans. Combine that with the fact that its made from Mercedes and receives great reviews from users, and you definitely have one of the best vans on your hand.
Photo from mbsprinterusa.com