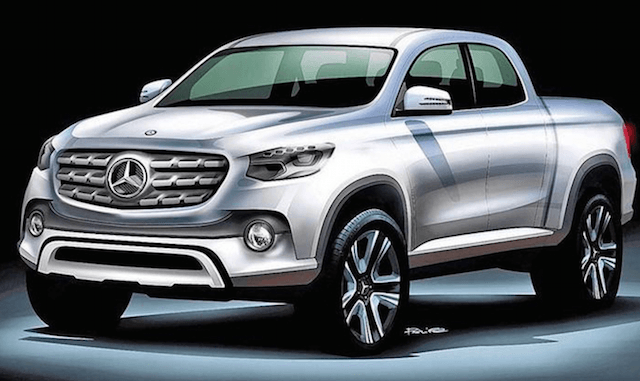 It has been rumored for some time now that Mercedes-Benz may potentially design, create, and then launch a pickup truck for the United States. Daimler, Mercedes' parent company, announced a while ago that they were toying with the idea of creating a luxury pickup truck, and it seems as though they will be following through with that move. It will be produced in collaboration with Mercedes and their other brand, Nissan as Nissan has experience with designing and producing pickup trucks.
Mercedes produces a range of different vehicles, everything from luxury coupes and sedans to SUV's and sports cars. They even produce a few popular vans, so a pickup truck probably wouldn't be that much of a challenge for them. They've announced the pickup truck awhile ago now, but we still don't have any details as to what the vehicle would be like or when it will be released aside from this mock up sketch. However, Mercedes has also recently said that they're going to need about another year to decide if the vehicle would come to America.
For the traveling camping enthusiast or contractors that seeks a more comfortable ride, a potential truck from Mercedes could be very appealing. Pickup trucks are some of the most popular vehicles within the United States, so a Mercedes pickup would most likely be big. There are already high-end pickup trucks produced by Ford and Chevy that offer many luxury features, while still remaining to be functional. But given Mercedes' track record, this future pickup truck will most likely be the most luxurious one on the market. I'd imagine it will offer all of the features seen within the popular Mercedes of today, while packing enough power for drivers to haul heavy loads.
Daimler has said that this future truck will share a size and architecture that is similar to the Nissan NP300, a mid-sized pickup truck. Hopefully the Mercedes-Benz pickup truck will be sold in the United States, as I'd imagine this country would be one of the largest target markets for such a vehicle. We will have to wait and see what happens with this pickup truck, but I cannot see any reasons as to why it would not be released in the United States.
Photo from Mercedes-Benz/Daimler