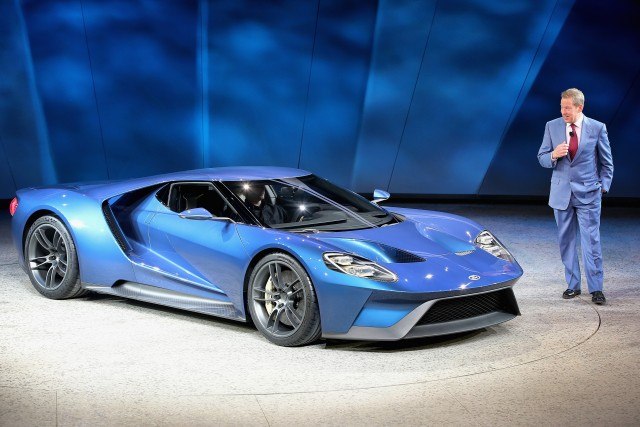 The 2015 Detroit Auto Show saw a variety of companies unveil new cars and upcoming features. There were also a few supercars unveiled at the show, and after much anticipation, Ford has confirmed that they will be bringing back the Ford GT sometime in 2016.
The Ford GT was a supercar that was produced by the American car manufacturer from 2005 to 2006, and they only ended up producing around 4,000 of these vehicles. After 2006 Ford took a break from making the supercar, but this newer version is cooler than ever. Ford has improved the vehicle in nearly every way, and this version will be far superior to its counterpart.
While the original Ford GT had a V8 engine, Ford has scrapped that for a 3.5 liter V6 Ecoboost engine. One of the complaints with the original GT was that is sucked down gas very quickly, and Ford promises that this will be more fuel efficient. Despite being a smaller engine, Ford ensures that it will deliver "over 600 brake horse power". While no performance stats are out yet, the car is expected to go from 0-60 miles per hour in around 3 seconds and will most likely have a top speed of at least 200 miles per hour.
We find carbon fiber through the cars body, a carbon passenger cell, and carbon in the chassis as well to keep the weight down. Ford made some big claims saying "The GT will exhibit one of the best power-to-weight ratios of any production car". The GT is also styled in such a way to make use of active aero elements seen in the hood and the sides of the vehicle. While the new GT looks similar to the old one, this one just "feels" more like an exotic supercar. The car will be released some time in 2016, and more information will come out between then like how much it will cost. In the mean time check out this video of the car:
 Photos from Scott Olsen/Getty Images