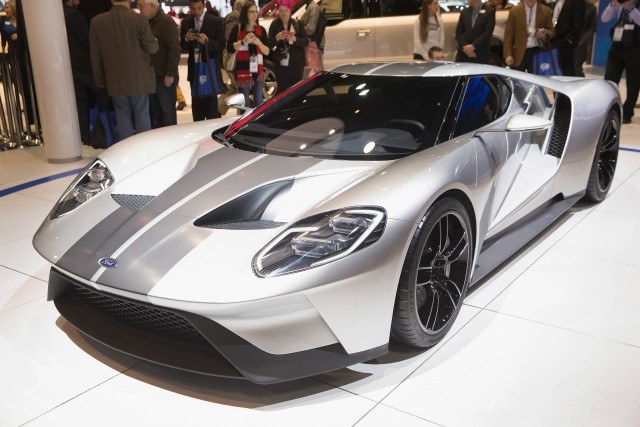 While American cars were arguably some of the nicest vehicle in the past, that has long since changed. European and Asian cars have arguably taken over, and it terms of luxury and sports cars, European-made vehicles are now considered to be the best. With brands like Ferrari, Aston Martin, BMW, Porsche, and others dominating the luxury and sports markets today, Ford looks to take back the crown and challenge the norm with their all-new 2017 Ford GT.
Ford initaly released the first GT back in 2004, and apart from some issues (tall people had trouble fitting in it, it got  like 8mpg, etc.) it was extremely well received. Now they are following up with a second model that will land in 2016, and many people are very excited for what this vehicle brings to the table. While all the specifics are not fully known, based on the information already out there, this new GT will probably be the best one yet.
The 2017 Ford GT is first and foremost a supercar. This will be the vehicle to go up against the Ferraris and Lamborghinis of the world. Off the bat, the new GT looks awesome. Ford has refined the design and has made the new GT aggressive and formidable looking. Ford tells us that the GT will also "exhibit one of the best power-to-weight ratios of any production car". They will achieve this because the GT is covered with carbon fiber body panels and aluminum parts. Additionally the GT boasts a 3.5-liter twin-turbocharged EcoBoost V6 engine that will deliver "over 600hp", according to Ford. Twin-turbocharged V6's and V8's are really the future of supercars as brands are replacing their large V12 engines for these smaller, lighter, and more tuned engines. Additionally the vehicle will offer many features you'd expect from a supercar: a racing-styled pushrod suspension, an advanced computer system, active aerodynamics, a variable-position spoiler, and more.
This all translates (theoretically because it's not yet released) into an impressive vehicle. We expect it to be able to achieve a top speed of over 200mph, in addition to being able to accelerate from 0-60mph in around 3 seconds flat. If all of this goes according to plan, the 2017 Ford GT will be a worthy contender to take on European competitors. But will car fans makes the switch? That remains to be seen. The GT is expected to costs around $400,000 dollars and Ford will being producing about 250 per year. It will have to be a really impressive vehicle, as you can still purchase quality Ferraris, McLarens, and Lamborghinis for a lot less.
Photo by Scott Olson/Getty Images