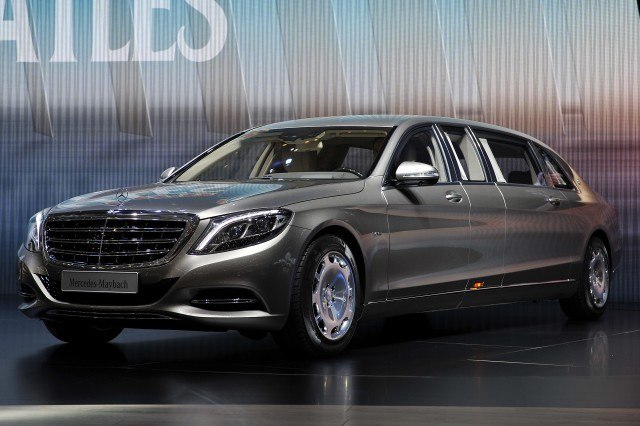 Mercedes-Benz has always been an automobile brand that's known for their exceptional luxury vehicles. They produce everything from small sedans to large SUVs, and regardless of which model you opt for, there are two things that are for certain: it's expensive, and it's one of the best luxury motor vehicles you can get. They have plenty of great offerings for the average consumer, and then a few options for those that demand the best-of-the-best. At the ultra high end of things is the Mercedes-Maybach S-Class Pullman, freshly unveiled for 2016. The first Mercedes-Maybach S600 was a big hit, and now Mercedes-Benz has stretched the car out, which will put it in a league of its own. The Maybach name is one that has always been associated with the brand's best luxury vehicles. Maybach's have always been an absolutely no compromise vehicle, highlighting the fact that you're paying for the best and the 2016 Mercedes-Maybach S-Class Pullman is no exception. In fact, you could argue that it's the best Maybach ever. So is the new Mercedes-Maybach Pullman the most exceptional luxury vehicle on the planet, or is it just a wannabe Rolls-Royce? Let's take a look.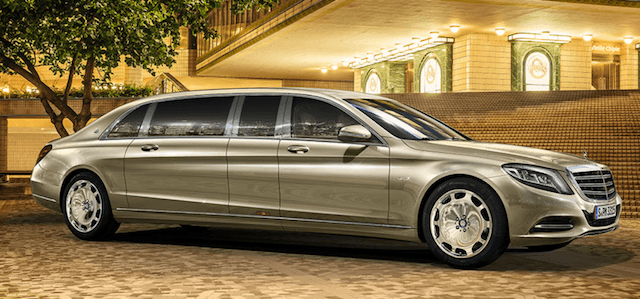 The first thing that immediately grabs your attention about this vehicle is its size. The S600 was already a big car, on par with the Bentley's and Rolls-Royce's of the world, but the Pullman absolutely dwarfs those vehicles and its younger brother. Seriously, this car is absolutely massive. In fact, it's 21.3-feet in length. That fact alone makes this vehicle one of the longest cars ever made, and it's currently one of the longest production car on the market today. Basically the vehicle is somewhere in-between a modern limousine and a standard sedan car. The result is this odd-looking vehicle that just commands attention. Outside of this Maybach's length (and I suppose its rims), the vehicle resembles a fairly standard Mercedes-Benz in terms of design, and there's nothing wrong with that. Mercedes didn't need to add any drastic changes to the design, as again, the car's length is enough for that "wow" factor. However it would be nice to see a few design changes to make this car feel truly special, as the front end just feels unoriginal compared to the front end of standard Mercedes, but I suppose we can't have everything, and it's not like it's an ugly car. So why is this car so long? For an unparalleled interior experience of course.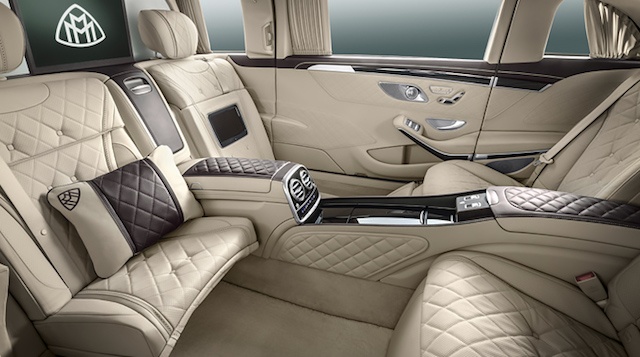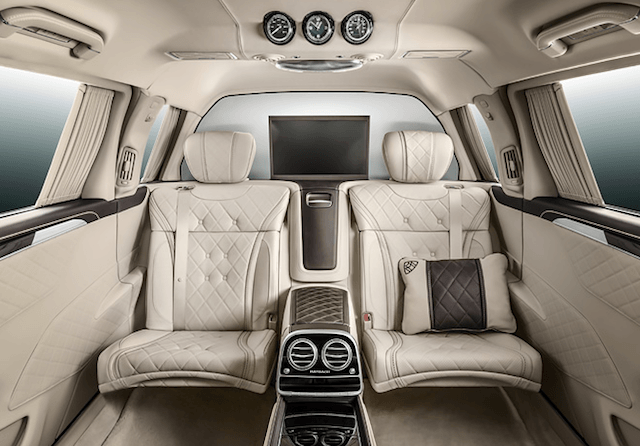 A true Maybach is all about the luxury experience, and boy, will you feel like royalty in this car (assuming that you aren't already royalty). Mercedes initially boasted that the interior of this vehicle was like the lounge of a club, and we can see why. While the standard S600 offered just two seats in the back, the Pullman now has four. The forward-facing seats are easily the best, as they are larger and feature a reclining footrest, while the reverse facing seats are a bit smaller. These two reverse seats are actually folded up when not in use, allowing the rider to have more leg room in the standard seats. In fact with those seats up, the Maybach Pullman has more legroom than any other car in its class. But if you ever needed to bring along more passengers in a Maybach, you know have the room to do so.
In terms of interior design, the Pullman is right there at the top with industry leaders; the car's interior is an experience. We find a beautiful leather upholstery that is just tastefully done in true Maybach fashion. It even has pillows and curtains, for crying out loud. Since this is a Mercedes (and one of the best and most expensive ones) it's also outfitted with nearly any luxury amenity and all the accessories you could want. We are talking about a premium surround sound system from Burmester, an 18.5-inch multimedia monitor, heated cup holders, a small fridge, and more. Potential buyers of this Maybach can really add a range of bespoke features and options in addition to the standard offerings. Basically this car has every interior option Mercedes-Benz offers and then some. The primary "goal" of a Maybach is to deliver the best riding experience a passenger could imagine, and it does just that. I could continue to ramble on about exact specifications, but at the end of the day, these pictures speak for themselves.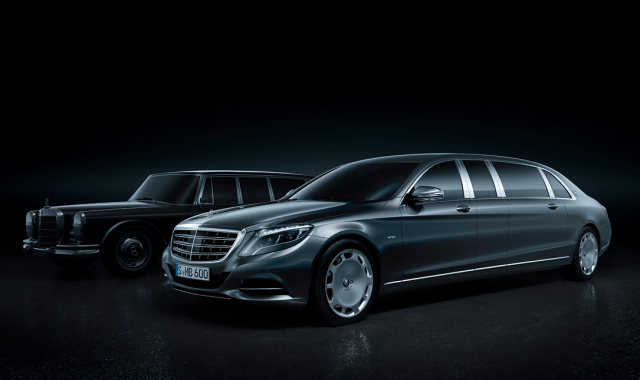 Now a car this size obviously needs a fairly capable engine to power this behemoth along, and the Mercedes-Maybach Pullman again delivers. It has a 5.9-liter V12 biturbo engine under the hood that offers 530 hp in total, and more importantly, 612 lb-ft of torque. The engine is certainly large and capable, but don't expect to be breaking any land speed records in this car, it's not exactly fast. I mean, it's not slow either, but you don't buy this car to drag race. In fact, you don't even buy this car to drive it, nor would I imagine that it would be a pleasurable experience to do so. I'm sure the driver seat is comfortable and that the dashboard is packed with all the features you'd need, but this isn't an "easy" car to drive by any means. It's wide, very heavy, and absurdly long. I can see it being fine for the roads here in America, but I'm having some difficulties picturing this car driving down some small road in an old town in Italy, or other parts of Europe for that matter. Compared to standard cars driven in Europe (or even here for that matter), this is a tank, and it's hard to drive a tank. You don't but the Pullman to drive it, or any Maybach for that matter. You buy these cars to be driven in. And that leads us to our next point: just who is this car made for?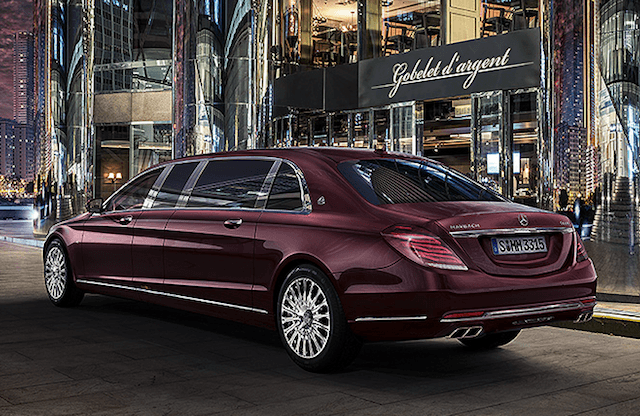 The first Mercedes-Maybach Pullmans are expected to roll out sometime in the early parts of 2016, and Mercedes exclaims that they will start "at around half a million euros", or $550,950 dollars. That's a lot of money for a car, meaning this vehicle is reserved for the ultra-wealthy and elite of the world. Think royal family members, billionaire business executives, or various presidents. This isn't an average vehicle by any standards, and it's not made for "average" buyers.
The 2016 Mercedes-Maybach Pullman is arguably the most luxurious car that the brand has ever put out. It has a powerful engine and all the features you could want. But most importantly, it's absolutely massive. The elongated body of the car allows for the roomiest interior seen in any car in its class today. Being driven in this car is an incredible experience that makes you feel special, at least I would imagine (sorry, I don't have $550,950 dollars to spend on a car). Regardless, Mercedes-Maybach wanted to up the ante and create a car that could tackle the ultra-luxury market. And that's where this car succeeds, it's easily the most luxurious and comfortable vehicle out there today. Sure it's cumbersome and your driver probably wishes you had opted for the S600, but you aren't paying him for his opinion. While it may be a challenge to drive and it's not the fastest vehicle, it's undoubtedly the most luxurious one.
The Good
The 2016 Mercedes-Maybach Pullman is nearly a flawless vehicle. It has pretty much everything you could ask for in a luxury vehicle that you want to be driven in. The large body of the vehicle allows the interior cabin to offer the most amount of leg room seen in any vehicle of this class, to say nothing about it's beautiful interior design. It's packed with all the features and amenities you could ever need, and you probably would never want to get out of it. It's easily one of the most luxurious cars ever made, if not the most luxurious. There aren't many cars that come to mind that offer a comparable experience that the 2016 Pullman offers.
The "Meh" 
While the design of this vehicle isn't ugly or cheap, it just doesn't feel exceptional to me. It does have the "wow" factor due to its large frame, I'll give it that. But it just isn't a beautiful car, in my opinion. Sure I get that this car is all about the inside and that looks aren't everything, but truly beautiful cars can stand the test of time. The Rolls-Royce Phantom is a beautiful car, and in 30-years it will still probably be a beautiful car. I'm not so sure about the Pullman.
The Bad
Okay I'm pulling hairs here, as this car is truly exceptional in nearly all aspects. But there are a few things that I think are bad. Namely its size. I did praise the vehicle's length as it offers a roomy and exceptional cabin that's rarely seen in vehicles today. However with it's elongated body comes its biggest downfall: driving the car. Sure you won't have to worry about that as you'll have a driver at the wheels. But even still, this car isn't really practical and it's extremely cumbersome. If you aren't consistently filling the vehicle with at least four passengers, then the "point" of this car becomes less clear and it just becomes ostentatious. Additionally this car is extremely expensive. I mean, this comes to as no surprise, but a $550,950 base price tag is never a "positive" attribute. Also you'll be frequently making trips to the gas station as 21.3-foot vehicles with biturbo V12's consume a lot of fuel, to say the least. But outside of these nitpicky details, the 2016 Mercedes-Maybach is one of the most exceptional luxury cars you can get.
Photos from Harold Cunningham/Getty Images, Mercedes-Benz