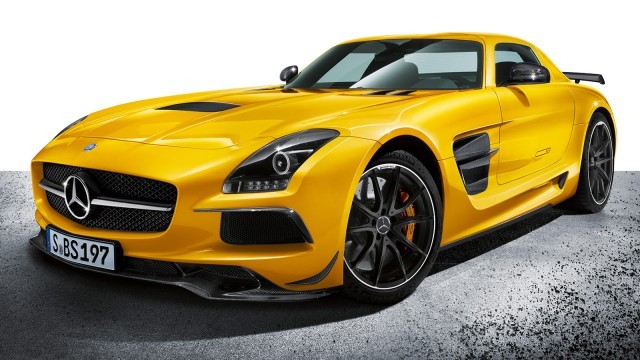 The Mercedes SLS AMG is a 2-seater, front engine supercar that the company first introduced in 2010. There have been many iterations of this vehicle and they all had a few common denominators: large engines, high in performance, and filled with luxury features. Mercedes does a good job of bringing luxury, performance, and style together in their SLS series and the SLS AMG Coupe from the Black Series is probably the coolest version of this car.
Mercede's AMG division is a subsidiary of the company that focuses of making high performance vehicles and amazing engines. Their engines are so popular that they are used in a variety of other high-performing supercars like the Pagani Zhonda. Inside Mercedes AMG is their Black Seires: a series dedicated to making their high-performing cars even more powerful. Black Series vehicles are only available on their 2-door vehicles and they focus on making the cars lighters, more stable, faster, have better traction control, and much more.
Now this version of the SLS is arguably the best version: its the most powerful one and the lightest one. The car has a 6.3 litre AMG V8 engine that generates 631 horsepower and around 470 pounds-feet of torque. Combine that large engine with the fact that most of this vehicle is made from space-grade carbon fiber and you can achieve a top speed of 195 miles per hour and accelerate from 0-62 miles per hour in just 3.5 seconds. The vehicle is so light that it actually has the best power to weight ration of any Black Series Mercedes to this day. This SLS also has all the bells and whistles that you would expect from a car like this: an AMG Ride Control performance suspension, ceramic composite brake system, light-weight wheels, an electronic rear-axle differential lock, a 7-speed sport transmission, racing seats, a premium sounds system, gull-wing doors, and much more. No matter how you look at it, Mercedes AMG spared no expense and this is certainly a supercar. If your looking to get your hands on one then be prepared to drop around $250,000 dollars.
Photos from mercedes-amg.com