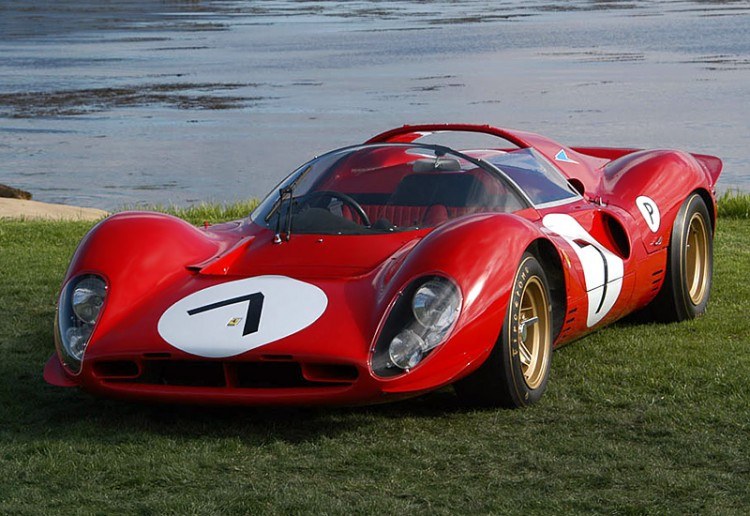 Many auto buffs have described the revolutionary Ferrari 330 P4 as stunning. Some have even described it as voluptuous. Its arched fenders, often described as futuristic, are like a stallion's haunches. This imagery is even more accurate when taking into consideration the name Enzo Ferrari gave to his first race car shop. He called it Scuderita Ferrari, which means Ferrari Stable. To the artistic eye, Ferrari 330 P4 has the high rounded hips and gracefully stretched lines of a prized race horse in full gallop. Enzo Ferrari was a carpenter's son. He obviously inherited his father's eye for line and design. The innovative, clean lines of the historic cars which would fill his stable demonstrate a company focus on distinctive profiles and superlative performance.
Enzo Ferrari had managed the Alfa Romeo motorsports team, and he had also raced for them. His work including buying and preparing Alfa Romeo cars for gentlemen to race. But his own shop, produced its first race car in 1940. Since then, the cars created by the legendary Ferrari are coveted by collectors around the globe., selling for millions and setting world record sales figures.
Henry Ford had attempted to purchase Ferrari in its early years, but the negotiations decidedly failed. He had tried to break the racing track dominance which Ferrari had held, but resorted to designing a car which could beat what he called those "fast little red cars". For many years in Italy, red was the official color of racing cars, and racing manufacturers raced red ones. Their designs, country of origin colors, and company badge symbols distinguished them from each other. Ford's opposition to Ferrari came in the form of Carroll Shelby, who managed Ford's racing car program, and the winning GT40s prototypes.
The 330 P4 was literally built to win. Enzo had given instructions to chief engineer Mauro Forghieri to create a winning car. The 330 P4 won the 1967 24 Hours of Daytona, took the two top spots at Monza, and took second and third places at Le Mans. The car also took back the Constructor's International Sports Prototype Championship, which was a sweet victory after losing these top wins to Ford's GT40 in 1965 and 1966.
From 1962 through 1967, Ferrari had raced in the world sports car championships, winning the prototype class for five of those years. Ferrari had created a prototype series specifically for running these races. The P4 was the ultimate and final model of the series. There were only three of the 330 P4s constructed, with the chassis numbered as 0856, 0858 and 0860. One additional Ferrari, the 330 P3 0846, was also updated to the same specifications of the P4. So, just four of them comprised the 1967 factory team. The red Italian race cars bore the famous yellow shield of Ferrari's symbol, Cavallino Rampante; the black "prancing stallion".
Ferrari's team of skilled engineers and designers expertly styled the 330 P4, taking its style cues from the 330 P3, but its V12 engine was the work of Franco Rocchi. The company had used their V12 engine since the first days of Scuderita Ferrari, including it even in its street cars. But Rocchi modified it radically for the 330 P4. He introduced a three-valve cylinder head-one exhaust and two inlets. A Lucas injection system provided the feed for fuel. The chassis was shortened a bit compared to its 330 P3 ancestor. A newly designed suspension system was included to improve the way the car held to the road.
The 330 P4 V12 Engine Specifications
Bore/stroke: 77 by 71 millimeters
Compression ratio: 11: 1
Clutch: multi-plate
Fuel feed: Lucas indirect injection
Ignition: tow coils, twin spark plugs per cylinder
Lubrication: dry sump
Maximum power: 331 kW (450 hp) at 8000 rpm
Maximum torque: –
Power per litre: 113 hp/l
Total displacement: 3967.44 cc
Type: rear, longitudinal 60 degree V12
Unilary displacement: 330.62 cc
Valve actuation: three valves per cylinder, twin overhead camshaft per bank
Chassis Specifications
Brakes: discs
Frame: tubular steel
Front lyres: 10.15 by 15
Rear lyres: 12.15 by 15
Front suspension: anti-roll bar, coil springs, independent, telescopic shock absorbers, unequal-length wishbones
Rear suspension: anti-roll bar, coil springs, independent, telescopic shock absorbers, unequal-length wishbones
Fuel tank: capacity 114 liters
Steering: rack-and-pinion
Transmission: 5 speeds plus reverse
Bodywork Specifications
Two-seater spider, Berlinetta
Front track: 1450 mm
Rear track: 1450 mm
Height: 1000 mm
Length: 4185 mm
Width: 1810 mm
Weight: 792 kg (dry)
Wheelbase: 2400 mm
Performance Specifications
Top speed: 320 km per hour
Acceleration: 0 to 100 km per hour in just seconds
Designer: Piere Drogo, original stylist.
Country of origin and build: Modena, Italy
Production Year: 1967
In 1968, the rules for the prototypes racing class cars were changed. Cars were limited to 3.0 liters displacement. Engine size of 5.0 liters was the maximum allowed for participation in the Sports Car Championship, and a minimum of 50 cars had to have been built for the manufacturer to qualify. Ferrari's race team manager at the time, Franco Lini, predicted that Ferarri would not race in 1968 as the factory was small and had insufficient funds to build the requisite number of cars. Lini's prediction came true, as Ferrari entered none of the FIA-sanctioned endurance races that year. Privateers driving older Ferrari models raced, but not Ferrari. The 330 P4, however, remains in the opinions of many as the greatest endurance Ferrari race car. The 330 P4, which had benefitted so highly from Ferrari's Formula 1 race cars, had been contending with Ford and Porsche in a monumental rivalry which propelled the three manufacturers toward great competition, which the public enjoyed.
The P4s continue to be so popular that companies have made kit car versions for building. The history and rarity of the car contribute to the desire for replicas, which have been built using a variety of engines. These vary in terms of details, but highly resemble the original.
The 330 P4 is viewed as representative of the era of racing it dominated. It is a visual feast, holding its place as an icon of endurance racing. It embodies the passion for superiority which inspired it, and generations of attitude about what a race car should be able to do and to be. To say it has been revered is not an overstatement. Its aggressive presence and low, curvaceous lines have attracted fans ever since it appeared. But, there is only one remaining of the original four. It is P4 0865, and it is owned by Lawrence Stroll of Canada. It is the only one retaining its original mechanics and body, and has been extremely well maintained. It is said to be valued at approximately $9,000,000.
Enzo Ferrari is said to have kept a photograph of the trio of P4s in their victorious 1, 2, 3 final victory lap until he died. The win at the prestigious American race was a moment to savor for a lifetime.