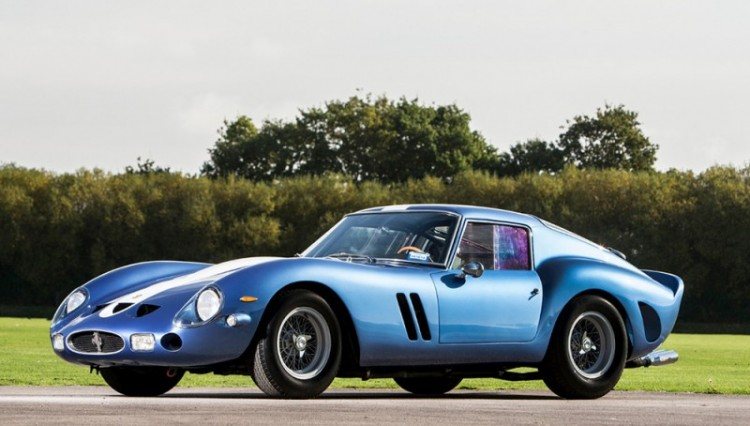 The 1962 Ferrari 250 Grand Turismo Omologato (Italian for " Grand Touring Homologated") may be the most expensive car ever sold. It is currently offered to an open market by the Ferrari specialist British broker, Talacrest. It is expected to sell for nearly $56 million.
There was a time when race cars were not of much value to collectors, but recently, certain race cars have become of great value to collectors. Italian automaker Ferrari started producing its 250 GTO race car in The models offered high performance for racing. Only 39 were manufactured from 1962 until the line was discontinued in 1964. Because of the rarity of the limited edition cars, they have become more valuable with collectors. Just 2 years ago, a 1962 250 GTO sold at an auction for $38 million.
The 1962 Ferrari 250 GTO that is selling through Talacrest has an impeccable pedigree. It was just the second of the line produced when it was completed on March 16, 1962. It was originally intended for testing the model to improve the 250 model, but went on to became a successful race car. This 1962 250 GTO is valued by collectors for its historic relevance as well as for its pristine condition.
Ferrari's 250 Grand Turismo Omologato
The 250 GTO was built for homologation and racing. It was in the Group 3 Grand Touring Car Class. The 250 represents the displacement of each cylinder of the engine in cubic centimeters. The car has a relatively simple design being a race car. It was developed in a collaborative effort at Ferrari. Initially Chief Engineer Giotto Bizzorrini worked on the design, focusing on aerodynamics for speed and stability in racing. Maurio Forghieri was another major engineer who worked on the 250's development. The race car would face rivals including Shelby Cobra, Jaguar E-Type, and Aston Martin DP214. Of the 39 250's produced from 1962 until 1964, the first 33 had Series 1 bodies. In 1964, Ferrari produced 3 more automobiles with a tweaked Series II body.
New 250 GTO's sold for $18,500 in the United States. Buyers had to be approved by both Enzo Ferrari and Luigi Chinetti, Ferrari's North American dealer. From the late 1970s through the 1980s, the value of classic cars rose fast. The 250 GTO was Ferrari's most valuable classic car. A drug dealer purchased his 1962 Ferrari 250 GTO for $250,000 in 1982. When the car was seized by the police in 1987, it sold at auction for $1.6 million. In 1989, a 250 GTO sold for $14.6 million and the value continues to rise for this classic race car model.
Racing History
This 1962 250 GTO Ferrari began its career as intended, a test vehicle. The automobile was tested at Manza for Scuderia Ferrari. Its fate took a quick turn when the vehicle was sent to Luigi Chinetti Motors for entry into the North America Racing Team.
The race car first raced in the 1962 12 Hours of Sebring race and performed outstandingly. The car placed again proved to be a good racing car when competed at the 24 Hours of LaMans. It was driven by new owner, Bob Grossman, and by Edward Glenn "Fireball" Roberts. The car placed sixth overall but, again, first in its class. Grossman drove the car in 8 more races that year.
This 1962 Ferrari 250 GTO again fared well in the 1963 12 Hours of Sebring winning first in its class. It was then sold to Mike Gammino, a co-driver from the racing circuit. Gammino continued to race the car for 2 more years. Bob Grossman drove the car again at the Nassau Tourist Trophy in 1965 and won first in class. In 1965, this 1962 250 GTO completed its racing career with honor. Overall, the race car was driven in 27 races and won 17 class podiums.
Ownership changes
Once its winning pedigreed racing career ended, this car became a favorite of collectors because of its historical relevance, design and performance record. As the second of only 39 of the 250 GTO models produced, it was also a rare find. Although popular with collectors, it did not sell very high as it passed through a series of owners in the United States. Classic car restorer, Stephen Griswold, purchased the automobile for $13,000.
To showcase his restoration skills, he carefully restored the car in his Berkeley, California shop. He kept the original body in tact and only used authentic period parts where needed. The car remains in pristine condition. The car was bought by collector Mark Defriece. It then passed on to an avid Ferrari collector, Dr. Ron Finger. The car was next purchased by Bernie Carl in 1997. Carl toured the race car at GTO tours. The race car is presently in mint condition. It is ready for the next 250 GTO tour in 2017.
Specifications
Of course this 1962 Ferrari 250 Grand Tourismo Omologato is a high performance car. Its racing pedigree proves that. It maintains its 3 liter V-12 front mounted engine. It accelerates from 0 to 60 mph in just 6.1 seconds. It reaches a maximum speed of, reportedly 158 mph. Its wheel base is 94.4 inches and its length is 173.2 inches. Its width is 65.9 inches and its height is 47 inches.
This 2 door, 2 seat coupe has the classic Ferrari 250 design. It is shapely, aerodynamic and robust silhouette. Its color is blue metallic. It has a distinctive central racing stripe. The car is as stunning as its racing record.
The sale of this classic 1962 Ferrari 250 GTO race car will certainly be a record. This unique pedigreed classic car will surely appeal to a collector willing to pay a high price. This sports car that started out as simply a test car earned many awards in its 4 year racing career. Its value has increased dramatically over the decades since its racing career ended in the mid-1960s. Talacrest is anticipating an exciting and record breaking sale of this fine classic Ferrari.