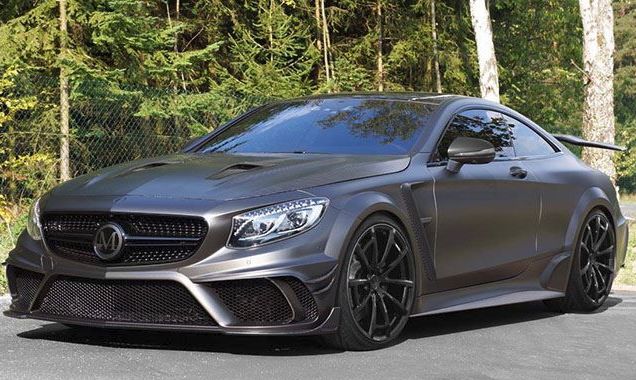 By no means is the Mercedes-Benz S63 AMG Coupe a slow vehicle.  If you're capable of producing 577 hp on a twin-turbocharged V8 that goes from 0-60 in less than 4.0 seconds that probably qualifies as not being slow, right?  Considering the car weighs 5000 lbs we'd say that's pretty fast.  But apparently the new luxury S63 AMG didn't have enough power?  The company decided to double the coupe's power output in the luxury version.   The new car has an amazing 985 hp with 1,032 lbs of torque.
So what is this insanely powerful Mansory S63 AMG Black Edition capable of? The coupe can get to 60 mph in 3.2 seconds and onto an electronically limited top speed of 186 mph. That's just a smudge quicker than a Dodge Challenger SRT Hellcat. Along with the power upgrades, Mansory also gave the S63 AMG a look that's anything but subtle.
The coupe's fitted with a carbon-fiber body kit, which include wider fenders, extended side skirts, customer spoilers, hood vents, as well as a massive fixed rear wing. All of these body modifications give the S63 AMG a racecar like look for the street.
Is this a good thing?  We'll have to see if other brands follow suit with the more race friendly look.  Typically luxury cars aren't supposed to take on a super car type look.  One thing's for sure though.  This is one exciting ride.