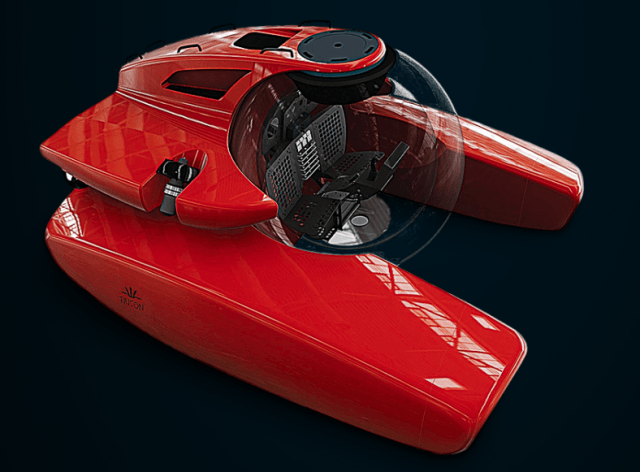 Forget Jet Skis or scuba diving equipment, if you're a billionaire with a luxury yacht that's in desperate need of some new toys, then take a look at Triton's newest submarine, the 6600/2. Submarines don't always have to be massive vessels, and the Triton 6600/2 is the perfect micro-sub for exploring the oceans of the world.
The Triton 6600/2 was created specifically with superyachts in mind, as it is small enough that you can easily store it on board most large yachts. The vessel can accommodate two passengers in it's air-conditioned hull and then take them some 6,600 feet below the water. The hull has been designed in such a way that you can enter the submarine after it has already been placed in the water. The hull also features a pressurizing system that makes the interior feel exactly like the surface's pressure, ensuring maximum levels of comfort.
The vessel is 13 feet long, 10.8 feet wide, and 6.9 feet tall, so you'll need a fairly large yacht to be able to store it. In total, the Triton 6600/2 can stay underwater for up to 10 hours at a time. There are other personal submarines on the market, however many aren't able to stay down for as long as this Triton can. Additionally the submarine even has a life-support system that will remain active for 96 hours in total in case anything goes wrong.
So what's the downside? Well the Triton 6600/2 costs $5.5 million dollars, so you'll have to effectively be a millionaire or billionaire to realistically afford one. However if you can shell out that kind of money, the Triton 6600/2 is arguably one of the best small personal submarines on the market today. For more information, visit Triton at their website: Tritonsubs.com
Photo from Triton Submarines LLC