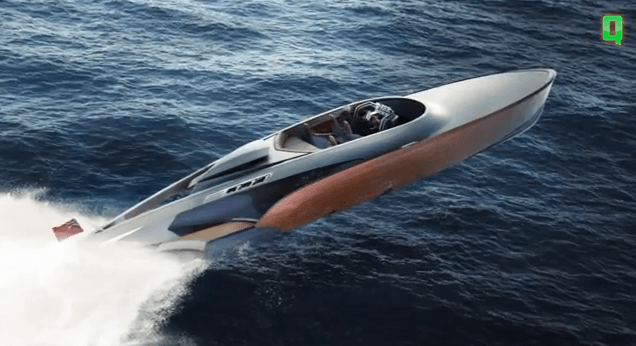 What do you get when you combine one of the most legendary names in aviation history with a modern, high-performance yacht of today? The answer is absolute brilliance.
The single-seater British fighter plane Supermarine Spitfire was one of the greatest innovations during World War II. The slick design and deafening power of the 27-litre Rolls-Royce Merlin V12 engine is still a lover of enthusiasts around the world. It was this piece of history that inspired the stunning creation above by yacht design studio Claydon Reeves.
The aeroboat is set to be unveiled at the Salute to Style in London on July 16. The big story is the adaptation of the same Merlin engine used during World War II. As you can see from the pictures and videos the yacht is something out of this world. There are only going to be 10 of these things built worldwide so you can be sure it's going to come at a price. The carbon-fiber sculpted boat is projected to sell for about $5 million. It's projected to reach up to 100 knots. According to a spokesperson for Claydon Reeves:
"The Aeroboat is one of the fastest and most elegant small yachts ever produced. It is perfect for anyone wanting to breakfast in St. Tropez, lunch in Antibes and dine at night in Monaco"
Sounds good to me! 
[youtube http://www.youtube.com/watch?v=jpV-IXY9PtE]
Image via YouTube