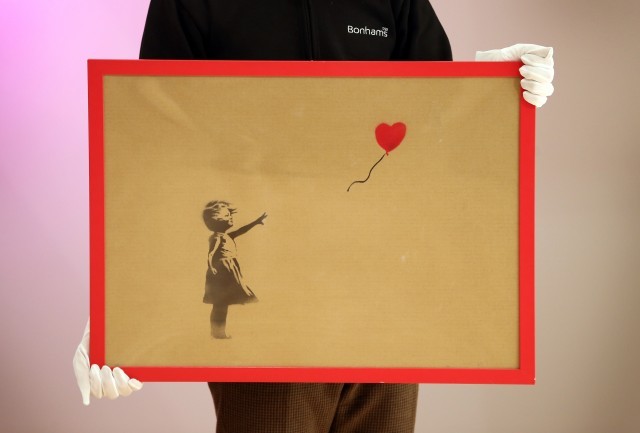 Typically many street artists and graffiti artists never recieve any compensation for their work, however if you're famous then its a different story. Banksy is a pseudonymous graffiti artist from England who might be the most famous and well-known graffiti artist of all time. His unique stencil approach to art combined with their satirical, dark, and political themes has made him very well known. Well, its made his persona well known, as no one really knows who the man is in real life. Still his work is highly valued around the world. In addition to his street art, he does often making paintings, sculptures, and prints that are sometimes sold. These typically go for considerable amounts of money in auctions, but if you're lucky you can own one.
A recent Bonhams auction saw a considerable amount of Banksy pieces sold, many of which were fairly expensive. If you're looking to get you hands on one of his pieces, then be prepared to spend around $5,000 dollars for his lower-end work. At this particular auction the most-affordable piece sold was called Silver Flag, and it went for $5,317 dollars.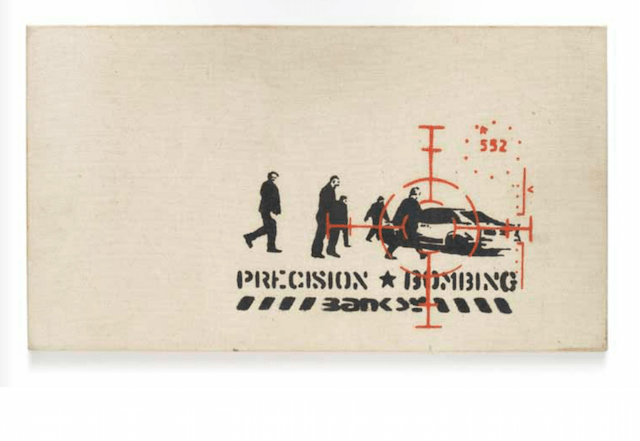 Among the other works auctioned off was the piece, Precision Bombing, which was sold for $60,000 dollars. The total collection was 33 pieces in total, all of which were official works. Each work is numbered on the back indicating its authenticity and singed by Banksy himself.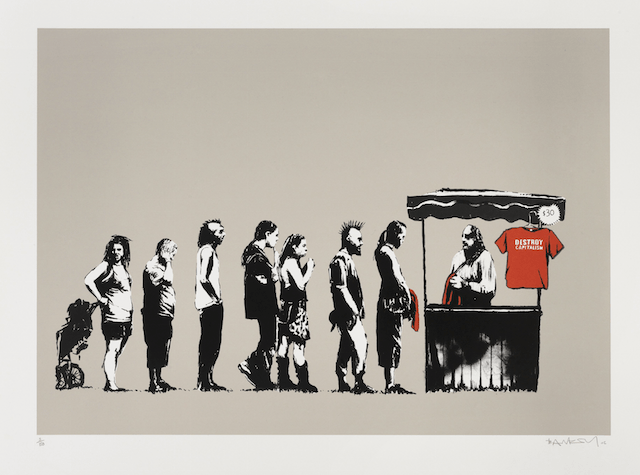 Festival (pictured above), was one of the more thought provoking prints that were sold. This particular piece was sold for $30,388 and was originally produced in 2006. All of the pieces that were auctioned off were extremely desirable, and always brought about a bidding war. For an artist's work to be worth so much when they are alive it is definitely an achievement, and it would be interesting to see how much these pieces would be worth 100 years from now.
 Photo by Peter Macdiarmid/Getty Images, Bonhams/Bloomberg