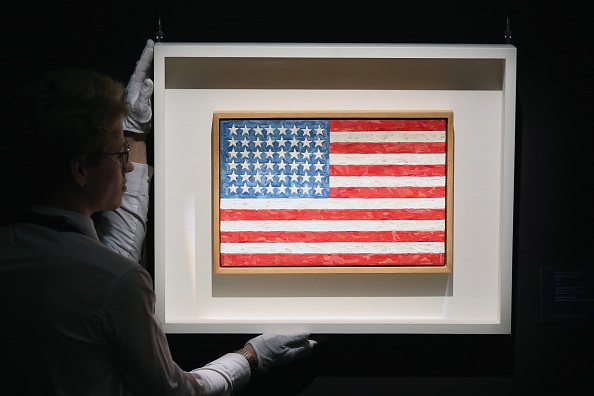 Sotheby's is in the process of auctioning off amazing pieces of artwork from famous artists Mark Rothko, Andy Warhol and also Jasper Johns. The entire collection brought the company a total of $343.6 million worth of postwar and contemporary artwork. Sotheby's set a record earlier this month auctioning off a combination of modern and impressionist artwork which brought in a total amount of $422 million. The artwork still brought in a massive amount of money, but the total from this latest auction was significantly less than the company had anticipated for the collection they had available.
The biggest piece of artwork to sell was the famous "Flag" by Jasper Johns (pictured above) which was purchased for $36 million alone and was one of the top sales. The main bidders for these pieces of art came from 38 different countries and 40% of the sale participants were from outside of the United States. There were 78 total lots in the auction and 67 sold, which is disappointing compared to other sales, but not the worst. The top sale of the night was "No.21" which is an eight foot tall painting from 1951 by Rothko that has never previously been in any auctions. The piece was able to bring in $45 million alone and all of his art seemed to pull in a lot of attention all around.
The biggest disappointment for Sotheby's came when a stainless steel sculpture by Jeff Koons titled "Moon (Yellow)" failed to sell despite being expected to draw lots of attention and immediately be purchased. Overall, the auction house was still able to bring in hundreds of millions worth in art sales and find plenty of pieces good homes. Although Sotheby's would have preferred to watch more fantastic paintings be scooped up by buyers, this is the risk taken when operating such high priced auctions.
Photo by Carl Court/Getty Images