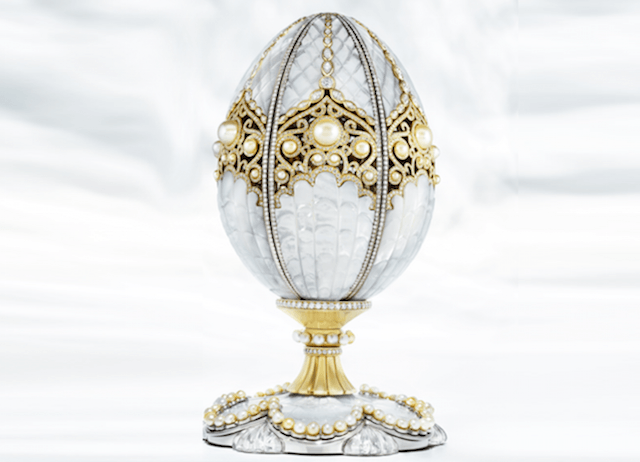 It's not everyday that we see truly magnificent pieces of jewelry, but every now and then we see some pretty spectacular pieces. The Russian jeweler known as Fabergé has recently unveiled this spectacular egg and it is the first one that the company has made in nearly a century. It recently went on display at the Doha Jewelry and Watches Exhibition in Qatar and it is pretty amazing.
Fabergé, also known as the House of Fabergé, is a Russian jewelry company that has been around since 1842. They have a rich history of producing amazing pieces including many Fabergé Imperial Eggs for the Russian Czars of yesteryear. These Imperial Eggs featured valuable materials and intricate designs, however the company hasn't produced any in over 99 years…until now.
Known as the "Fabergé Pearl Egg" this egg is truly a magnificent piece of jewlery. The egg features many premium materials including 139 fine white pearls and over 3,300 diamonds and other precious gem stones. This egg was commissioned by the Al Fardan jewelry group that is based out of the Gulf and they are known for their pearls.
The egg is set to go one sale at the end of the jewelry show in Qatar and many people have expressed their interest in the piece. The egg is estimated to have a value around $2 million dollars so it will be very interesting to see how much it actually sells for.
Fabergé has only produced just 50 eggs over the years, and only 43 survived the Russian Revolution. The last one that they produced was commissioned in 1916 by Czar Alexander III. So this egg is quite special, and we should expect it to be sold for an extremely large price.
Photo from Fabergé