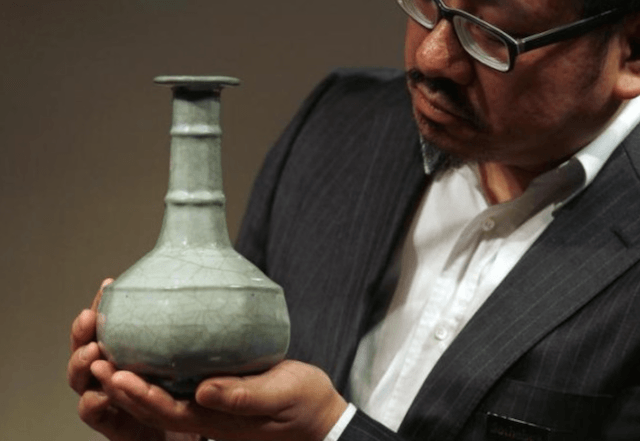 At prominent auctions held by the likes of Sotheby's or Christie's one can typically expect to see high-profile items go under the hammer. Auctions like these always feature some crazy or extremely rare item, and at an upcoming Sotheby's auction they will auction off many ancient Chinese artifacts. Among the collection of ceramics and works of art, is this particular vase that dates back to the times of the Song Dynasty. Estimates indicate that this vase could easily sell for an incredible $7.7 million dollars.
Ancient historical pieces like this vase are always good investments, and if kept in proper conditions, they should increase in value as they get older. As this vase is over 800 years old, it certainly is extremely rare and quite valuable. The vase is fairly simple and is octagonal is shape. It has a milky blue/green color to it and it stands at just eight inches in height.
The vase was part of a larger collection that was handcrafted for the imperial court of the time. The vase was in the possession of a Japanese collector since 1975 but it is now finally up for grabs, provided you shell out the cash for it. While officials estimate that it can fetch for $7.7 million dollars, many people think it will sell for even more money. A few years ago a porcelain bowl that was part of the same collection that this vase was in, was sold at another Sotheby's auction for an incredible $27 million dollars. That bowl broke the record for the most expensive piece of ceramic that was sold that came out of the Song Dynasty.
The vase, and other pieces from the collection, will head around the world on display, and they will then come to Hong Kong for the actually auction sometime next month.