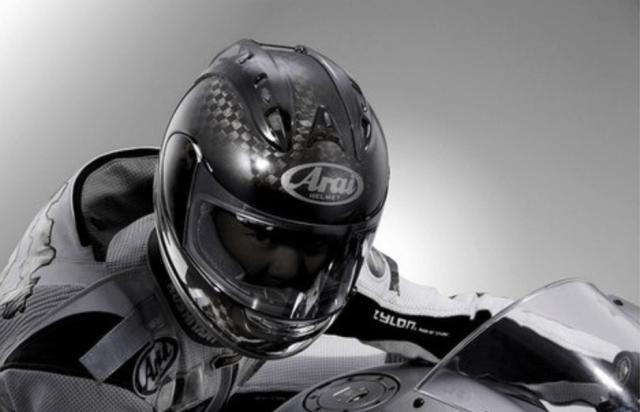 If you are a motorcyclist or are considering purchasing a motorcycle, you will need to additionally purchase a variety of motorcycling gear to wear. While depending on where you live, this gear may be optional, however you really should wear the various protective gear that goes along with motorcycling. Easily the most important piece of gear that you can own is a helmet. It has been scientifically and statistically proven that motorcycle helmets can prevent fatalities from accidents, and that many motorcyclists that died in an accident were not wearing a helmet, and that was the main reason that they died. There are many different styles of helmets out there, but if you want the best levels of protection then you really ought to purchase a solid full-face helmet. This is not really a piece of fear that you want to skimp out on, considering it can easily save your life. So we are going to take a look at some of the most expensive motorcycle helmets that are currently on the market.
7. Arai Defiant Pro-Cruise Mimetic Helmet – $710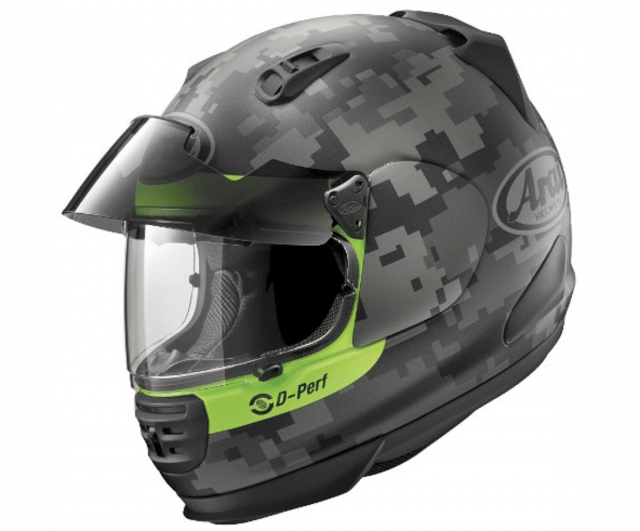 The first helmet on our list is the Defiant Pro-Cruise Mimetic Helmet from Arai. This helmet was made with street fighters and racers in mind, given its unique appearance.  The helmet features a shade system for dual sun-blocking capabilities, a special interior liner thats anti-microbial, redesigned ear pockets to allow you to hear better and to add in speakers, multiple air vents, cheek pads for comfort, a shell shape for easy removal, a pull-down spoiler, water repellent material, and an anti-fog lens insert. Additionally, the helmet is DOT and Snell certified for safety. The unique urban came styled paint-job also makes the helmet standout.
6. Shoei X-12 Daijiro Helmet – $755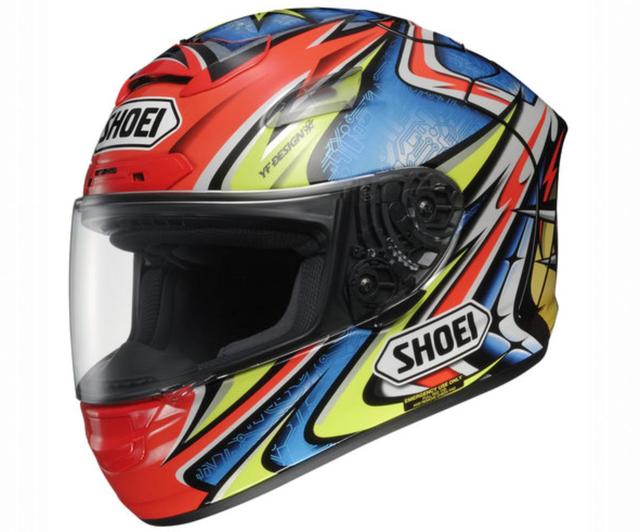 The next helmet on the list is from the Japanese company Shoei. This particular helmet was produced to commemorate the 10-year anniversary of Daijiro Kato's death, who was a grand prix motorcycle racer. He was known for wearing helmets with crazy graphics, and Shoei wanted to honor him with this replica helmet. The helmet features a quick release self-adjusting base plate system, a CW-1 shield, AIM+ shell construction, an Aero Edge 2 spoiler, a ventilation system, dual-layer EPS liner, a 3D mx dry interior system, an emergency quick release system, a chin curtain, and a breath guard.  The helmet comes in five different sizes.
5. Schuberth C3 Pro North America Modular Helmet – $829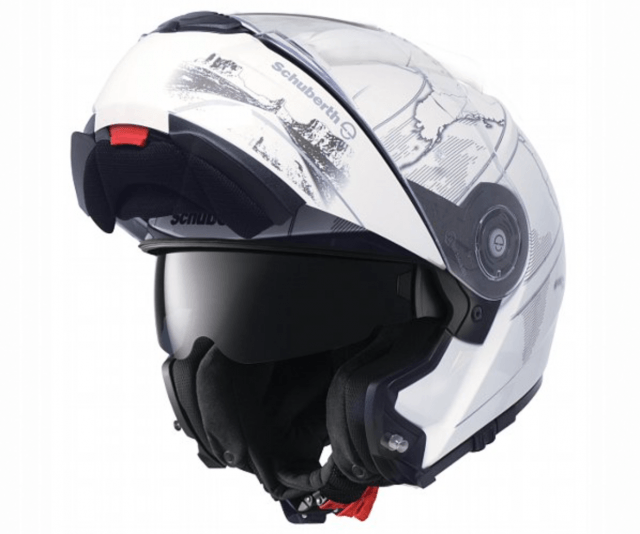 At number five on our list we have the Schuberth C3 Pro North America Modular Helmet. The first thing that one will notice about the helmet is that it has full map of Mexico, The United States, and Canada on the back. Easily the best thing about the helmet is that it is also one of the quietest helmets in the world, as it has sound proofing inside of it. There is also a compartment for an optional radio system to go inside the helmet allowing the rider to listen to music. The helmet is very strong and durable, while being lightweight and comfortable. The interior of the helmet also makes use of COOLMAX and Thermocool material.
4. Schuberth SR1 Helmet – $899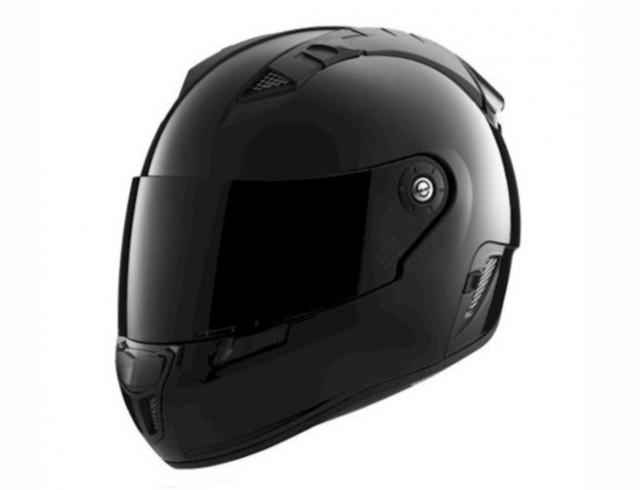 If you are one of those riders looking for a sleek, all-black look then the Schuberth SR1 helmet is for you. The outer shell of the helmet is made from three layers of Schubert's patented "S.T.R.O.N.G." fiber, in addition to a layer of glass fiber and a carbon fiber layer. The interior of the helmet is made from EPS foam and COOLMAX material. The helmet also has a sophisticated ventilation system and noise dampening inserts to ensure that your ride is very quiet.
3. Schuberth SR1 Technology Helmet – $969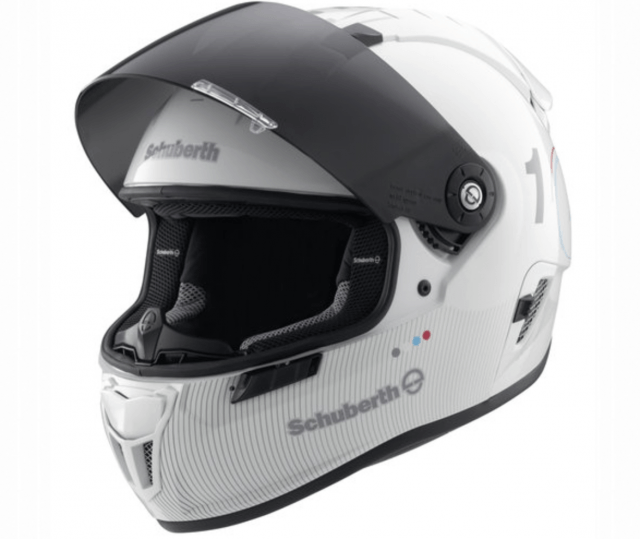 The next helmet on our list is the Schuberth SR1 Technology Helmet. There isn't too much to be said here as this helmet pretty much has all of the same features of the previous helmet, it just has a different style.
2. AGV Pista GP Carbon Helmet – $1,399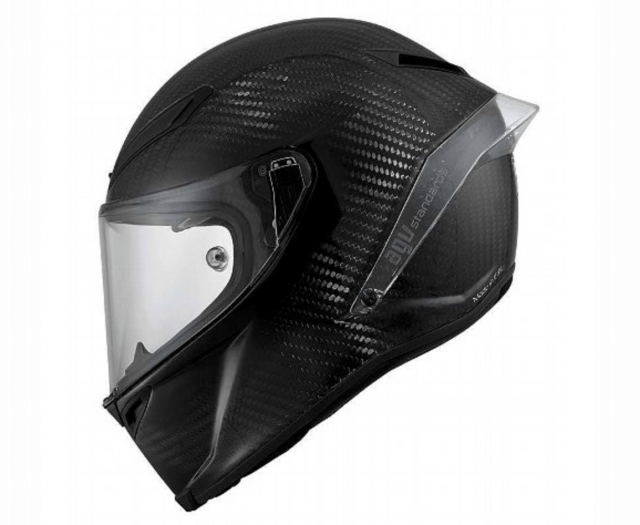 The AGV Pista GP Carbon Helmet is a super technical racing helmet. The helmet was developed using wind tunnels to figure out the best possible shape. Every curve or corner on this helmet is calculated for and deliberate. The helmet is also made from advanced carbon fiber making it very strong and extremely light. The interior padding and fabric is removable and went a hygienic treatment to ensure that pathogens don't build up. There is also an adjustable spoiler on the back. This helmet is perfect for speed chasers and its not wonder why many racers use this helmet.
1. Arai Corsair V Race Carbon Fiber Helmet -$3,595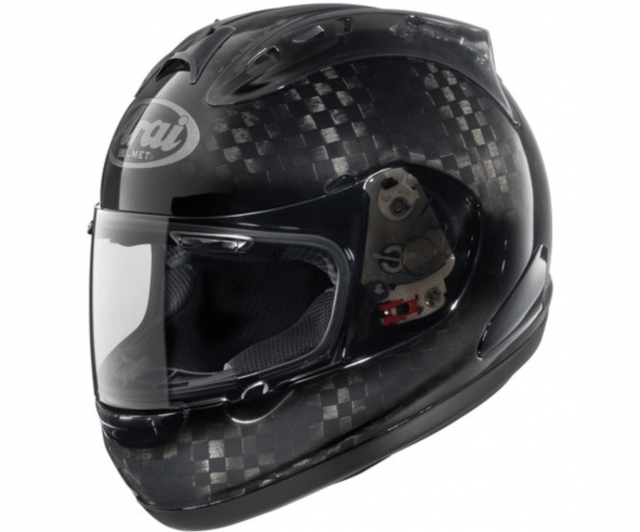 Finally we have the Arai Corsair V Race Carbon Fiber Helmet with a price of $3,595. This helmet is as top-of-the-line as it gets. The helmet is made from eleven different layers of carbon fiber. The helmet pretty much has everything you could possible want in a motorcycle helmet. It has an advanced ventilation system, Arai's "Super AdSis" shield system, cheek pads with an emergency release system, an AirWing system with fiver different positions that adjust as you are riding and much more. If you are your average motorcyclist you probably don't need this, but at the same time it is very cool, and very expensive. Check out this video to find out more.
Photos from revzilla.com