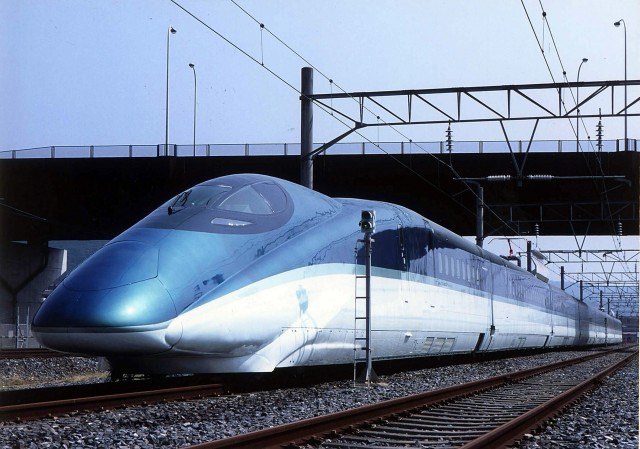 The average individual might be surprised that people actually spend their vacations on a train. Trains have been around for quite a long time, however today most would rather visit the beach or spend a week on a cruise. While traditional rail travel within urban areas is fairly straightforward, there are actually many luxury train lines out there. It might seem strange at first to associate the words "luxury" and "train" together, but these trains do exist and many come with some unbelievably amenities. These trains offer comparable levels of comfort seen within hotels or on yachts, and that's essentially what they are: a yacht for the land. Here we will take a look at a list of some of the most luxurious trains in the entire world.
Photo by East Japan Railway/Getty Images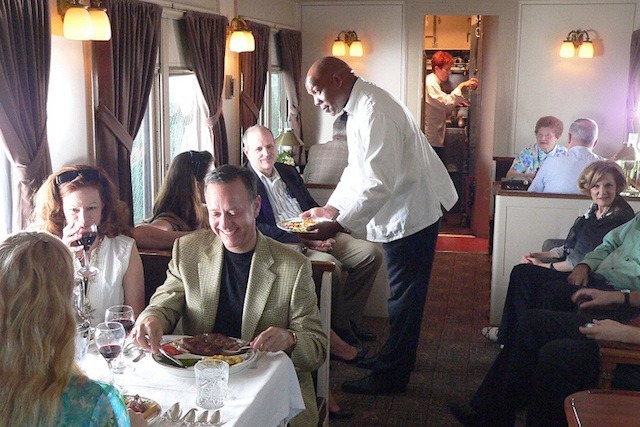 10. Dover Harbor
This heavy weight Pullman passenger car is the only one still operating on the main train lines of the US and Canada. The 1930's train has been beautifully and historically restored to give the traveler a taste of train travel from a nostalgic time while still maintaining all the most modern mechanical and safety requirements. Choose from travel to 23 destinations along the East Coast or 11 cities on the West Coast. Each destination includes a "porter on call" to attend to every need and service you might require while traveling.
Photo from doverharbor.com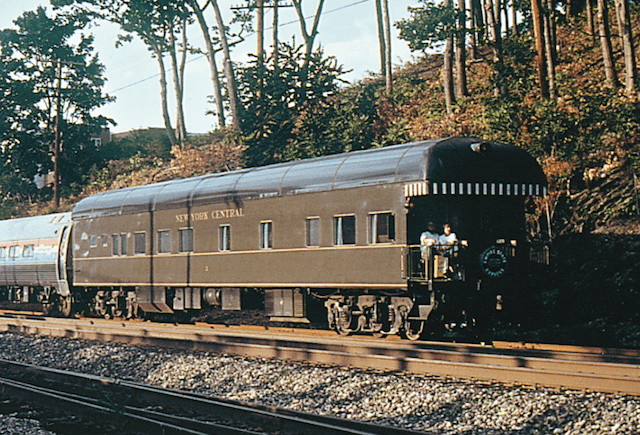 9. New York Central 3
For those travelers that just wish to have the entire train to themselves, one can hire entirely private trains such as the New York Central 3. Once owned by the Vanderbilt's and built by Pullman in 1928, this train has two master bedrooms, 2 double bedrooms, 2 showers, dining room, full meal service with china and silver, observation lounge, open rear platform, stereo, TV/VCR/DVD/WIFI.  It literally is a hotel suite on the tracks ready to take you where your heart desires. You just book the train car and then can head off to various destinations in the United States and Canada.
Photo from nyc-3.com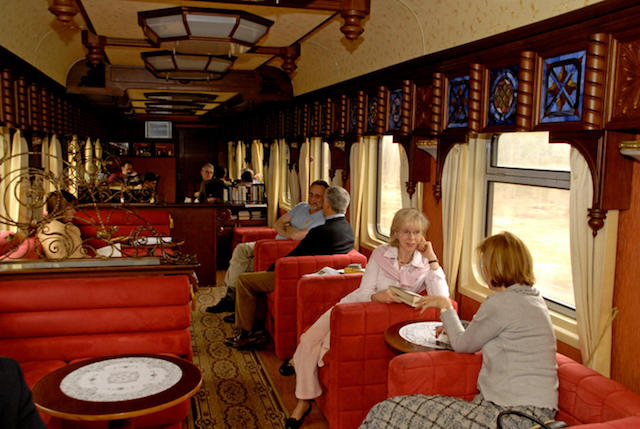 8. The Golden Eagle Trans-Siberian Route
Golden Eagle's Trans-Siberian train is fairly well known throughout the world, and they have all the luxury amenities one could want. Space is usually tight on a train, however the top rail lines pack a lot into their trains, like Golden Eagle. There is no better way to see Siberia than in this luxury train, especially when you're in their champagne lounge. Other amenities include the Imperial Suite boasts an En-Suite bathroom with heated floors and a power shower, over 120 square feet with a king-sized bed, dressing table and a separate lounge within the room. There are only two Imperial Suites on the Golden Eagle and each come equipped with a small library. Two large picture windows allow you to take in the amazing scenery as you sip your complimentary bottle of Dom Pérignon.
Photo from worldtraintravel.com

7. The Golden Chariot 
Who would not want to ride on something called the Golden Chariot? Sounds like a dream and this Indian rail line does its best to make you feel as if you are in a dream. It has the standard features one would expect: premium suites, beautiful lounges, and amazing service, but it also has something other trains lack. It actually has a small fitness center/gym on board where you can work out. While it's not a Gold's Gym, is still pretty awesome given the fact that it's on a train.
Photo from Golden Chariot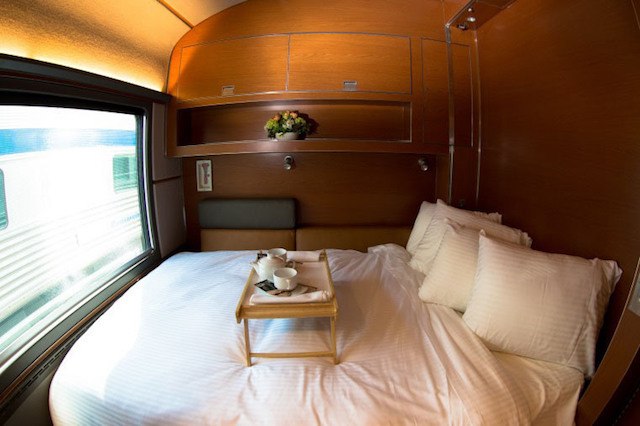 6. VIA Rail Canada's "The Canadian"
This is the flagship train for the Canadian rail lines and it travels three times a week between Vancouver and Toronto where you will travel some 2,775 miles in total. Each cabin consists of a large bedroom with double bed, a full en-suite bathroom, plus a host of amenities including flat-screen TV, unlimited free drinks, including alcoholic drinks and 24-hour butler service. A major delight is exclusive access to the great dome cars for seeing the sights day or night.
Photo from CNW Group/VIA Rail Canada Inc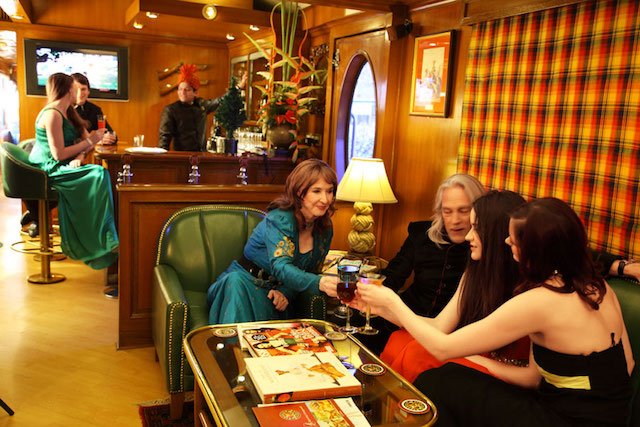 5. Maharajas' Express
With trips that cover all different parts of India, the Maharajas' Express is not only one of the nicest trains in India, but one of the nicest in the world. If it weren't for the fact that you were moving, you'd forget that you're on a train and think you're in a Ritz Carlton. The Presidential Suite on board this train is an entire carriage and has the amenities most luxury train cabins possess. We are talking about a suite that has a bedroom, a full bathroom with a bathtub, and even a study. At almost 450 square feet, this suite is the largest of any luxury trains. But The Maharahas' Express goes a few steps further with additional luxuries such as an on board water filtration system, a paramedic on board 24 hours a day and an air ambulance service and much more. However it's the palatial furnishings that make this train a treat.
Photo from maharajas-express-india.com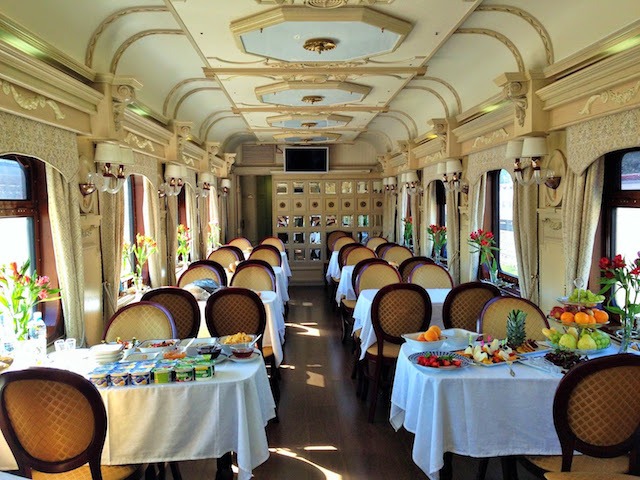 4. The Golden Eagle Shangri-La Express 
We have yet another train from Golden Eagle, the Shangri-La Express, as their trains are just so opulent and they are easily an industry leader when it comes to luxury rail travel. Touted as "modern luxury in the most remote locations", the Shangri-La Express does not disappoint. While each deluxe cabin has its own bathroom, there is a central "shower" car that is as expansive as it is luxurious. Western style breakfasts are served in the elegantly appointed dining car and local Chinese cuisine is served accented by local ingredients. The piano bar is open in the evenings to provide a musical accompaniment to the gorgeous scenery passing by. Depending on which route you take, you can potentially travel from Moscow to Beijing.
Photo from goldeneagleluxurytrains.com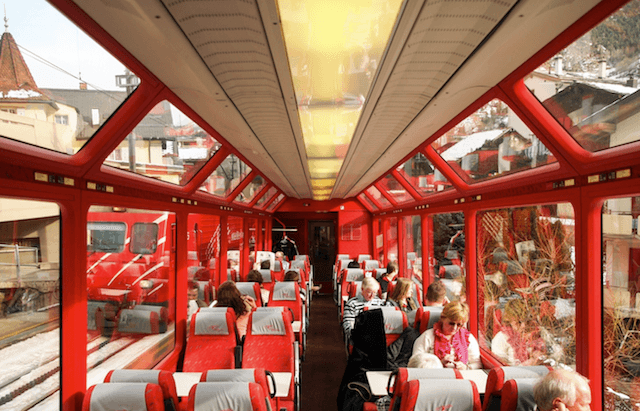 3. The Glacier Express
Known as the "slowest express train", this luxury line takes almost 8 hours to traverse the mountain trail between Zermatt and St. Moritz in the Swiss Alps. The scenery is what makes this trip truly memorable as it travels over 91 tunnels and over 291 bridges. With windows that reach to the ceiling of the train cars, one will be overwhelmed by the breathtaking beauty of the Swiss countryside.
Photo from myswissalps.com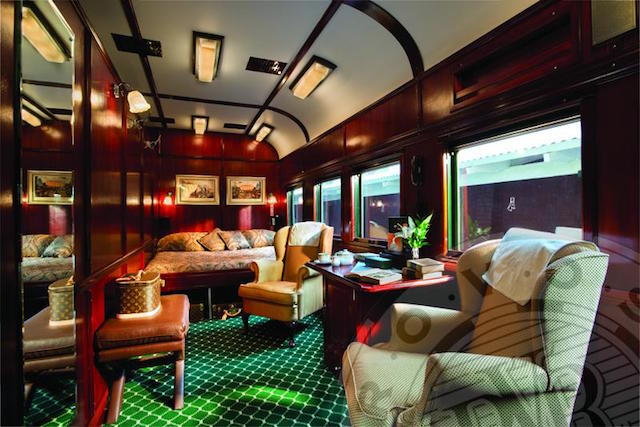 2. Rovos Rail Pride of Africa
What better way to explore the vast stretches of Africa than by a trip on a luxury train? Rovos Rail has trips that go all across the continent, from parts in South Africa to the deserts of Namibia. But like the rest of the trains on our list, Rovos Rail is stacked with features. The luxury on this train is evident by the restoration that has been completed to allow for sweeping views in the lounge and viewing carriages. Large, floor to ceiling windows have been installed to give sweeping views of the African wilderness. The sleeping cabins have been designed so that they take up 1/2 of an entire cabin that allows for a double bed, private lounge en-suite full bath with a separate shower. Some of the more expensive suites even have a full-sized bathtub and a private study attached to the main bedroom.
Photo from Rovos Rail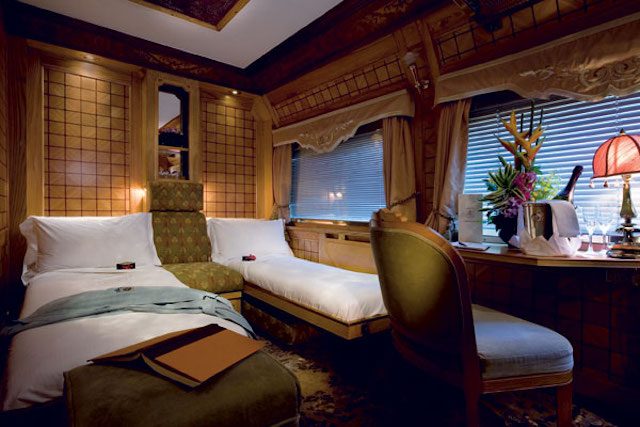 1. The Orient Express 
When it comes to luxury rail travel, Orient Express is easily one of the best. They have routes running through everywhere, but one of the more memorable trips is the one that goes from Paris to Istanbul. This train of restored, vintage, Art Deco cars has been made infamous from the novel of the same name by Agatha Christie. The Cabin Suites include two, lower beds, a vanity and a large window to view the scenery. While the suites do not have air conditioning, each window opens fully to the fresh country air which is so much nicer than the hermetically sealed cars of today. While there are no showers in the cabins, the itinerary has been designed for stop overs in some of the grandest hotels along the route.
Photo from Orient Express