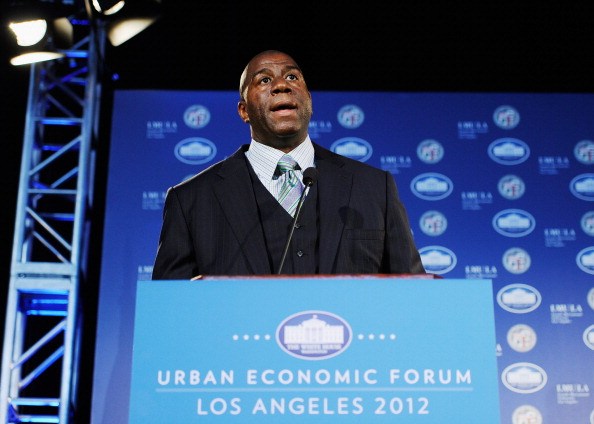 There have been a number of examples of athletes who have done quite successful in ventures both during and after their playing days. From owning their own businesses to franchising existing ones, some guys prove to have serious business sense. One of the most popular happens to be real estate, with it always in demand and, at times, really lucrative. And these are some of the players who have seen success in real estate.
12. Tate George
Tate George is a former NBA player who was drafted in the first-round of the 1990 NBA draft out of UConn. While his playing days weren't great, he did find a little success in real estate, running a few affordable homes in New Jersey. Unfortunately, George is currently on trial for fraud over wiring money, making his success one that is highly questionable.
11. Kevin Johnson
An underrated wide receiver from Syracuse, Kevin Johnson has shown that he's worth serious respect since becoming a real estate developer in his second career. Leasing mostly commercial space, Johnson has begun to grow his company and providing businesses opportunities to work with a former NFL player, too.
10. Glenn Davis
A former baseball player who played a few years with the Houston Astros, Glenn Davis might have had a short-lived pro baseball career, but he has been a little bit more fortunate with real estate. Owning a few big-named hotel chains, Davis hits a home run with his management and developments.
9. Oscar De La Hoya
One of the most versatile and accomplished athletes in history, former boxer Oscar De La Hoya has, seemingly, done it all. From a great fighting career to a budding music career and, finally, making moves in real estate, De La Hoya has developed more than his fair share of properties to make, yet another, solid career choice for himself.
8. Keyshawn Johnson
Former NFL wideout Keyshawn Johnson is best-known as the player who really wanted the football, so it probably shouldn't be too surprising that he likes to get his hands on some development properties, too. That's what the current ESPN analyst and one-time Super Bowl champ has done, joining forces with a few other athletes to form a partnership that earns them a pretty penny post-career.
7. Mo Vaughn
One of the better power hitters during the '90s and early-2000s, former AL MVP Mo Vaughn could blast a baseball 400-plus feet with ease. He seems to be doing the same to in his real estate ventures, too. Founding Omni New York in 2004, Vaughn's company owns more than 4,000 buildings with the goal to provide residents affordable housing, making his idea both successful and socially responsible.
6. David Robinson
A basketball Hall of Famer who was as dominating as he was polite, David Robinson has found just as much success owning a few chain hotels as he did on the basketball court. That's a very good thing for "The Admiral," because it has paid-off nicely for him, adding a second career to his already successful hoops days. Robinson owns and operates Admiral Capital Group, which manages and funds a number of properties.
5. Max Montoya
A 16-year veteran who played in four and won two Super Bowls, Max Montoya has become quite the businessman. Starting with franchising on a few chain restaurants, Montoya moved into real estate and hasn't looked back since, becoming an investor in a few commercial properties that show that he is as sharp as a tack.
4. Emmitt Smith
Emmitt Smith, who ended his career as the NFL's all-time leading rusher, sure does have some talent. In addition to his running prowess, Smith competed on "Dancing With the Stars" and helps pitch a number of products, too. But, one of his biggest accomplishments since retiring has to be how successful his real estate ventures have been, with the former Dallas Cowboy founding ESmith Legacy, which is commercial development firms that builds and owns a number of buildings around the country.
3. Andre Agassi and Stefi Graf
Business, a lot of times, takes risk. And there might not be any bigger risk-takers than husband and wife Andre Agassi and Stefi Graf, who were two of the best tennis players to step onto a court. Having invested a lot of their career earnings on various projects during the recession, the two have reaped positive benefits, seeing a lot more millions come flooding in.
2. Roger Staubach
Winning two Super Bowls during his illustrious and Hall of Fame career, former Dallas Cowboys quarterback Roger Staubach has continued the success with his real estate ventures since retiring. After working for six years to learn the ropes, Staubach founded The Staubach Company, which expanded and became so successful that he sold the company in 2008 for $613 million.
1. Magic Johnson
Magic Johnson seems to do everything right, doesn't he? In addition to a Hall of Fame basketball career that included five NBA titles, Johnson has expanded his personal brand by taking part in huge business deals that have brought him lots of money. A couple of those ventures includes real estate partnerships, with his company Magic Johnson Enterprises becoming one of the biggest real estate and development brands over the past couple of decades.
Photo by Kevork Djansezian/Getty Images