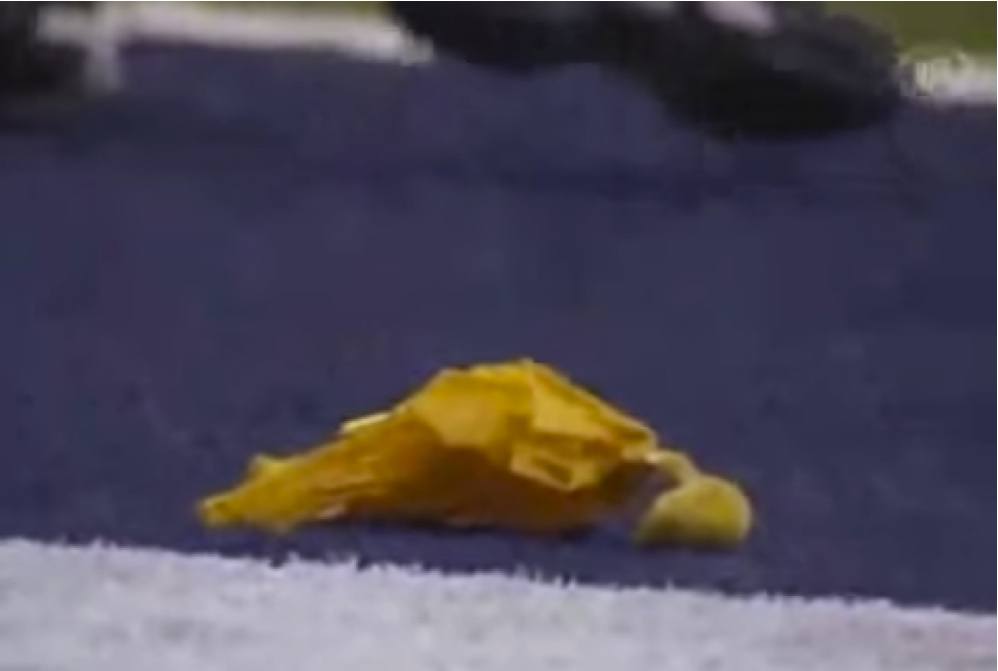 Although we all think that referees are supposed to be flawless while they call a game, anyone who watches a lot of sports knows that that's just not case—nor realistic for anyone to actually do. Yet, in the biggest sporting event each year, the Super Bowl, we all hope that the outcome isn't affected by the zebras. Unfortunately, a few instances have shown that just one bad call can cost a team the Lombardi Trophy—and these are the eight worst calls in Super Bowl history.
Photo via YouTube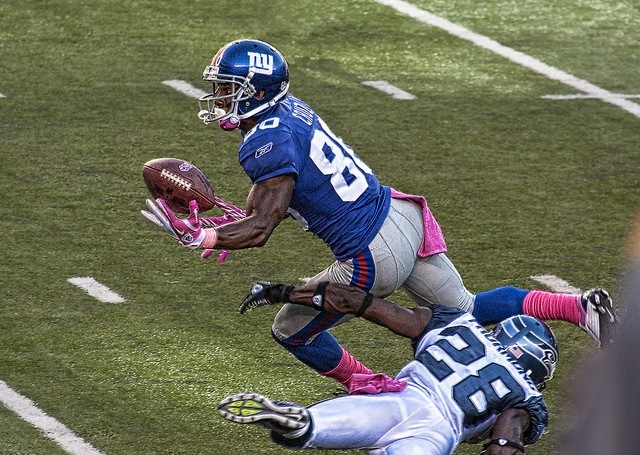 8. Did Victor Cruz Really Fumble? – Super Bowl XLVI
Lucky for the refs of Super Bowl XLVI, they were bailed out by a penalty in order to escape a mini disaster that could have come from this particular play. After being stripped of the ball following a completed pass and catch, New York Giants wide receiver Victor Cruz losing the football was prepared to be called a fumble, with the refs declaring he had not had forward progress. One problem, though, there was a whistle during the loose ball, which would have prevented a review of the play and, thus, cause fans to wonder what might have happened. As it stood, though, the zebras didn't have to worry because of a flag.
Photo via Flickr/jrzykat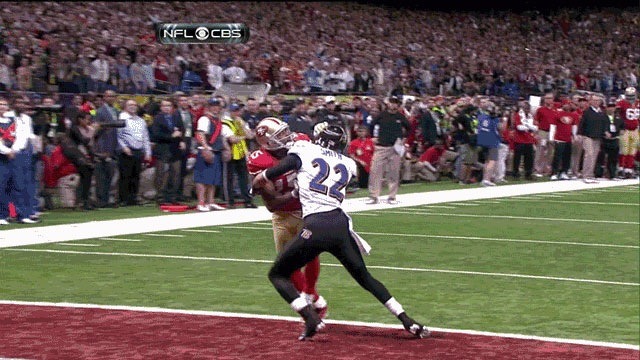 7. Did Cornerback Jimmy Smith Hold Michael Crabtree? – Super Bowl XLVII
This is a play that San Francisco 49ers fans have been griping about for over two years now. With the opposing Baltimore Ravens leading late in the fourth quarter of Super Bowl XLVII, the Niners had a fourth-and-goal from the Ravens' 5-yard-line looking to score a touchdown for the victory. With San Francisco quarterback Colin Kaepernick tossing a fade to Michael Crabtree in the end zone, it appeared that the receiver was held by Baltomore's Jimmy Smith as the ball fell incomplete. In addition to the non-call, the prior play involving a helmet-to-helmet hit that wasn't call is disputed by fans, too. In the end, though, all fans can do is complain and move on.
Photo via YouTube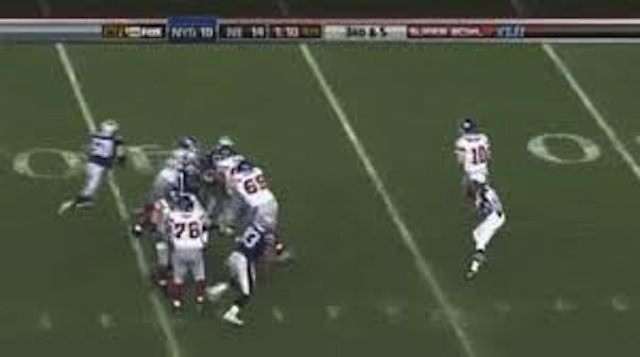 6. Should Eli Manning Have Been Ruled Down From Forward Progress? – Super Bowl XLII
Arguably the greatest play in Super Bowl history, the helmet catch that New York Giants wideout David Tyree had against the New England Patriots in Super Bowl XLII became a symbol for all underdogs everywhere. Favored by a couple touchdowns thanks to their undefeated record of 18-0, the Pats were expected to win the Big Game to become the first 19-0 team in NFL history. While Tyree's catch is remembered, it's the escapability of his quarterback, Eli Manning, that had a few New England fans wondering if the play should have been stopped. That's because, while Manning was manuevering his way around the pocket, head ref Mike Carey nearly called the play dead, thinking the passer's forward progress had stopped. Carey, rightfully, bit his whistle, though, and the greatest catch in the game's history was made.
Photo via YouTube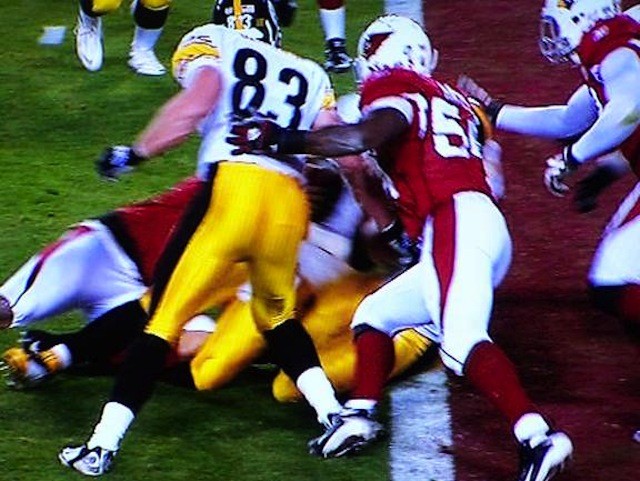 5. Did Ben Roethlisberger Really Score the Touchdown I? – Super Bowl XLIII
Another Super Bowl, another questionable rushing touchdown by Pittsburgh Steelers quarterback Ben Roethlisberger, with this one coming against the Arizona Cardinals in Super Bowl XLIII. This time, though, give the refs credit for getting this one right, as Big Ben was, properly, ruled down just short of the goal-line after a review showed so and the original call was overturned. With this play occurring in the first quarter, it forced the Steelers to kick a field-goal as opposed to getting six. Still, Pittsburgh would hold on for a close, 27-23 win, which may not have been as necessary had this one not been corrected.
Photo via YouTube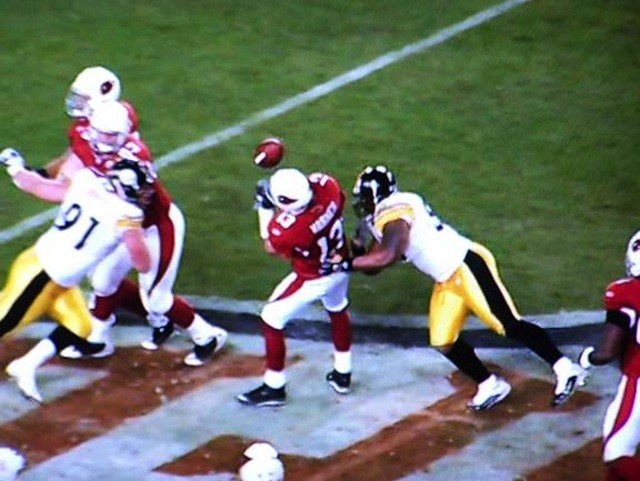 4. Did Kurt Warner Fumble or Just Throw Incomplete? – Super Bowl XLIII
As you can see, Super Bowl XLIII seemed to have more than a few plays that made the refs earn their gameday pay, as well as make viewers wonder if the right call was made. After the Pittsburgh Steelers scored the, eventual, game-winning touchdown late in the game, the Arizona Cardinals' final drive had a play around midfield that could have, and should have, been reviewed—except, it wasn't. Not knowing if a Kurt Warner pass was actually an incomplete pass or fumble, the refs ruled it to be a fumble, the Steelers recovered and took a knee for the victory. Had that play been looked at, who knows if the entire outcome would have been changed?
Photo via YouTube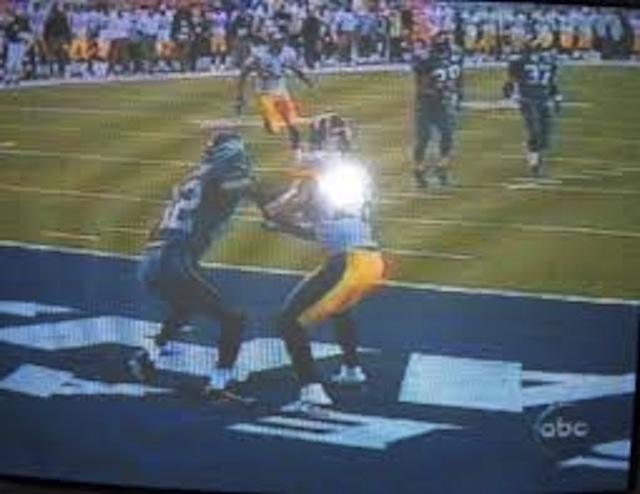 3. Should the Seattle Seahawks Really Been Called for Offensive Pass Interference? – Super Bowl XL
Facing a Pittsburgh Steelers team that finished third in scoring defense and fifth in scoring differential during the regular season, the Seattle Seahawks were already going to have a tough time putting points on the board in Super Bowl XL. And, in several instance, the refs would make it even harder for them to add digits. That's because, after an apparent touchdown catch from Seattle receiver Darrell Jackson, the zebras overturned the score, saying that he had pushed off in order to get open. Making matters worse, a holding call later in the game nullified another touchdown play from the Hawks.
Photo via YouTube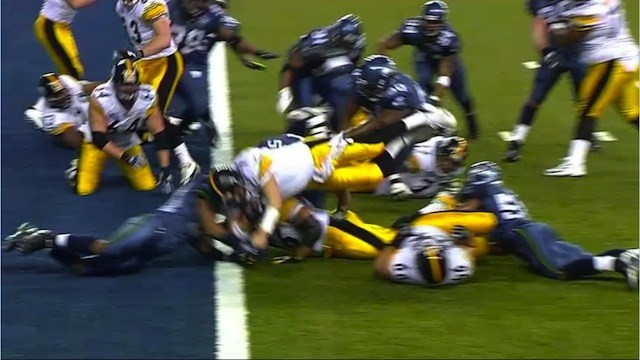 2. Did Ben Roethlisberger Really Score the Touchdown II? – Super Bowl XL
Sure, while the aforementioned offensive pass interference call and phantom holding call were a bit understandable—as much as they can be by fans—a touchdown by Pittsburgh Steelers quarterback Ben Roethlisberger is the play that might irk Seattle Seahawks fans the most. That's because, even after referee Bil Leavy reviewed the play, other angles clearly showed that Big Ben never broke the plain, falling short of the end zone, thus, points shouldn't have been put on the scoreboard.
That hurts, but, so too, does the fact that Leavy apologized four years later saying he and his team missed that one. Apology not accepted, Bill.
Photo via YouTube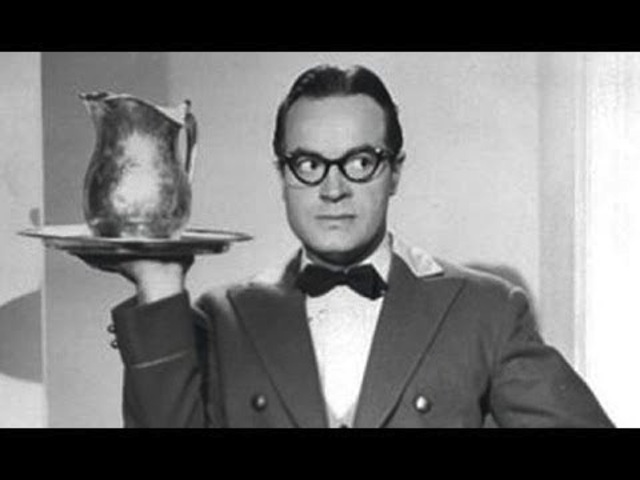 1. How Did the Refs Allow Two Second-Half Kickoffs? – Super Bowl I
Yes, this really did happen. With the Super Bowl being a huge moment for both media and advertisers to take advantage of promotional opportunities, one of the biggest ways to accomplish and leave a major impact is with the halftime show. And while most of the ones these days consist of a bit of delay after the whole Janet Jackson debacle a decade ago, during the first Super Bowl in 1967, NBC—who was broadcasting the game—was so busy interviewing TV personality Bob Hope that they actually missed the second half kickoff, with the refs declaring that Packers kicks Don Chandler just re-kick the thing so viewers didn't miss a play. That could never happen today.
Photo via YouTube