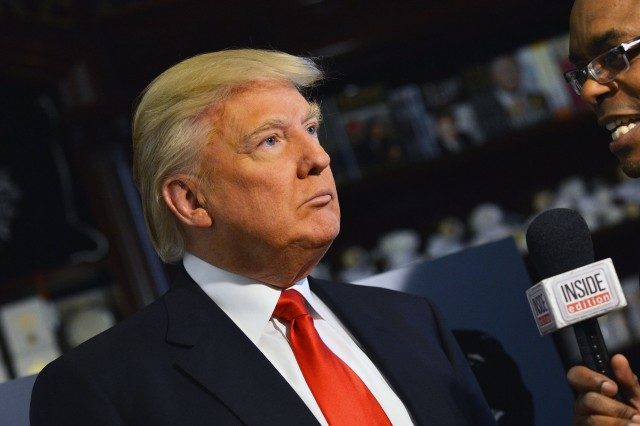 Donald Trump Net Worth – $4 Billion
Real estate, reality television and business were his game, though Donald Trump is now working hard as President of the United States of America. He was happy to spend his estimated net worth of more than $4 billion financing his political campaign. According to a statement released by the 70-year-old real estate mogul, however, his income has increased significantly over the course of the past year and he believes he is worth more than $10 billion. Thanks primarily to his television reality shows, his pageant business and his ownership of some of the most iconic buildings in New York City, President Trump is a man with a lot of wealth.
Donald Trump's Parents
His many properties have led to his success in life, and to his great wealth; though life has not always been easy for the married father of five. Born in 1946 in Queens to German immigrants Fred and Mary, Trump is one of five children born to his parents. He is now the father of five children of his own, as well. He was not a 'poor' child, to be quite frank. He attended a rather elaborate private school in the city, where his father was on the board of trustees. Unfortunately for the Donald, however, his behavior was not good and it resulted is his removal from the school. Hoping to change his poor behavior, his parents sent him to a military school following his dismissal. With a degree from the Wharton School of Business, Trump began planning his future as a successful real estate developer.
Donald Trump Real Estate
He began working at his family's real estate company before branching out to bigger and better things. It was then he moved into New York City and began buying old, failing businesses and buildings and turning them into successful flips. That's when his fortune began to amass, in the 1970s; despite being accused of violating the Fair Housing Act. It wasn't until 1988 when Trump made a deal with Merv Griffin on the Taj Mahal, which led to high debt and a very bad couple of years. Trump made horrible decisions that cost him everything, primarily using high-interest junk loans to finance the Taj Mahal. His business went bankrupt, and he almost had to file personal bankruptcy as well. Banks and bond holders, afraid of losing even more money, made the decision to work with Trump and allow him to continue the construction on the Taj Mahal, and he emerged from bankruptcy in 1991 providing half ownership of the hotel to those to whom he owed money.
Before the decade was over, he managed to find a way to see a huge profit and a great turn in his financial situation. This allowed him to continue building massive buildings and investing in very high-end New York City real estate. That's why, today, he is worth so much more than he was in the past. In 2003, he coined the phrase, "You're Fired," when he began hosting "The Apprentice," a hit reality show on television. He has done well with that, as well as adding pageants to his resume.
In 2015, he announced he would run for president, running as a Republican. However, he also said that if he did not win the Republican nomination, he'd run as a third party candidate, something that many believed would hurt the Republican party significantly. In a shocking turn of events, Donald Trump not only won the Republican party nomination, but the 2016 Presidential election as well.
Donald Trump's Children
He is married to his third wife, Melania, with whom he has one child (Baron) born in 2006. The couple was married in 2005. He has three children with first wife Ivanka Trump (Donald Trump Jr., Ivanka and Eric) and he has one child with ex-wife Marla Maples (Tiffany).
Photo via Getty