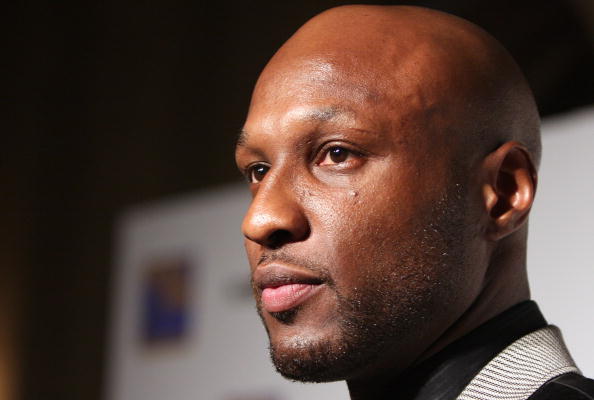 Lamar Odom is a native New Yorker and professional basketball player as well as reality television star with a net worth of more than $50 million. He earned his money playing basketball for the Los Angeles Lakers, among other teams in the NBA. He is currently considered a free agent as he has no contract with any NBA teams in the country.
Lamar Joseph Odom was born in New York City on November 6, 1979. His biggest claim to fame is the fact that he played for the Los Angeles Lakers for several years, including two years in which the team brought home championship rings. He was a first round (fourth overall) pick when he entered the NBA draft in 1999 after playing ball in Rhode Island for one year. He was chosen by the LA Clippers, where he went on to play ball from 1999 to 2003. He then played for the Miami Heat from 2003 to 2004 before heading to Los Angeles to play for the Lakers from 2004 to 2011. He played for the Dallas Mavericks in 2012 and went back to the Clippers for the 2013 season.
Lamar Odom won two NBA championships playing for the Lakers, as well as a bronze medal on the 2004 Olympic team in Athens. His childhood was not an easy one. Odom was born and raised in South Jamaica, Queens, in NYC. His mother passed away from cancer when Odom was only 12 and he was raised by his grandmother from that point forward. Odom's father was addicted to heroin and had very little to do with his son. He went to three different high schools thanks to his basketball skills, and was named the Parade Magazine Player of the Year in 1997 as a senior in high school. He went to Rhode Island, where he played for one year before entering the draft.
He dealt with some controversy in his first year of college, where he attended summer classes at UNLV. He received payments from one of the coaches, was arrested for soliciting a prostitute and had his very high ACT scores questioned when he was there. The coach at UNLV was subsequently fired for his actions and Odom transferred to Rhode Island. He sat out one year and was able to finally play the second year. He decided to declare his draft intentions following his freshman year and was picked up immediately in the first round, fourth pick. He was suspended twice in the first few seasons of his professional career for drug use.
He was traded to LA by the Heat as a package deal with two other big players so that the Heat could take on Shaquille O'Neal, and the trade worked well for Odom, who made his career and his name with the Lakers. He dealt with a number of shoulder injuries during his first few games of the season, which caused Odom to sit out more than play, but he did consistently become a better player.
Odom's millions came from his time playing for the Lakers. While he made several million playing for other teams, it was his role in the championship games that the Lakers won that caused him to earn multi-million dollar paychecks from the Lakers.
In 2009, Odom made himself an even bigger name by marrying Khloe Kardashian, reality star, after only 2 months of dating. The couple were eventually given their own reality show, Khloe and Lamar in 2011. For years, the couple tried to have a baby, but it was unsuccessful. In 2013, Odom was arrested and charged with driving under the influence. He was given three months of alcohol treatment and three years' probation for his actions. He was served divorce papers in December 2013 after rumors of his drug use and affairs began to leak.
Odom has an impressive career and a questionable history. His father suffered from drug addiction, and it seems that even though he might not be an addict, Odom is a user and it's affecting his life in many ways. He has a net worth of more than $50 million, a record company of his own and the chance to play for any NBA team that will take him in the upcoming season.
Photo by Angela Weiss/Getty Images