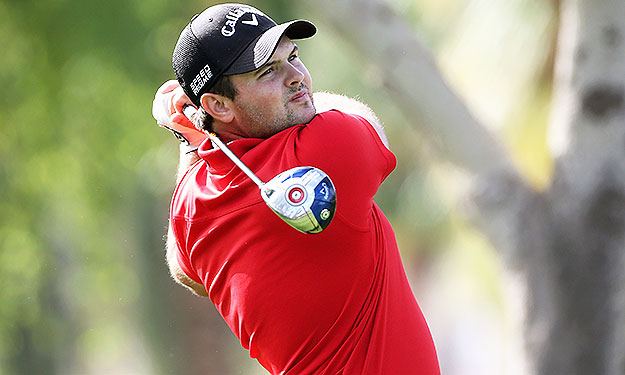 If you're not familiar with PGA golfer Patrick Reed, it might be time to take notice of the guy.
On top of winning this past weekend's Cadillac Championship, the 23-year-old has found himself shooting up the world golf rankings by collecting his third event in the last 14 tournaments he has played, currently sitting at No. 20 in the world.
Is he a top-5 player as he claims to be, though? Only time will tell. But with The Masters only a few weeks away, here are five things that every sports fan should know about the guy—in case he finds himself being fitted for a green jacket come the second week of April.
1. He's Not on Twitter
In an age where it seems everyone is on some sort of social media site to help promote themselves these days, Patrick Reed isn't one of them. So for all of you out there who bashed him over his top-five comments as being arrogant or self-served, keep ranting, because he's not reading.
2. Her Caddies Share Bloodlines (Sort Of)
Currently reading greens for Reed is his brother-in-law, Kessler Karain, who also happens to be the brother of Patrick Reed's wife, Justine. So while some may find that a bit weird just in case the guy gives the golfer some wrong advice, it might not be as bizarre as the fact that Justine herself is Patrick's normal caddie, only taking a break because she's pregnant with the couple's first child.
3. He's Very Familiar With Augusta National
As mentioned, the first major of the PGA season tees off in just under a month in Augusta, Ga., and, although those tournaments are always a crapshoot and can bring out the best in the biggest of darkhorses, Reed could be looked at as a favorite in the tournament.
That's because the guy played his golf in the great state of Georgia, first at UGA in Athens and then, wouldn't you know it, at Augusta State in Augusta, which he led to two NCAA titles and went 6-0 in match play over two years. So the rest of the field should look out.
4. His Favorite Player is Tiger Woods
If you're going to model your golf game like another player's, I'd say that Tiger Woods would be just about the most perfect idol. With 14 career major titles to his credit, Woods is well-known for wearing his red shirt and black slacks on Sunday's of each tournament he plays in.
Wouldn't you know it, Reed adopted this routine from Woods.
5. He's One of Five Players Ever With Three Wins Before Turning 24
As much as his belief in himself that he's a top-five player in the world got criticized by seemingly everyone on social media, Patrick Reed shares one thing that no one can take away from him—he's a winner. Besides himself, he has now joined Tiger Woods, Phil Mickelson, Sergio Garcia and Rory McIlroy as the only PGA Tour players ever to win three or more times before turning 24 years old. Who knows if Reeds will become as ballyhooed as those guys, but he's already in prestigious company with some of the best around.
Image via Todd Warshaw/Getty Images