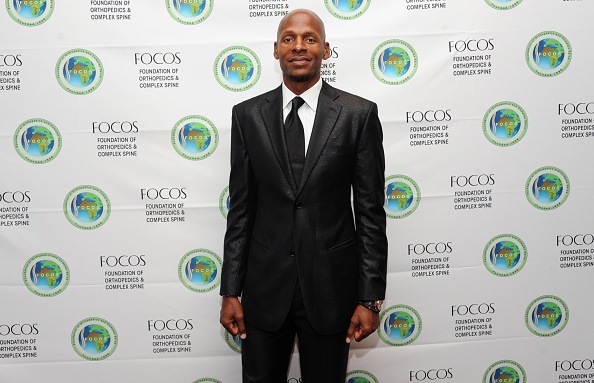 Just when NBA fans didn't think the rich could get any more richer, the Cleveland Cavaliers—who were already enjoying arguably the greatest offseason in the NBA—struck a deal with the league's all-time leading three-point shooter, Ray Allen. Although reports are still believed to be rumors by some, Glenn Moore—who writes for various Cleveland sports publications—has confirmed that the deal with Allen is done, and that it's just a matter of time until it is officially announced. While the terms haven't obviously been released yet, I started thinking about where the sharpshooting Allen might end up in terms of salary on the present Cavaliers roster, and who is making what for a team with championship aspirations. No doubt, adding a guy like Ray Allen will help increase the already potent Cavs lineup that boasts All-Stars like LeBron James, Kyrie Irving and Kevin Love, but will the future Hall of Famer be paid amongst some of the best on the team? Probably not, but we can always dig in deeper to see which Cleveland player makes the most cash, right?
10. Shawn Marion/James Jones – $915,243
It must be nice being an NBA player with over 10-plus years in the league and in the supposed twilight of your career—because you're still going to get paid. Just ask the Cavs' new role players, Shawn Marion and James Jones, who both left playoff teams from last year in Dallas and Miami, respectively, to join a Cleveland team who has suddenly jumped to the top of the Vegas boards for the best chance to win the NBA title this season. With both veterans getting just under the league minimum—since that's what the Cavs had to offer—one would assume that if and when the Allen signing becomes official, his salary would resemble something of Marion and Jones—who were willing to take less money to play on a title-contending team.
9. Lou Amundson – $1.3 million
Every single championship team needs a guy like Lou Amundson. Seemingly the type of player who will do all the dirty work and little things to not only get the respect of his teammates but also earn playing time, Amundson was brought in for a workout a few weeks ago, with the team impressed enough by him to give him a deal. As one would imagine, a guy who has averaged just 3.6 points and 3.5 rebounds per game isn't going to get bank, but the power forward will still be making a hefty $1.3 million this season.
8. Brendan Haywood – $2.2 million
This is where things get a little tricky—because veteran center Brendan Haywood has one of the most unique contracts in the NBA. While Haywood is set to earn $2.2 million with the Cavs this season, he has a bizarre clause in his current contract that would require him to be paid nearly $10.5 million in 2015-16 season, with that current money being part of the Cavs salary cap that year. That means that, while Haywood is a nice edition to the post if he can stay healthy, should he find himself hobbled at all, he can be used as an expiring contract for a team to take on, with the Cavs acquiring a player making as much as $5 million, or he can be released with the cash coming off the books. Either way, he should enjoy the handsome $2.2 million this year, because Haywood will never see that $10.5 million he's set to earn the following season.
7. Mike Miller – $2.7 million
After bringing in his former teammate from the Miami Heat on a lesser contract, the Cavs decided to snag Mike Miller to a deal worth $2.7 million. One of LeBron James' favorite teammates, Miller provides both leadership, depth and another outside shooter to complement the players the Cavs already have on the roster. Although Miller could have earned more money from other teams, he—like Marion and Jones—took less cash to join a squad that has championship potential, while still being valued with playing time and not just a veteran voice.
6. Dion Waiters – $4 million
Entering his third season in the league, Dion Waiters has suddenly gone from one of the biggest question marks on the Cavs roster, with the organization forced to determine if he's one of the young guns worth building around, to a complementary piece set to make a huge leap. Under the tutelage of James, Waiters has slimmed down and studied more tape than he probably has in his previous two years combined, taking on the pupil role quite nicely. While there's burden on him to live up to the $4million that he's earning this year, Waiters no longer has the pressure of being a franchise-type guy, and can get back to doing what he does best—score the basketball.
5. Tristan Thompson – $5.1 million
Another former lottery pick, 2011's No. 4 overall pick Tristan Thompson is in a critical year for his contract. On the books to earn $5.1 million this season, Thompson has the leverage of being younger and healthier in recent years than longtime mainstay, Anderson Varejao. He also has the additional factor of having the same agent that represents LeBron James as his agent, meaning he already has the Cavs thinking about what to do with him once he's set for a new contract next summer. Still just 23 years old, Thompson should improve in various categories this season, and then see his pay increase this time next year.
4. Kyrie Irving – $7 million
Hands-down, one of the most exciting young players in the league, former No. 1 overall pick Kyrie Irving has the potential to be a superstar in the NBA if he continues to play and develop his game has he has thus far in his three seasons. And although he's on pace to earn $7 million this season, thanks to the extension that he signed this past summer, his pay will double to $14.7 million next season, and continue to increase in the five years following, with him set to make over $19 million in 2019-20. That might seem like a long time from now, but having the Cavs lock up such a young talent now had a major influence on getting LeBron James back to Cleveland this summer.
3. Anderson Varejao – $9.7 million
The only player left on the Cavs roster that was here during James' first tour of duty, Anderson Varejao remains to be one of the King's favorite, all-time teammates. A blue-collar player who does all the little things, Varejao plays ferocious defense, rebounds at an amazing clip and can add anywhere between eight to 10 points without ever having a play drawn up for him. It's that effort that makes Varejao a very good living bumping down low with some of the the monsters in the league, with him set to earn $9.7 million this season. He may be getting older and his body has taken a hit the past few years, but he's an integral part in determining how far this Cavs team goes in this, their first season together.
2. Kevin Love – $15.7 million
The biggest trade in franchise history brought the Cavaliers a three-time All-Star and one of the top power forwards in the game. For that reason, the front office was willing to not only take on Kevin Love's salary of $15.7 million this season, but also the risk of Love not committing to the team long-term just yet because of financial flexibility with the team at this time, next summer. So while K-Love will undoubtedly earn close to $17 million next season, he will see that his paychecks will continue to be about $2 million more than they would if he rushed to ink a new contract this year. See, it's just a smart business move that will have him saying, "Show me the money."
1. LeBron James – $20.6 million
What else can be written about LeBron James that hasn't already been said? The undisputed best player in the world, James returned to Cleveland after openly demanding that he earn top dollar via a max deal for the first time in his career. With those words, it all but sealed his fate in leaving the Miami Heat—who had limited salary flexibility—and returning to Northeast Ohio. While James only signed a two-year deal—with an option to become a free agent next season—he is set to remain in Cleveland long-term once the new TV contract is reach, which, like Love, will mean more money in James' pockets. As it stands, though, he's making a cool $20.6 million in 2014.
Photo by Rommel Demano/Getty Images