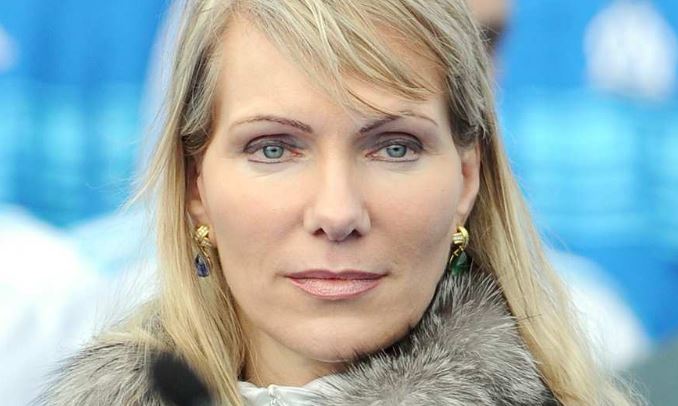 When we think of a Margarita, we picture it on a beach in its frozen state. We don't necessarily picture a Russian-born Swiss billionaire with ties to the Louis-Dreyfus family; but that's who we are discussing today. Not that we don't agree that a frozen margarita would be perfect right now. Margarita Louis-Dreyfus is not the most famous person in the Louis-Dreyfus family (we like to think that title goes to Julia, the famous actress). She was actually born Margarita Bogdanova, and she married into the Louis-Dreyfus family back in 1992. She might not be the most famous, but she definitely won the name lottery. She might not be the most famous in the family, but she's smart and she's hardworking and dedicated, and she's still part of the family even though she lost her husband back in 2009.
She's a mom, she's a businesswoman, she's a billionaire; and she's pretty remarkable. She's got it going on, and we really admire her. She's the kind of woman who is not afraid to go after what she wants and do what she sees fit, and that's something that we really feel is pretty spectacular. We wanted to learn more about her, and we figured you might feel the same.
She grew up in an orphanage
Growing up was not always fun and happy for Margarita Louis-Dreyfus. We are not entirely certain what happened to her parents when she was born, but we do know that she was raised in an orphanage and that her life was not always what she thought it would be. She struggled in the same manner that anyone without a family might struggle, and it was not always easy for her to maintain that kind of lifestyle. Fortunately, she is a woman who was able to overcome her demons and make her life successful and happy.
She met her husband on a flight
Margarita became a Louis-Dreyfus when she met Robert Louis-Dreyfus on a flight from Zurich to London back in 1988. The two began their romantic relationship not long after that, and they ended up getting married in 1992. They celebrated 17 years of marriage before her husband died of leukemia in 2009. It was a difficult moment in her life, as they shared three children and a life together.
She's a widow
As we previously mentioned, she met her husband on a flight and they had 21 magical years together. They fought and they argued, the loved and they created a family together. They had many beautiful years together with tough times and challenges along the way as any marriage faces, and they made a lovely couple. When her husband died in 2009, she became a widow and has yet to remarry.
She's chairman of her late husband's company
When Robert Louis-Dreyfus died, she became the chairman of his company. Before that, she'd been a stay-at-home mom and wife, and her entire life changed dramatically when she lost her husband. However, she had to do what she had to do, and that is what her husband wanted her to do. He wanted her to take over the family business so that their children could one day take it over from her. She did as he asked, and she's still in charge to this day.
She's the mother of five
She looks amazing, and you would never guess she's got 5 kids of her own. She's 54-years-old, and she loves her kids. Three of her children were born when she was married to her late husband. They are all sons. Their son Eric was born in 1992 and their twin sons Krill and Maurice were born in 1998. They miss their father terribly, but they were able to get to know him well before he died because they were a bit older.
She has two sets of twins
We did mention that Margarita Louis-Dreyfus has five kids, yet we only mentioned three with her husband. He's been gone now for seven years, and she's been dating a man by the name of Philipp Hildebrand for the past few years. He is the head of the Swiss central bank – or former head of the bank, we should point out. The couple gave birth to twin girls in March 2016.
Her net worth
Margarita Louis-Dreyfus has a substantial net worth of approximately $8.4 billion. She is one of the wealthiest women in the world because of the company that she and her husband run/ran. Her husband might have built the company from nothing, but she has been the rock that kept the company going since his death more than seven years ago, amassing a fortune and creating a legacy for their children.
She owns a football club
Margarita is a mom, and a partner, and a woman who has a sharp mind for business, and that's why she continues to grow her net worth and to make wise financial decisions. She made it public not long ago that she was the brand new owner of a French football club called the Olympique de Marseille French Ligue 1 football club. She's now making her rounds and taking her time to build up the league and make it even more financially successful than it was before.
She's got 81 percent of her company
Before her husband died of his illness, he made her his wife would have the majority stake in the family company, and she's taken it to a whole new level. She took her majority and she began buying out other investors and family members, and she is now in control of 81% of the family business. She is still close with the family, but she's taking her time buying them all out.
She's leaving the company to her kids and grandkids
She and her late husband believe that the family company should remain that way, which is why she is collecting shares and making sure she can leave it to their kids, their kids and their kids. They want the family legacy to continue generation after generation, and that was the plan they had in action long before his death.
Photo by Getty Images