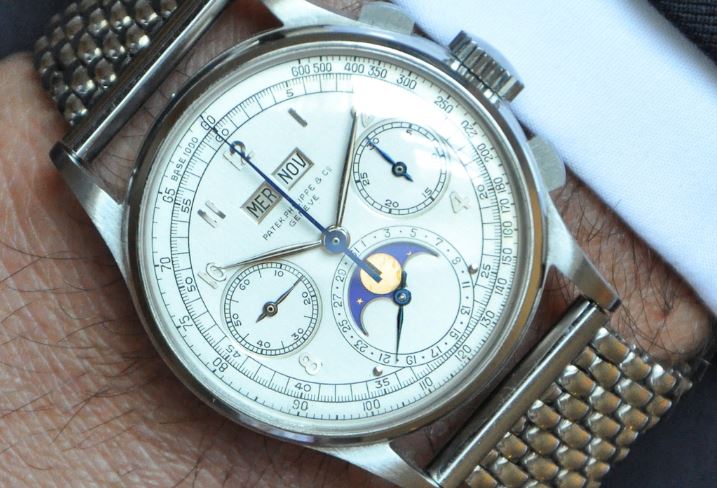 I have no plans to be in Geneva in November for The Geneva Watch Auction: FOUR at Phillips, but many of the world's most famous watch collectors will be present – or at least their people will be present. Given that I don't even have "people" I'm taking myself out of the running for this amazing auction right now, but that certainly does not mean I don't harbor a slight obsession with this auction and what it means to the world of watches. Let's start with a basic rundown – if you have to ask prices and you aren't familiar with the items on the auction block, we all know you cannot afford to shop here.
Secondly, the auction is being held November 12 and 13, 2016 in Geneva at the Hotel La Reserve. The public – that would be those of us without millions in our bank account – are permitted to go into the hotel and view the property from the 10-13 to see it, but not touch it. This auction will feature some of the world's most beautiful watches, and we have to tell you about it so that you recognize just how important his auction is to the world.
History
Phillips holds more than one auction per year, of course. The FOUR auction in November is always exciting, but it's even more exciting this year thanks to one particular watch. We'll get to that in a moment, however. The auction house is exceptionally famous thanks to Harry Philipps, who founded the London office back in 1796. Within the first year of business, Phillips was catering to collectors such as Marie Antoinette and Napoleon Bonaparte, if that gives you just a small example of how important this auction house is to the world.
The auction is all about flair and excitement, unlike any other auction in the world. Phillips likes to cater to guests and buyers hosting elaborate parties where you must see and be seen, and it's not that easy to get into this kind of auction. You have to be someone quite important, and you have to prove you have more money than you know what to do with. It is, quite honestly, one of the most important, most relevant and most upscale auction houses in the entire world. This history of this particular auction is long and exhausting, but fabulous from start to finish.
Watches
What makes Auction FOUR the most anticipated auction of the year is the presence of one of the rarest and most amazing watches known to mankind. It is not the only watch that will be for sale during the auction, but it is the only one that really matters. It's the Patek Philippe Reference 1518 stainless steel watch. There are only four in the history of the world in existence. The other three all belong to private collectors not looking to bid them adieu anytime in the near future, which makes this particular watch even more elusive than any other.
It was created in 1941 and it was created for approximately 13 years until the watch was replaced with a newer version in 1954. To be quite honest, there are 281 of these watches in the world, but only four of them are stainless steel; and those are the ones we are discussing. This watch is the first of the perpetual calendar watches in the world. It features a de-facto layout, and it is the first time in history that one of these four watches has ever shown up at auction. It's a big day for collectors, and the price for this watch will be so high that we cannot even begin to take a guess as to what it might sell for.
Of course, we love to take bets on the price this watch will go for based on the fact that other 1518 watches have sold at auction – none of the stainless. One of the pink gold versions – and there are only 281 total 1518s ever made, remember – previously sold for $1.5 million. Another sold for more than a million dollars in 2011. This one is slated to sell for far more than either of these, possibly more than either of these combined.
Tickets
I don't love to sound like a snob, but sometimes it's part of the job. If you have to ask how to get tickets to this particular auction in Geneva, you don't belong there. It's just how it goes. In fact, you can look it up all day long and you will not find any concrete information as to securing tickets to this auction so that you can bid on the watch that is going to break records and make history. The best that you can do is contact Phillips yourself and ask for tickets.
Unfortunately, we don't think that will work out so well for you as the world's wealthiest and most prominent collectors always have their own way of securing tickets for themselves and their people, and it's not easy to gain access to an event so important. Calling the auction house might provide you more information, but it certainly will not procure you a ticket to this particular event unless you can prove your immense wealth or you happen to have a famous name – and the face to go along with it.
Importance
Perhaps other might disagree, but we have an idea that this particular auction might become one of the most relevant and important in the history of watch auctions. Why, you ask? The Patek Philipp watch up for auction here is not just any watch. It's one of only four – and it's such a big deal that the rest of the watches up for auction here seem irrelevant. None of the other three stainless steel 1518s have ever been auctioned. Once the collectors see how much this watch goes for, there might be a sudden interest in the sale of their own watches.
If not, it still sets the precedence for future auctions and what the importance of this particular watch means to the world. This one watch and this one auction hold more power than any of us might imagine on the value of collecting and of upscale luxury watches.