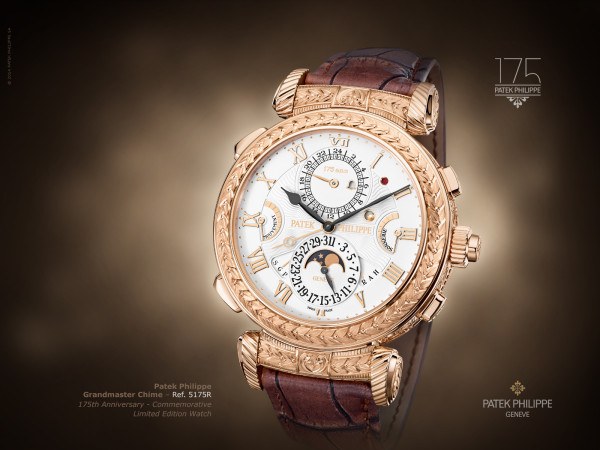 Few luxury brands can boast 175 years in the business, and Swiss watchmaker Patek Philippe is one of the upscale few. Known for its enviable luxury watches and the brand's reputation as being the best of the best, Patek Philippe  has announced the introduction of a $2.6 million luxury watch to commemorate 175 years in the watch making business. This watch, referred to as the Grandmaster Chime, is the most expensive watch ever designed by the high-end designer, and it will be available only to an exclusive number of buyers; 7 to be exact.
Of the seven watches designed by the company, only six will be available to the most exclusive buyers. The seventh is being placed in the Patek Philippe permanent collection as memorabilia. The other six, however, are available for purchase for anyone who can afford the $2.6 million price tag.
The watch took more than 100,000 hours to create, and many of the parts and pieces are hand-made, which accounts for the time spent on the creation of the luxury masterpiece. The watch features 11,060 handmade, hand finished pieces that are second-to-none and cannot be found on any other watch. What does a watch that takes 100,000 hours to make and costs more than most anything a person will ever purchase in their life look like?
The 18-carat gold watch is decorated with sapphire crystals and two faces, and it's considered the most complicated wristwatch ever created, including more than 20 complications. These complications include everything from a day of week display to a month display, leap year cycle and even an alarm clock. It's not an easy feat holding onto a solid reputation as one of the most luxurious, trustworthy and high-end watch makers in the world, but its watches like this that set the Patek Philippe company apart from other luxury watch makers.
Photo by Patek Philippe