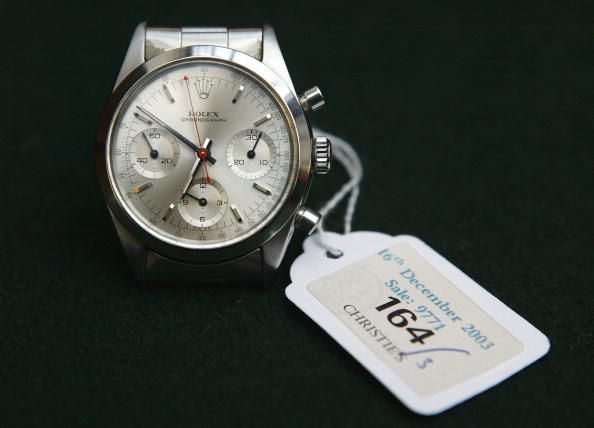 There are people who make collecting watches a hobby—and we would know, one of our best friend's is one of them. But while sporting a different watch every day is important to some people, there are others who might just prefer to wear one—and it happens to cost over $1 million. We're not much into making a statement, but you can be sure anyone who dons one of these sure is, because they're flashy and expensive.
5. Louis Moinet "Meteoris" – $4.6 million
Technically a set of watches, the construction of the Louis Moinet collection is what makes them so unique—and pricey. Made from pieces of the moon and a Mars meteorite and asteroid—no, really—it's something that might sound nerdy, but is all high-class.
4. Breguet & Fils, Paris, No. 2667 Precision – $4.7 million
Founded back in 1775 by Abraham-Louis Breguet, this watch isn't actually one you wear around your wrist, but is instead a timepiece that attaches—hopefully very securely—into a sport coat's pocket. Made from 18k gold, the watch is something that is superbly gorgeous to look at—and even better to hold.
3. Patek Philippe 1943 Watch Ref. 1527 – $5.5 million
Considered the most expensive wrist watch in the world, this 18k, yellow gold case and 37mm silver matte dial is just stunning. With a unique moon phase display that accompany's the other dials, it fetched a record auction price back in 2010.
2. Patek Philippe Caliber 89 Pocket Watch – $6 million
Built in 1989, it might not carry as much history as the other watches/timepieces on this list, but make no mistake, it's just as divine. With 33 different complication, the watch was created to celebrate the company's 150th anniversary, it took five years of research before manufacturing it to make sure it has a multitude of components.
1. Patek Phillipe Henry Graves Supercomplication – $11 million
Before the aforementioned Caliber was built, the Supercomplication was arguably the world's most desired watch. Taking four years to build, it includes two faces that feature a yellow-gold shell and 24 different complications. While originally believed to go for $5 million in an auction, competition rose the price all the way up to over $11 million.
Photo by Ian Walton/Getty Images