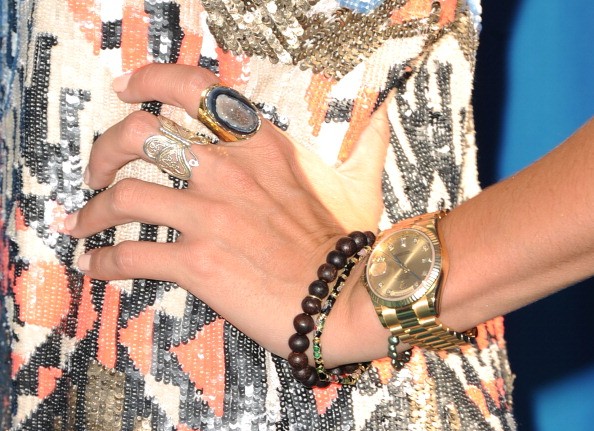 Geneva watches are not to be confused with watches made in Geneva. The Swiss city is known for its amazing watches, as so many high-end watch designers are based and headquartered in the city. Watches from Geneva-based designers are some of the most expensive in the world (think Phillip Patek). However, Geneva watches are not. They're affordable, and they all feature a lifetime warranty, so you can have your watch in good working condition for the rest of your life.
Platinum Stretch Watch – $35
This watch is set on a stretchy band that allows anyone to wear it like a bracelet. The face is surrounded by rhinestones and the watch features oversized numbers that are made of bright colors and fun designs. It's a daytime watch that will certainly attract a fair share of attention.
Iced Out Classic – $40
This Geneva watch was the first one ever made by the company. It features cubic zirconia stones on a platinum watch band, with 9 inches that are completely adjustable to fit any arm. It's designed to look high-end, even though it isn't.
Platinum Rhinestone Accented Watch – $44
This watch face is surrounded by rhinestones and comes with either a black, red, orange, pink, blue, yellow or purple band. It's designed to look like a high-fashion watch that you can wear with anything, whether or not you're wearing it during the day or during the evening.
Hip Hop Batman Bling – $99
This men's watch is designed to look like a Rolex, from far away. It's got Batman's logo in CZ stones on the face, and a very blinged out silver band that almost looks platinum. It's more expensive than other watches in the Geneva line, but it's designed for the man who can't afford the real high-end stuff, just the look.
His and Hers Watch Set – $175
It's technically two watches, but this is an expensive purchase for Geneva. This set includes two watches (one for him and one for her). You can choose from any dial color, a silver band with a gold circle around the face, and you can even mix and match the watches you both like to complete the set.
(Photo by Jason Merritt/Getty Images)