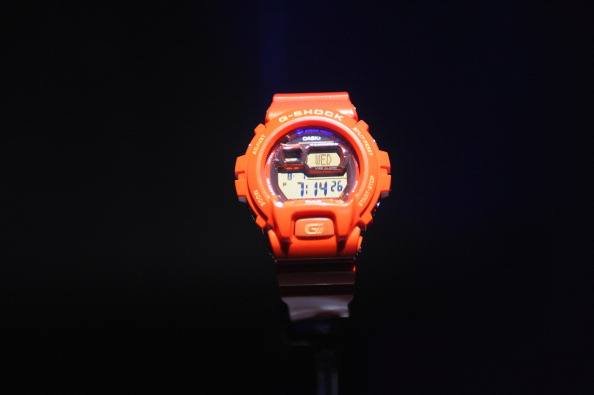 When Casio introduced G-Shock watches in 1983 the company was attempting to fill a void in the wrist-wear market for durable watches perfect very active consumers.  The G-Shock featured a unique shock resistant design that allowed the watch to be dropped from 10 meters high, it was also water resistant up to 10 bar, and offered an amazing 10 years of battery life; these bulky yet  fully functional watches became an instant hit.  While the watch was originally intended for consumers who needed a dependable watch that could keep up with their fast paced lifestyle, Casio's G-Shock has also become a popular item among  athletes, musicians,  and some of Hollywood's heavyweights.  Here is a list of the most expensive G-Shock watches.
5. Master of G Series (GF1000NV-2) – $650
This digital G-Shock watch features the popular "Frogman" model and  a "Master of G Series Triple Sensor" and is water resistant up to 200 meters, making it great for most divers.  This watch also has solar capabilities so there is no need to worry about the battery.
4.  MT-G Series (MTGS1000D-1A)  – $900
While this watch is an analog model, it does not lose any of the durability of its digital counterparts.  This MT-G series watch is covered in stainless steel and can be set to display the time from 29 different time zones.  In true G-Shock form the battery is also not an issue as it is can be recharged through solar energy and the time and date, which are updated from radio controlled global transmitting stations, are always accurate.
3. MT-G Series (MTGS1000BD-1) – $1,000
This member of the MT-G series is another analog model; however, it features luxurious black stainless steel along with a black face.  Classy and sleek, this G-Shock model is a far cry from it's bulky digital ancestors; however, it still possesses the classic features that set originally set G-Shock watches apart from their competitors.
2. MT-G Series (MTGS1030BD-1) –  $1,100
This limited edition 30th anniversary watch is perhaps G-Shock's most extravagant analog model.  This watch, encased in black stainless steel, feature red trim on the underside of the wrist band and is also accented with gold colored knobs.  Similar to other members of the MT-G series this model is equipped with water resistance, shock resistance, and the ability to select time from 29 different time zones.
1.  Yellow and Gold G-Shock Illuminator – $4,630
While a typical G-Shock Illuminator can be purchased for around $65, the Yellow and Gold version puts a splendid touch on a classic G-Shock watch.  This $4,630 piece is covered in 14k yellow gold and 14k yellow diamonds which surround the entire hand-made case; making it a very eye-catching piece.
(Photo by Jamie McCarthy/Getty Images for G-Shock)