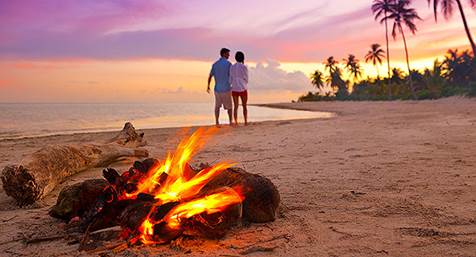 Portico Club and Inspirato, two of the world's largest luxury vacation clubs announced last week that they've merged to create an even larger brand of luxury resorts. Portico Club was previously a part of the Exclusive Resorts, and it was a major competitor for Inspirato. Interestingly, Brent and Brad Handler co-founded Inspirato as well as Exclusive Resorts, and the duo sold Exclusive Resorts to AOL's founder, Steve Case. Case was also the CEO of Revolution.
When the brother made the decision to found Inspirato in 2011, they based the company on their old company and decided to do similarly, but differently. Inspirato is a high-end luxury vacation club. However that's only part of the business practice and model of this luxe travel company. The other portion of the company is a peer-to-peer rental system, which is what makes it stand out from the crowd.
Membership with Inspirato is not inexpensive. There are several different levels of membership, and even the most basic level is expensive. The fee to join is one members are required to pay only once. The one-time fee is a staggering $17,500. After that members are required to pay a $3,000 annual fee to remain part of the Inspirato club. The company recently inked a deal with American Express that allows cardholders to receive a discount on the price of their membership. AmEx cardholders are given a one-time fee discount of $2,500 and an annual discount of $400. After you pay these fees, however, members are given the freedom to choose from many luxury rentals around the world, in destinations very popular for tourists and others that are more remote and exclusive.
Portico will hand over approximately 2,500 members and more than 80 luxury homes for vacationers to choose from, which is their primary stake. The owners of Portico are being given a small stake in the Inspirato brand as part of the transaction. The news is good for those who are already members of Portico and Inspirato, however, because they are being given the opportunity to join the new Inspirato with American Express travel club free of initiation fees – which is a savings of $15,000. This new luxury vacation club offers travelers some very unique features and a much broader array of luxury vacation rentals from which to choose.
New members will be able to choose from more than 500 luxe rentals in more than 100 locations across the world, including the tropics, the Middle East, the Americas and the UK. This portion of the travel club is being run by Brent Handler, one of the brothers responsible for creating both luxury travel brands.
The deciding factor for Inspirato was the fact that Portico Club members have access to several high-end establishments all over the world, and Inspirato wanted access to this targeted audience and the lease-agreements that Portico has control over. For this deal to go through, Inspirato had to pay heavily. Fortunately, the company was able to raise more than $50 million from several different investors, including – but not limited to – DAG Ventures, Access Venture Partners and Millennium Technology Value Partners.
Photo by Inspirato