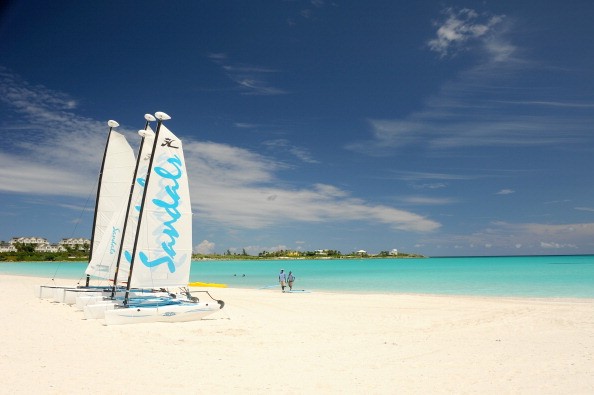 If we were to ask you to name your most ideal vacation spot, where would you choose to go? Would it be somewhere in the mountains, where you could hike and be adventurous? Or would you instantly grab the sunscreen and head to the beach? For those who would flock to the sun and sand, these spots are for you—considering they're the most expensive private island destinations.
5. Guana Island, British Virgin Islands
While the islands is 850 acres, it only allows 30 guests to reside on it at a time, making it extremely inclusive. Rich with plentiful landscapes and an assortment of wildlife, Guana Island has everything a guest wants, like private yoga sessions, tennis and private boat tours. With a sea view cottage starting at $695 per night for a couple in low season, such exclusiveness will cost you.
4. Cocoa Island, Maldives
Just a simple boardwalk stroll from Cocoa Island, resorts are actually built over the water, with villas ranging from split-level to penthouse-style suites with private sun decks. Whether it's for a romantic getaway or family vacation, guests can go snorkeling, fish or hop around to neighboring islands to enjoy different, local culture. With a rate of $750 per night, it's actually a little more affordable than one would think.
3. Cayo Espanto, Belize
For those who want an extremely relaxing and all-inclusive experience, Cayo Espanto is your spot. With a personal chef, personal dive master, butler and entire staff to greet you as you enter the island and take you to one of the seven villas, guests will be spoiled to the max with both beach and pools. Carrying a daily rate of $1,295, you better bring your paycheck, though.
2. Fregate Island Resort, Seychelles
Located just south of the equator, one thing every guest can expect is lots of sun and high temperatures. A jungle-covered island surrounded by boulders and various beaches, Fregate Island is about as tropical as one can get, with exotic wildlife mixed with fresh fruits and vegetables. It may be nearly $3,800 per day, per person, but that's a small price when seeing the resort offers private hikes and windsurfing.
1. Musha Cay, The Bahamas
One of the 11 islands in The Bahamas, Musha Cay is a private destination for any visitor to let loose and forget about all the cares in the world. Guests are required to rent the entire island, and are able to accommodate as many as 24 guests to fill five guesthouses to enjoy diving, deep-sea fishing and a personal fireworks show. The price tag for such luxury? About $38,000 per day.
Photo by Dimitrios Kambouris/Getty Images for Sandals